Warmer than average weather in many parts of the U.S. may have thoughts drifting off to summer and away from finances. The "sell in May and go away" trend may apply to many sectors, but some are more immune to pullbacks during the warmer months than others. The following stocks show more of a summer proof trend, maintaining or gaining in the warmer months. Perhaps investing in stocks which specialize in summer fun can bring your discretionary spending back to you in the form of portfolio gains. So while you are off this summer on vacation or enjoying the weather, why not let some of these stocks work for you?
Road Trip Stocks
Gas prices are certainly not pretty around the country, but the fear of $5 a gallon fill ups seems to have abated for now. The classic American road trip is a bucket list item for many. With air travel still suffering from hurdles, it makes economic and logistic sense for many vacationers and retirees to travel by road.
Winnebago (NYSE:WGO) - The $289 million market cap company synonymous with RV travel is currently trading amidst its 52 week high or a low at around $9. WGO's most recent quarter found a revenue increase of over 20% from that of last year. Further, its inventory decreased over 15% suggesting it isn't suffering from inventory bloat due to a sluggish economy or high gas prices. On April 16th, it was initiated as a buy by Griffin Securities. It recently crossed its 50 day moving average suggesting continued growth.
(Click to enlarge)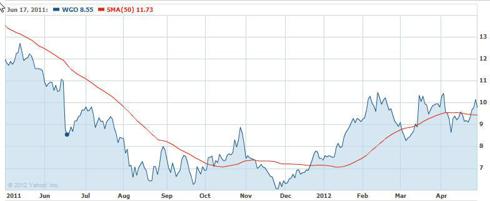 McDonald's (NYSE:MCD) - Fast food goes hand in hand with road travel. Americans on the highways thrive on its convenience. McDonald's is a clear pick for a dividend option with market dominance. First quarter revenues were up 7% over last year. The European market, which one might suppose to be sluggish, was up 5% as well. With McDonald's sponsoring the summer Olympics in London, European sales don't look to slow.
(Click to enlarge)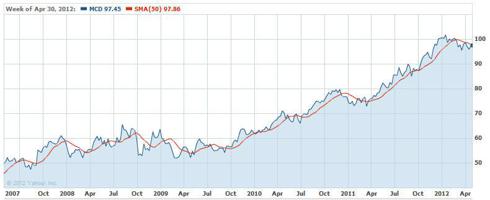 Harley Davidson (NYSE:HOG) - Harley has enjoyed a great start to 2012, trading near its 52 week high north of $53. The $12 billion market cap company offers classic Americana with a route 66 feel. It also offers an alternative to high fuel cost travel for singles and couples. With a dividend to support its growth, this stock is a strong buy on the list of many analysts.
(Click to enlarge)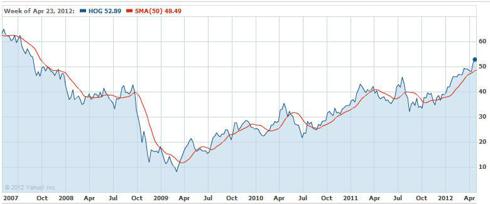 Walt Disney (NYSE:DIS) - Through the ups and downs of the U.S. economy, one thing has been relatively consistent: Disney is here to stay and entertain us. For many Americans, a trip to Disney is the classic road trip. With international as well as a domestic draw, the dividend DIS is trading near its 52 week high. Earnings will be released May 8th, so getting in ahead may offer greater gains. The EPS estimate for the first quarter is $0.55. Disney has beaten estimates in the past three quarters and will look to do so again. So while you are shelling out cash to buy tickets and souvenirs at the park this summer, you could be supporting your own investment.
(Click to enlarge)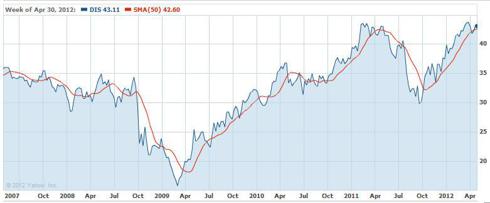 Disclosure: I have no positions in any stocks mentioned, and no plans to initiate any positions within the next 72 hours.