On April 18th, we published our article rebutting criticism of Apple (NASDAQ:AAPL) because the carriers offer customers subsidies to purchase Apple's iPhone, and we were pleased with the strong and passionate interest that our article generated. We disproved the conventional argument suggesting that Apple is dependent on these subsidies and that the only reason why people are buying iPhones is because iPhones are subsidized by the mobile phone operators. We also disagree that carriers are losing money selling iPhones. The upfront cost of selling the iPhone or another subsidized smart phone is more than offset by carriers selling the 2 year data contract, service contract, upgrade fee, insurance and iFrogz covers from ZAGG's (ZAGG).
It is true that Apple's profit margins and operating margins are miles ahead of the mobile carriers, especially the three largest nationwide carriers, AT&T (T), Verizon (VZ) and Sprint Nextel (S). But to blame smartphone subsidies for the lower operating margins and poor 2011 profit margins is as faulty and incomplete of an analysis as Meredith Whitney's muni bond bankruptcy predictions. Here is our analysis and observations on smartphone subsidies in relation to mobile carrier profits.
AT&T can't blame iPhone or other smartphone subsidies for its sharp decline in reported profits for 2011. AT&T's consolidated operating income did decline from $19.57B in 2010 to $9.22B in 2011; however, that was due to the following three non-recurring charges:
$6.28B Non-Cash Actuarial Losses on pension and post retirement plans
$4.18B Merger Termination payment to T-Mobile, USA.
$2.91B Non-Cash Impairment Charges relating to directory intangible assets.
AT&T still generated $34.65B in Operating Cash Flows and $14.4B in free cash flows in 2011, despite these non-recurring events and seeing three other competitors (Verizon, Sprint Nextel and C-Spire Wireless) gain the right to sell the iPhone.
Click to enlarge.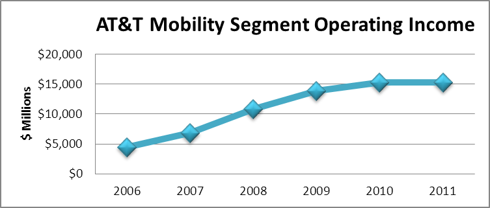 Source: AT&T 2006-2011 Annual Reports
The iPhone had rejuvenated AT&T Mobility's operating profits and margins. In 2006, Cingular Wireless (AT&T's wireless joint venture with BellSouth) generated $37.5B in pro forma revenue and $4.44B in segment operating income. In 2011, the new AT&T Mobility generated $63.2B in revenues and $15.278B in segment operating income. Not only did the division grow cumulative revenues by 68.5% over the five year period, but the division generated 244% cumulative profit growth during this time period. The increased operating margins generated by the sale of the iPhone helped defray the impact of a 50% decline in wireline customer switched access lines. This also resulted in a 44% decline in Advertising Solutions revenues from 2007 to 2011.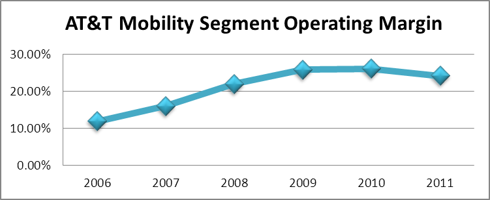 Source: AT&T 2006-2011 Annual Reports
In Q1 2012, AT&T was able to enjoy a 5.3% growth in year-over-year EPS, as 11% operating growth from the wireless segment and an 8.7% revenue growth in wireline data services more than offset declines in wireline voice and advertising solutions revenues. AT&T Mobility was able to increase its operating margins from 25.8% in Q1 2011 to 27.2% in Q1 2012.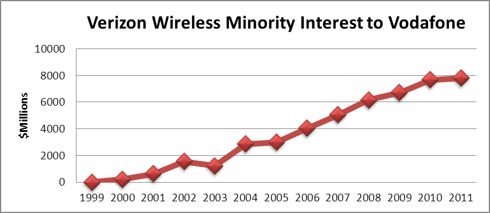 Source: Verizon 1999-2011 Annual Reports
Now let's look at Verizon Communications. Verizon had reported $2.4B in Net Income attributed to Verizon shareholders and $12.88B in operating income in 2011. This is down from $8.26B in Net Income attributed to Bell Atlantic shareholders and $15.95B in operating income in 1999. Despite the acquisition of Vodafone's US Wireless operations, GTE, MCI and Alltel, as well as the sale of local wireline businesses in 24 different states and territories, Verizon saw its operating income stagnate.
Its net income available for shareholders also drastically declined during this time period. The cause of this was the fact that Verizon saw continual declines in its wireline business, which it owned 100%. Although Verizon Wireless grew rapidly during this period, the beneficial impact to Verizon was muted, as Verizon only owned 55% of the venture, with Vodafone (VOD) owning 45%. (Vodafone owns 45% of Verizon Wireless because it contributed its U.S. Wireless operations to Verizon in exchange for 45% of Verizon Wireless.)
When Verizon incurred declines in wireline customers with gains in wireless customers, it ended up losing 45% of the profit per client due to Vodafone's 45% ownership interest in Verizon Wireless. In 2011, Vodafone's minority interest in Verizon Wireless represented 77% of Verizon's profits. Verizon began selling the iPhone in 2011 and it contributed to a 10.6% increase in Verizon Wireless division revenue. Despite average subsidies on Apple iPhones that are about 20% higher than the average smartphone offered by Verizon Wireless, operating income for the division was constant in 2011 versus 2010 levels.
Moreover, data revenue reached $23.6B in 2011, up from $19.6B in 2010. Verizon also had $5.95B in severance, pension and benefit charges in 2011. This was due to the reduction of the discount rate assumption used to determine the current year liabilities from 5.75% at December 31, 2010 to 5% at December 31, 2011 ($5.0 billion); the difference between its estimated return on assets of 8% and its actual return on assets of 5% ($0.9 billion); and revisions to the life expectancy of participants and other adjustments to assumptions.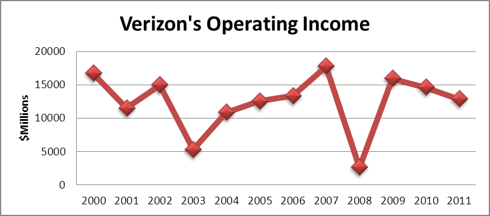 Source: Verizon 1999-2011 Annual Reports
Not only is Verizon is America's largest wireless network but it was also the number one rated wireless carrier by J.D. Power until being edged out by Sprint in 2012. Because of this, Verizon was able to generate positive Q1 2012 results due to it offering the iPhone. Verizon generated an increase in operating income of 16.7% and a 15.7% increase in EPS versus Q1 2011 thanks to an 8.2% increase in revenues from Verizon Wireless. Wireless data revenue was $6.6B in Q1 2012, up from $5.5B in Q1 2011. Total wireless data revenue continues to be driven by demand for web and e-mail services due to an increase in smartphone penetration in addition to strong growth in the sales volume of tablets and Jetpacks. We believe that Verizon offering the iPhone allowed them to generate the most net post-paid customer additions during the quarter compared to Sprint Nextel and AT&T.
Sprint Nextel began selling the iPhone in October 2011. We won't even begin to blame the iPhone subsidies on Sprint's net losses since 2007. It is obvious that missteps by the previous management and a poorly executed merger are the reason why Sprint is losing money. We would also add that while Sprint has 56M total customers, only 29M are in its highly lucrative Sprint brand direct retail postpaid segment. We see that as a problem because Sprint doesn't have enough of the highly profitable contract customers nor does it have the proportion of lucrative postpaid customers to total customers that AT&T and Verizon have.
In order to stem defection in its postpaid segment, it agreed to a $15.5B commitment over 4 years with Apple (OTC:APPL) in order to gain the right to sell the iPhone. Sprint will eventually need to raise the monthly premium data charge on its smartphones from $10/month to at least $20/month. Then it can begin making a profit by selling smartphones, whether Sprint sells an iPhone to a customer or one of its other brands.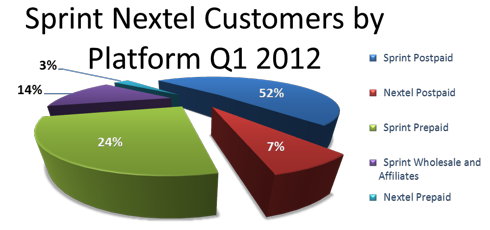 Source: Sprint's Q1 Earnings Release
Sprint had positive news for Q1 2012. Sprint sold 1.5M iPhones, 44% of which went to new customers. We believe that Sprint's iPhone with unlimited data served as a headwind for subscriber growth for AT&T and Verizon. Carrying the iPhone also helped boost Sprint's postpaid ARPU by $3.70, or 6.6% versus the comparable quarter last year.
In conclusion, we believe that although the Apple iPhone has a higher subsidy than other smartphones, there isn't as much difference between subsidies for iPhones and other smartphones. We compared the subsidies offered by Verizon Wireless on the iPhone versus the 40+ other smartphones available. We found that the average subsidy offered on all smartphones was $365.87, with a median subsidy of $360. Even if we backed out the $450 subsidy offered on the iPhone, we found that the average smartphone subsidy excluding Apple iPhone was $357.85. Even with the ~$90 in higher subsidy for the iPhone versus its smartphone peers, Apple still carries a $150 higher retail cost. Despite this disadvantage, Apple has outsold all other smartphone vendors during the last quarter, with the exception of Samsung (OTCPK:SSNLF).
Even with the higher subsidies incurred by the carriers to sell the iPhone, the carriers have made out pretty well. AT&T boosted its operating margins by being the iPhone's exclusive carrier from 2007-2011. Carrying the iPhone enabled Verizon to maintain its leading position in total wireless customers as well as lucrative postpaid contract subscribers. And Sprint gaining the right to sell the iPhone basically saved the company as a going concern, in our opinion.
We believe that without the iPhone, Sprint should have saved everyone time by putting itself up for sale, rather than see the long, drawn-out process of a major telecommunications company going bankrupt. With the iPhone, Sprint will keep a lid on AT&T and Verizon's growth. It will also allow it stick around as a company to keep gaining share amongst resellers and the prepaid channels, frustrating the efforts of MetroPCS (PCS) and Leap Wireless (LEAP) to grow in the low-end prepaid segment.
We are not surprised that Apple has higher profit and operating margins than the carriers. After all, Coca-Cola (KO) and PepsiCo (PEP) have higher profit margins than the stores that carry Coca-Cola and PepsiCo products. Why exactly should carriers have higher or lower profit margins in comparison to a cutting edge designer of high-tech products? Certain areas of the supply chain tend to generate higher or lower profits. The smartphone industry is not unique in this matter.
Disclosure: I am long S, AAPL.
DIsclaimer: Saibus Research has not received compensation directly or indirectly for expressing the recommendation in this report. Under no circumstances must this report be considered an offer to buy, sell, subscribe for or trade securities or other instruments.