A company's earnings announcement can be very challenging to navigate. Many traders consider the action before, during, and after earnings to be nothing more than a coin flip. If you approach earnings unarmed with past results and future probabilities, the results will appear random. However, by studying past earnings, you can gain insight and assign probabilities to various outcomes.
My analysis consists of analyzing up to 10 years of quarterly earnings announcements looking for:
Probability of beating, matching, or missing analysts estimates
Price action before, during, and after the announcement
Relative fair value of the stock at the time of the announcement
1. Cigna Corporation (NYSE:CI)
Sector: Healthcare
Industry: Health Care Plans
Market Cap: 13.355B
Book Value: 29.223
Earnings: May 3 BMO
Over the last 16 quarters Cigna has surpassed analysts expectations 75% of the time. This is a very positive trend. Current estimates are for earnings of $1.19. Which at only 3.4% (year over year) is well below recent growth. However, CI has a tendency to out perform estimates. In the last two quarters Cigna's earnings have grown 7% and 14% (YOY) respectively.
Historically CI's stock has risen 2.2% the day after earnings and over 4% three days after earnings. From a value standpoint, CI looks very attractive. Currently Cigna has a PE of only 9.63 vs 12.02 for the industry.
With a PE 20% below the industry average and a 75% chance of beating estimates, I am looking to go long into earnings.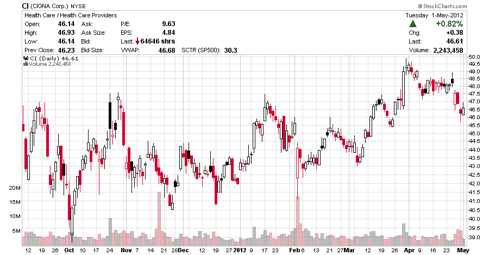 2. Apache Corporation (NYSE:APA)
Sector: Basic Materials
Industry: Independent Oil & Gas
Market Cap: 37.575B
Book Value: 72.285
Earnings: May 3 BMO
Over the last 11 quarters Apache has missed 64% of the time. If missing isn't bad enough, APA is typically down over 85% of the time the day after the announcement. Current estimates are for earnings of $3.10, which is an increase of 7% (YOY). If APA can achieve this type of growth, it would be a very bullish sign. However, based on past results, these estimates are likely high.
Apache has a PE of only 8.53 vs 19.09 for the industry. While APA is undervalued compared with the industry based on PE, I am looking to wait until the day after earnings are announced before entering. This will allow the stock to settle following the day after earnings drop.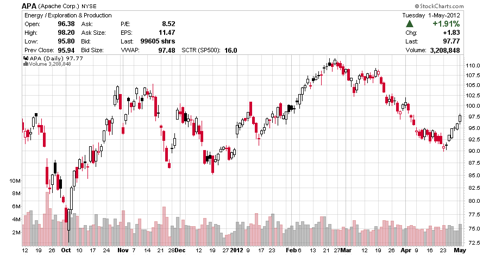 Disclosure: I have no positions in any stocks mentioned, but may initiate a long position in APA, CI over the next 72 hours.