Both the average share price ($13.13) and NAV ($13.57) for the Eqcome CEF Index increased by 0.2% for the month of April 2012. This effectively resulted in the discount remaining at approximately 3.3%.
Fixed-Income Outperformed Equities: Of the four major CEF sectors both Fixed-Income and Munis advanced to premiums of 1.4% and 0.1%, respectively. Both Equity and Other (mostly "buy/write" option strategies) sectors saw an expansion of their discounts to 9.2% and 4.4%, respectively.
CEFBig10: The Eqcome CEFBig10, which is the investible sub-component of Eqcome CEF Index, composed of 10 CEFs diversified over the 10 major fund types, was off 0.4% for the month. YTD average share price appreciation for Eqcome CEFBig10 was 9.2%; its annualized distribution yield is 7.5%. The S&P 500 recorded a decline of 0.7% for the month.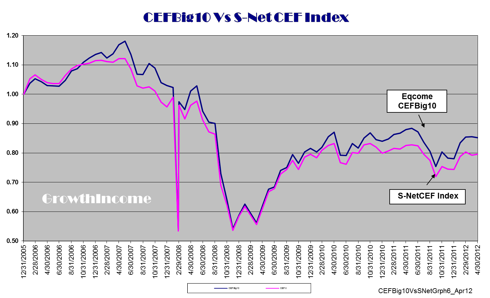 Joe Eqcome (Long Eqcome CEFBig10)
Disclosure: I have no positions in any stocks mentioned, and no plans to initiate any positions within the next 72 hours.