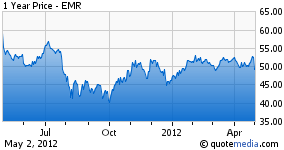 This has been a decidedly mixed quarter for industrial companies, made perhaps slightly more tolerable by consistent management guidance earlier this year that it would be a challenging quarter. That said, Emerson (NYSE:EMR) has been on a concerning streak of late with uninspiring quarterly performance (relative to expectations) and low order growth. Although management has remained rather consistent in tone and substance, Emerson's shortfalls are increasing turning it into a "show me" story with investors.
A Pretty Mediocre Fiscal Second Quarter
Emerson delivered a quarter that it puts on the lower rung of industrial companies this quarter. Revenue rose just 1% as reported (up 2% organically), and the only significant growth came from the process management division (up 13%). Industrial automation was surprisingly weak, network power remains uninspiring, and climate continues to look for a bottom.
Operating performance was arguably even more disappointing. Gross margin was alright, but operating income slid 1% on widespread margin weakness across the operating divisions. Process automation was a notable disappointment, as that low teens growth only translated into 30 basis
points of operating margin leverage.
Process In A Good Place
While some segments of the oil & gas/chemicals market are seeing sales fall off [Cummins (NYSE:CMI), for instance, with its gensets], players in the process management space continue to see strong orders. Like ABB (NYSE:ABB) and Flowserve (NYSE:FLS), demand is looking good with respect to original equipment (which can help explain the less impressive margin leverage), and Emerson saw 18% underlying order growth.
But Industrial Automation Isn't
Emerson's performance in industrial automation is harder to explain. It's a short-cycle business with a large chunk (approx. 40%) of sales going to Europe, but why should results have been meaningfully worse here than at ABB or Rockwell (NYSE:ROK)? I don't know if its an issue of mix or share loss in drives, but the performance here concerns me - particularly as nobody seems to be feeling better about Europe or China today and the strong North American market isn't going to carry the whole sector indefinitely.
Climate And Network Power May Be Near Bottom
Sales in both of these categories were not strong, and that's not really surprising given the environments for resi/non-resi construction and carrier spending. Here again, though, I wonder about share trends, as Eaton (NYSE:ETN) seemed to be doing meaningfully better in power.
On the climate side, commercial HVAC trends have been improving, and United Technologies (NYSE:UTX), Ingersoll-Rand (NYSE:IR), and Johnson Controls (NYSE:JCI) all had relatively positive things to say about how the market was developing.
Will Shuffling The Deck Improve Their Hand?
During the company's analyst day, Emerson management pointed to some potentially significant changes in the business mix. While Emerson had once talked about operating six separate sizable units, now it sounds as though the company may be looking to sell off certain assets. Businesses like tools and storage would seem to be a pretty obvious choice for sales, while I suspect the company would still like to add some tuck-in deals in process and automation.
The Bottom Line
One bad quarter, or even a few unsatisfying quarters, is not necessarily a good reason to chuck an otherwise promising investment. That said, management is either not being entirely straight with the Street (with expectations coming down in a series of papercuts instead of one wholesale reset), or management just isn't that in tune with their own end markets. Neither option is very encouraging.
Network power and climate should recover over the next 12-18 months, and process is going strong, but I am getting a little more worried about the company's performance in automation. That said, this pessimism has to be kept in perspective, as GE (NYSE:GE) and Johnson Controls were really the only industrial conference calls I listened to that sounded notably confident or positive.
Right now I expect Emerson to more or less match its trailing free cash flow growth rate of the past 10 years over the next ten. With that sort of growth, fair value would lie in the high $50s. That makes me a lot more ambivalent about this stock when I could just as easily own ABB or GE instead.
Disclosure: I have no positions in any stocks mentioned, and no plans to initiate any positions within the next 72 hours.