The five companies covered in this article are S&P 500 tech stocks with net profit margins of greater than 20%. A company's profitability is conceivably the most important statistic to understand before investing in a stock. Each time you consider starting a position in a stock, you should prudently scrutinize its profitability and EPS information.
The reason EPS is so vital is that it tells you about the relative profitability of a company. EPS is the most important derivative of profitability for a shareholder. Earnings per share is defined as the net income of a company divided by the shares of common stock outstanding. With the EPS measure, you are looking at the amount of money left over for shareholders. The value is reported after taxes are subtracted.
Furthermore, these stocks are trading at bargain basement prices based on the fundamental indicator known as Price to Leveraged Free Cash flow. Each of these companies is trading at less than 13 times leveraged free cash flow; less than 15 times is considered undervalued. Levered Free Cash Flow is the amount of cash available to pay shareholders after it has paid its debt. Let's get real here; cash flow is what matters most. It takes money to make money.
Moreover, leveraged free cash flow is hard to manipulate. Either you have the cash or you don't. For example, if a company has weak or sporadic cash flow of less than $5 million, but burns through $10 million a quarter to operate, you can be sure it won't be around long. Finally, leveraged free cash flow is used to pay dividends and reinvest into the company, both of which are very important to investors and the company's health.
Now, simply screening for highly profitable S&P 500 tech stocks trading at less than 15 times leveraged free cash flow is only the first step to finding alpha. In the following sections, we will take a closer look at these stocks to determine if the discount is justified. I will perform a brief review of the fundamental and technical state of each company. Additionally, we will discern if any upside potential exists based on sector, industry or company specific catalyst. The following table depicts summary statistics and Tuesday's performance for the stocks.
(Click to enlarge)

Apple Inc. (AAPL)
(Click to enlarge)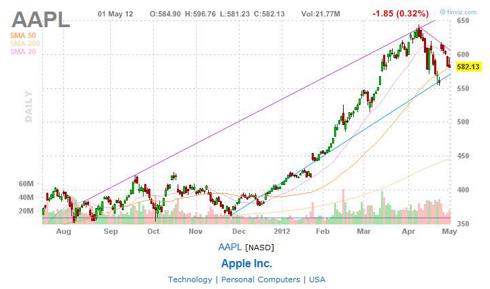 Guess what? Apple tops the list. Only five companies made the cut and Apple is number one. Apple's strong fundamentals combined with its amazing growth rate is what captivates both value and growth investors. Now, with the inclusion of a dividend, they are appealing to income investors as well. Not to mention the throngs of devotees to Apple's ecosystem.
Fundamentally, Apple is truly solid. Apple is trading at 12 times leveraged free cash flow, has a PEG ratio of .75, a forward P/E of 10.81 and a profit margin of 27%. Apple has a massive cash hoard and recently implemented a dividend. Apple has a quarter over quarter EPS growth rate of 92.28%.
Technically, Apple is a buy the current level. They just blew out earnings and spiked to $610 a share. The fast money players have taken profits and moved on leaving the stock smack dab on the 50 SMA and the bottom limit of the upward trend channel. With the upcoming catalyst of the iPhone5 and Apple TV on the horizon, this is virtually a no brainier. Apple is a screaming buy. In a previous article I said to treat Apple as an investment an not a trade. Apple is a true triple threat with great technicals and fundamentals coupled with future catalysts on the horizon.
KLA-Tencor Corporation (KLAC)
(Click to enlarge)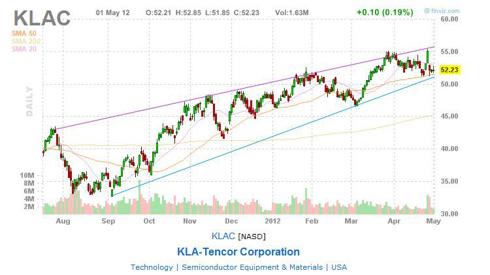 KLA-Tencor's recent quarterly earnings exceeded the consensus estimate by 17 cents, but investors remained indifferent as orders dropped. KLA's orders were down 12.3% sequentially and 2.3% year over year to $833 million in the last quarter. The memory segment was down 12.3% and 42.1%, respectively, from the previous and year-ago quarters. Logic brought in 29% of the orders and was down 5.8% sequentially nevertheless, up 88.8% from the year-ago quarter. KLAC has many fundamental positives. It is trading at 13 times leveraged free cash flow. It has a dividend yield of 2.68% and a net profit margin of 23.93%.
Nevertheless, quarter over quarter EPS and sales growth are down 40% and 16.16%, respectively. With margins and orders down and expenses up, I would take a wait and see approach with this stock. KLAC has had a nice run and is trading near its 52 week high. I suggest taking profits and redeploying cash into one of the other stocks in this article. If you are not in it, avoid it for now.
Oracle Corporation (ORCL)
(Click to enlarge)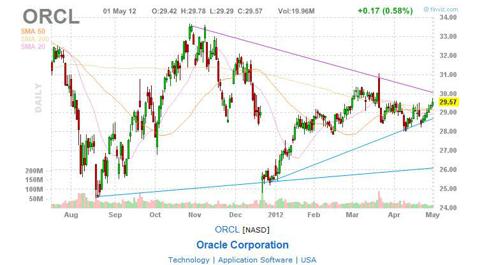 To me, Oracle appears ready to break out to the upside. If you follow me you know I have been behind this stock for quite some time. Oracle CEO Larry Ellison is highly competitive and is currently repositioning Oracle to compete in the cloud space. Oracle missed for the first time in several quarters in fiscal Q2 2012. I see this as an excellent buying opportunity with Oracle back on track to its winning ways. Oracle will not miss when it reports earnings on the 23rd. Get in now and ride the run to the earnings release.
The cloud computing competition is just now revving up. You can expect Larry Ellison and Oracle to gain its fair share and then some. Once Oracle's latest cloud acquisitions gain traction, I see Oracle hitting $40 per share, providing 30% upside to the current price based on organic growth and multiple expansion. Oracle recently acquired RightNow Technologies for $1.5 billion, which provides customer service online. Also, Oracle struck a deal to buy human-resources software maker Taleo Corp for $1.9 billion.
Oracle recently unveiled enhancements to the Oracle WebCenter product. The new release of Oracle WebCenter Sites helps organizations drive customer acquisition and brand loyalty by simplifying the creation, management and optimization of interactive and social experiences. Oracle states,
Oracle WebCenter Sites is a best-in-class web experience management solution that is part of Oracle WebCenter. Oracle WebCenter offers capabilities for engaging customers and enabling and empowering employees and partners, including web experience management, portals, enterprise content management and enterprise social collaboration technology.
Oracle is trading for 12.5 times leveraged free cash flow and has a net profit margin of 26.34%. The company has a quarter over quarter EPS growth rate of 20% and pays a dividend yielding slightly less than 1%. Oracle is well positioned for future growth. I expect them to return to their winning ways and have a great earnings call. Technically, the stock is exhibiting breakout characteristics. I like the stock here.
Microsoft Corporation (MSFT)
(Click to enlarge)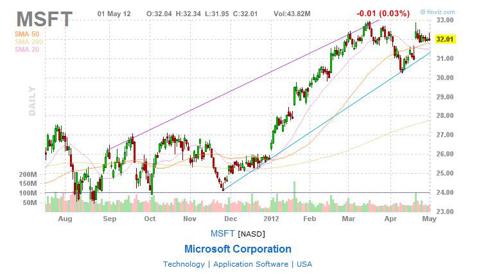 The old guard techs, as it were, have been on a tear as of late; just look at the chart. MSFT is breaking out from its ten year doldrums driven by the upcoming release of Windows 8 and the recent foray into the cloud business. With an astounding net profit margin of 31.96% and a forward PE of 10.53 what is not to like? This blue chip has a dividend yield of 2.5%, ROE growth rate of 38.23% and trades at just 12.5 times leveraged free cash flow. Technically, it is time to pull the trigger and start a position. The stock is bouncing along the 50 day SMA and looks ready to resume its uptrend.
Yesterday, Microsoft announced it was investing $300 million in a new subsidiary with B&N (NYSE:BKS) geared toward accelerating the transition to e-reading. The new subsidiary will combine the digital and college businesses and is valued at $1.7 billion. The deal settles the patent litigation between the pair, as the subsidiary will have a royalty-bearing license for Microsoft's patents. Who knows what Microsoft is up to now? It appears to me Microsoft may just be transforming from cash cow to a tech growth stock again. The stock looks poised to move higher. I like it here.
BMC Software Inc. (BMC)
(Click to enlarge)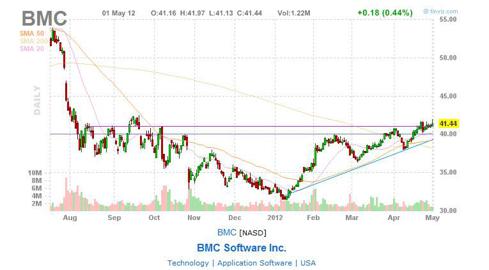 BMC is a major player in the cloud computing business. The evolution of cloud computing is creating a paradigm shift in the way companies will do business going forward. I see no stopping it as companies realize the significant cost savings and scalability of the service. Cloud computing is changing the way we think about technology. The cloud is a computing archetype whereby web-based software, middleware and computing resources are provided on demand to companies. BMC is well positioned to take advantage of this exponential growth industry.
BMC is establishing a new standard for performance management of cloud applications. The company recently announced the availability of the industry's first non-intrusive, real-time, real-user application performance management-as-a-service (APMaaS) solution for cloud applications, BMC End User Experience Management OnDemand. The solution measures and monitors individual user performance, errors and availability of web applications and provides a more accurate and actionable approach to service-level assurance for the cloud.
BMC is trading at an incredibly low valuation of 10 times leveraged free cash flow. With a net profit margin of 20.87%, a quarter over quarter EPS growth rate of 18.31% and no debt, the fundamentals looks extraordinary. BMC's PE is 11.77 and has an ROE of 29.47%. The fundamentals are unquestionable.
The stock has been trading sideways for the past year and is currently 26.72% below its 52 week high. This is definitely a buying opportunity at this level. The stock recently achieved the coveted Golden Cross where the 50 day crosses the 200 day SMA. Technically, this is considered highly bullish for the stock. The stock should experience a run up into its earnings announcement on May 9th. The stock looks good here.
Conclusion
All these stocks have strong fundamentals and appear undervalued at current levels. Nevertheless, sometimes it's a value trap rather than a trade. KLA-Tencor may be fine going forward, nonetheless, I see better prospects out there. Sometimes you have to consider the opportunity cost of owning one stock over another. With the current market backdrop, your money is better invested elsewhere for now.
Use this information as a starting point for your own due diligence and research methods before determining whether or not to buy or sell a security. If you choose to start a position in any stock, I suggest layering in a quarter at a time on a weekly basis to reduce risk and setting a 5% trailing stop loss order to minimize losses.
Disclosure: I have no positions in any stocks mentioned, but may initiate a long position in AAPL, BMC, MSFT, ORCL over the next 72 hours.