Looking Forward to eBay's 2008 P/E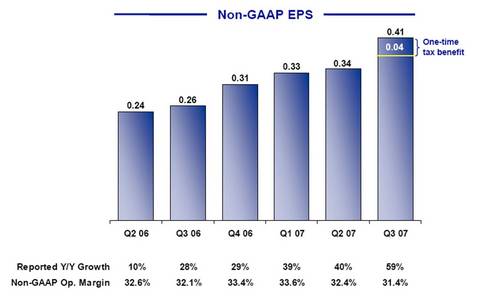 In Q3 2007, correcting for the one-time tax benefit, year over year growth in eBay's (NASDAQ:EBAY) non-GAAP EPS was 42%, representing the 5th consecutive quarter of EPS growth acceleration. Of course, GAAP EPS shows a vastly different picture due to the non-cash Skype impairment, but I have already covered that extensively in the past.
eBay's own guidance for Q4 EPS is $0.39 to $0.41 but that's based on a USD/EUR FX rate of 1.38. Given today's spot rate of 1.48, we can expect eBay's Q4 EPS around $0.42 if we take eBay's guidance at face value (which is always conservative). That would give eBay a 2007 total EPS of $1.46 (excluding the one-time tax benefit again). And if we assume the accelerating EPS growth has peaked and will come down to a conservative 25% in 2008, we can guess 2008 EPS will be at least $1.83.
The point is, with eBay's share price at $31.59 over the Thanksgiving break, this yields a 2007 P/E of 21.6x and a 2008 P/E of just 17.3x. Without even needing to compare this multiple to the much higher ones of eBay's peers, I am convinced eBay is a Buy. Even it it means holding on into 2008.
Overstock.com Announces Integration of PayPal
Despite its recent problems, Overstock.com (NASDAQ:OSTK) remains one of the largest online retail outlets in the world with over 10 million unique visitors in October alone (according to comScore). Which is why the just announced integration of PayPal is yet another landmark account win for eBay.
"Our customers have looked forward to PayPal's addition to our site," said Overstock.com CEO Patrick Byrne, "and based on how sharply PayPal use has surged in recent days, it's clear they're pleased with the decision."
So PayPal is up and running at Overstock and gaining traction from Day 1. With a statement like this from Byrne, how can any major E-commerce destination justify not offering PayPal? Yet another reason why Q4 and 2008 will be truly record-smashing for PayPal Merchant Services.