Investing in Water and Water ETFs
To start with, I want to say that I own the PowerShares Water Resources Portfolio ETF (PHO). In this post I will explain why I invest in water and why PHO is my security of choice. The links for all sources noted are at the bottom of this post and should provide a bit of a linkfest for those looking to do further research.
Water is, of course, a necessity. It is a fundamental need to sustain all life on this planet. The earth is 70.8% covered by water on its surface. Only about 2.5% of that is fresh water, 68.7% of which is currently in the form of ice (source: Wikipedia).
I grew up and live in New York State where I have enjoyed excellent water quality and sanitation services throughout my life for all of my daily needs. I am lucky and I do not take it for granted.
I have been researching the state of global fresh water for many years and been fascinated by many of the numbers. The need for adequate water supply is not just a concern for the future, but for this very day in many parts of the world:
1 billion people do not have access to safe drinking water
2.6 billion people lack basic sanitation
2.2 million people a year die from illness caused by contaminated water
5,000 children a day die from diarrhea
water use will increase by about 50 percent in the next 30 years
an estimated 4 billion people - one half of the world's population - will live under conditions of severe water stress in 2025
(sources: OECD, UNICEF, World Bank, WHO, WWC)
Many developing countries have grown quickly in the past few years and are emerging into world powers right now.
developing economies grew 7.3%, or

more than twice the rate in high-income countries at 3.1%

10.7% growth in China and 9.2% growth in India played a significant role in the recent strength of developing countries, but even excluding these two, developing countries grew 5.9 percent
(As measured by 2006 GDP. Source: World Bank).
Technological advances, an inexpensive labor supply and abundant supplies of natural resources are some of the factors that have stimulated growth in these regions. As these countries have matured, the needs for basic modern amenities have grown. To provide these essential services requires better infrastructure and resource management throughout the countries. Roads and services are part of this, but the most basic ingredients for facilitating modernization are clean water and sanitation. The World Water Council suggests developing countries will need $4.5 trillion in water infrastructure investments over the next 25 years
Developing countries are only half of the story. The developed world has growing water needs as well. In the US and parts of Europe, much of the water infrastructure is old and in need of replacement and modernization. The WWF reports:
water loss from aging water mains in London could fill up 300 Olympic-size swimming pools daily
countries in northern Europe and on the Atlantic are suffering recurring droughts
in Australia, the world's driest country, salinity is a major threat to agriculture
contamination of water supplies in Japan is a very serious issue in many areas
in large parts of the US, increasing consumption has led to a situation where the water supply can no longer meet demands
a combination of climate change, loss of wetlands (which store a lot of freshwater), poorly laid-out water infrastructure and water resource mismanagement, is making the water crisis truly global
(source: WWF)
In Europe, according to Kaj Bärlund, then Director of the Environment and Human Settlements Division of the United Nations Economic Commission for Europe:
in most countries of the UN-ECE region the system of pipes to supply water is in a desperate state
pipe systems date from before World War I and they haven't been upgraded since
on average between 40 and 60% of the water which is produced is lost before arriving at the tap
in some cities the lost water amounts to 80% of production
conservative estimates are that around $10 billion (US) a year in terms of clean water is wasted
in many cities the entire water system would need to be rebuilt
(source: UN-ECE)
Low water levels and poor management right here in the US have also helped push water concerns high up on the domestic agenda. Recent attention on drought in the Southeast is one serious example right here domestically.
Altogether in the US:
54,000 community drinking water systems provide drinking water to more than 250 million Americans
total drinking water and waste water infrastructure needs over a twenty-year period are about $1 trillion dollars
at least 25% of the nation's pipes are in poor shape
by 2020, that number is expected to rise to 45%
in systems that serve more than 100,000 people, about 30% of the pipes were between 40 and 80 years old and about 10% of the pipes were more than 80 years old
6 billion gallons of treated water leak from water lines every day
community water systems nationwide have an immediate need of $12.1 billion in infrastructure investment (primarily to protect against microbiological contamination)
more than 40 percent of lakes, ponds and reservoirs in North America are impaired because of pollution
(sources: WIN, EPA, ASCE)
The Water Infrastructure Network estimates that drinking water utilities alone will need about $480 billion over the next 20 years. The EPA's estimate is lower at around $150 billion. Each organization has their own estimates and you can do further research to see their philosophical differences.
Rep. John Duncan Jr. from Tennessee and Hon. Bruce Tobey, Mayor, Gloucester, Massachusetts said this of the total US freshwater and wastewater system:
we need to be spending an additional $23 billion a year over and above current investments (currently about $60 billion) to keep our drinking water and waterways clean and safe
we are seeing the simultaneous expiration of the useful life of water infrastructure installed at various points in time in history (the majority of the problem lies underground in old pipes)
populations have reached the point of having surpassed the capacity of our water and wastewater systems to handle them
(source: US House of Representatives)
When there is inadequate water present in an area, its people have only three options:
create infrastructure to bring in new water
find better technology and methods to treat, distribute and conserve the water they have
move
No matter which option is selected, in the US or abroad, there is no way to escape the high cost of water, our primary requirement for survival.
The research I have done has shown me that, in the US alone, the cost of all maintenance and repairs for freshwater and sanitation needs for the next twenty years is well over $1 trillion (despite what may actually be spent). On a global scale, the cost over the next twenty years is more than $5 trillion.
If there does exist $250 billion in water related needs each year globally, this presents an opportunity for investors. Even if only half of this money were actually spent, it will be very profitable for some companies.
Over the years I have owned a few individual water utilities and infrastructure companies. I never really found one though that gave me a comprehensive investment in water. Then, in 2005, PowerShares launched the PowerShares Water Resources Portfolio ETF. This was the first concentrated fund investing in water related infrastructure, utilities and technology. I began holding this ETF soon after its inception. I have found it to be a wonderful way to get exposure to global spending trends in fresh water and sanitation needs. It is a core long term holding in my Roth IRA.
A a water ETF from Claymore (CGW) was launched in May this year. The biggest difference in the philosophy is that CGW is considered a global ETF and PHO is considered US based (it invests in US listed companies and ADRs). However, it should be noted that many of the US based companies held in PHO have sales and operations overseas and are in a prime position for global growth. When CGW came out I researched it and compared it to PHO to see if CGW may offer a better opportunity. Some articles I read around the Claymore launch seemed to suggest that CGW was the better diversified of the two.
Veolia and Suez, two French companies, comprise 20.35% of CGW's holdings as the largest positions. In fact, the top five holdings in CGW (out of 51 as of this writing) are 35.9% of the fund. The top ten holdings are 54.56% of the fund. PHO's top five and top ten holdings comprise 19.93% and 38.05% of the ETF respectively. CGW may be more diversified geographically, but certainly not in its holdings. CGW has 31.8% concentration in the US and 32.5% in France and the UK combined.
PowerShares Global Water ETF (PIO) and First Trust ISE Water (FIW) were also launched this summer (in 2007). PIO, the second water ETF from PowerShares, still has 24.92% direct exposure to US companies. There was initially a good amount of overlap between PIO and PHO. Lately, however, PowerShares has been smart and created more of a separation. This gives investors the option of augmenting PHO with PIO for a domestic and an international water ETF.
FIW is quite similar to PHO. They each invest about 89% of their assets in US companies and 4% in French based ADR's. The biggest difference in holdings is FIW's Brazilian exposure and greater holdings in the diversified machinery and metal fabrication sectors. PHO is heavier in engineering and construction. Also, FIW's top ten holdings (out of 36) comprise 43.3% of the fund.
Let us look deeper at the numbers ( all charts):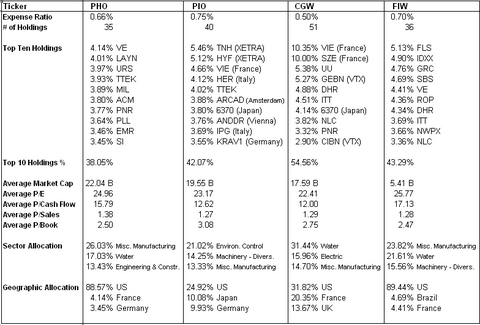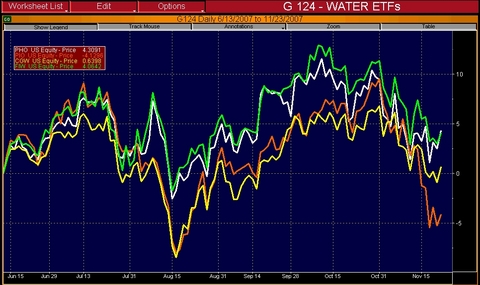 All ETF data is according to the Bloomberg terminal on 11/23/07.
Another point I have seen mentioned a couple of times is that GE (GE) is roughly 2.99% of PHO's holdings. Some seem to think this is too high a percentage for a company where the water business accounts for 2% of sales. It should be noted though, that there are only 35 stocks held in the PHO ETF, which, if held in equal weight, would be a 2.86% position each. GE is the 17th largest holding.
I can understand the problem here for investors and for PHO management. GE is important to the global water business. You can not overlook its contribution to the industry. But how do you invest for such a small stake in the overall business? I think PHO made the right choice to include it and appreciate the fact that they have made it a lower percentage holding. Some may continue to say a 2.99% holding is too high, but in relation to a 35 stock portfolio, I think it is reasonable.
CGW, PIO and FIW are all fine ETFs. I actually like the global exposure in CGW and PIO despite the fact that I feel they are too concentrated at the top. Also, these three ETFs have existed for less than one year. CGW has assets of $315.65M, FIW of $10.49M and PIO of $241.09M.
PHO has assets of $2.14B which shows it may be the water ETF of choice among investors. I find that even though PHO is concentrated in US listed companies and ADR's, many of those companies have strong global sales. PHO holdings are also weighted far more equally than the other ETFs mentioned. Additionally I like the high concentration in engineering and construction companies. I already own PHO and I am satisfied with its performance so far. I see no reason to make a change.
Some of the stocks included in these ETFs have had a good run over the past year or so. Some have also recently corrected. The beauty of investing in a water ETF is twofold: you avoid single company risk and, through one instrument, you get coverage in utilities, infrastructure, technology and other water related industries.
This piece is solely concerned with water as a long term investment. By long term investment, I mean decades. I recommend that you thoroughly research this sector, or any sector, yourself before you put your money to work. Remember, your strategy is likely very different from mine.
Disclosure: Long PHO.

Data sources and sites for further research:


This article was written by
Brian Powers is an independent investor. His writing generally focuses on thoughts related to investing in his Roth IRA account. Brian started investing in 1998. He is basically a value investor in that he generally invests for the long term. That does not mean he does not like so-called growth stocks. He loves growth stocks when he can buy them at a reasonable price. Additionally, there are sometimes reasons other than value that make a security attractive. Brian uses a bottoms up approach which starts with fundamental analysis. He has traditionally looked for small caps, but in the Roth IRA, he balanced his portfolio with large and mid cap exposure. Core positions are generally for the long term, but may be rebalanced as conditions warrant. Visit his blog:www.cavemanus.com (http://www.cavemanus.com/)