Sometimes it's easy to see a phenomenon in the market and assume it's new. But just because it's happening now does not mean it has never happened before. I'm reminded of this concept when I'm asked by clients about ETFs and correlations.
When correlations rise, like they did late last year as investors worried about the European financial crisis, clients ask me whether the increased use of passive investment instruments like ETFs is causing an increase in stock market correlations. In fact, I seem to get asked this question whenever stock correlations rise.
I figured it would be helpful to address this issue on two fronts. First, take a look at this chart that I've posted below. It shows the average correlation across large-cap stocks back to the late 1920s. It provides some perspective on how the scale of current correlation levels compares with the very long history of data that is available for U.S. markets. While correlations are high, they are no higher than correlation levels experienced for a long period of time during and after the last big financial crisis in the United States — the stock market crash of 1929 and the ensuing Great Depression.
During that time, as we all well know, ETFs and other broad-market instruments were not available to investors.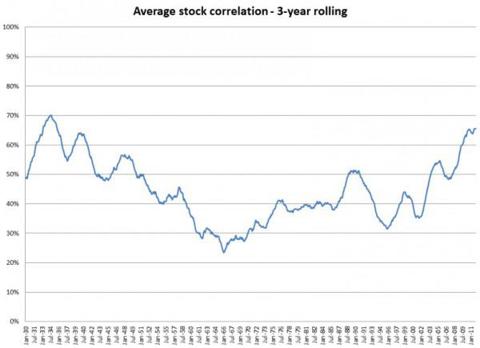 Now, take a look at this video where I talk more in depth about ETFs, correlation and how, when thinking about these two concepts, it's important to take into account what is ultimately driving people to trade.
Disclaimer: Data on daily returns and market capitalizations are from CRSP. The universe of stocks used is the S&P500 starting in 1958 and the top 200 stocks by capitalization prior to 1958. S&P500 membership data is also from CRSP. Each month the correlation of each stock, using daily data, with the cap-weighted return of the universe under consideration is computed. The correlation is averaged across stocks each month to obtain an average correlation, at the monthly level, between individual stocks and the cap-weighted return. The plot shows 3-year rolling averages of the monthly correlation to smooth out short-term variability in the data and highlight the long-term trend in correlations.