Mixed data shakes up the tables this week as we cycle risk-on / risk-off on nearly a daily basis.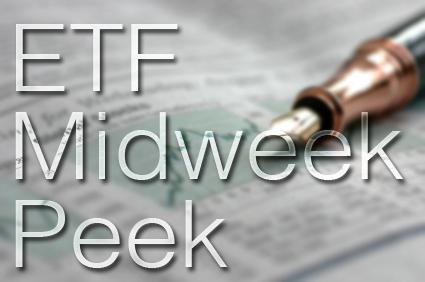 Traders hear what they want to hear and what they heard last week from Fed Chairman Bernanke made them very happy. Essentially, Bernanke stating that everything is going along just fine... but if it doesn't we'll 'QE' to the moon. Good news is good news; bad news is better news.
Earnings season started off with a bang of 90% beating "expectations" (you can have a decline in earnings but "beat" and that's the media story). Of course, the all important Apple (NASDAQ:AAPL) had a marvelous report saving the selloff and gave life to the market for a week afterward. As AAPL continued selling, it lost favor of the media. Earnings data has come in with more and more misses.
Employment data downright stinks and other economic data in housing and manufacturing have been disappointing. This morning's ADP was a huge miss. A miss on Thursday's weekly employment number and a miss on Friday's monthly will be the QE trifecta. Thanks to the Greek drama, Spain collapsing is a non-event. One thing we've learned for sure: QE trumps everything.
Top Performers This Week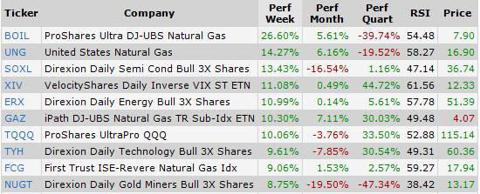 Natural gas beckons the bottom fishers in with another round of "it can't go any lower". Gold miners, performing almost as poorly as Nat Gas, get the usual "risk on" bounce as traders look for the worse performers for the greatest upward movement. Gold miners are an especially good candidate for the inflation play.
Tech and the Nasdaq index remain elevated on AAPL's earnings and AAPL related issues of semis and others. April's pullback on the Nasdaq gave this sector running room on the RSI.
New Highs

Rental REITs have all the fundamentals of perfection in this market. All those foreclosed homeowners have to live somewhere. The housing market skids along the bottom month after month giving buyers little incentive even if they could get a mortgage.
Further, knowing interest rates will remain at historic lows for an "extended period" (at least two more years), there's little incentive to buy now for fear of mortgage rates going up and could even get a better price if home prices drop. From an investors viewpoint of residential REITs, not only is there the fundamental market, but delicious dividends to boot.
Speaking of dividends, that is still the Holy Grail for investors in corporate bonds and sovereign debt.
New Lows

Despite triple digit daily swings in the Dow, the VIX remains in comatose territory. Large defensive positions in Dow holdings pushed it against the 52 week high and the inverses to new lows.
This table indicates more of market mechanics than industries or sectors.
Unusual Volume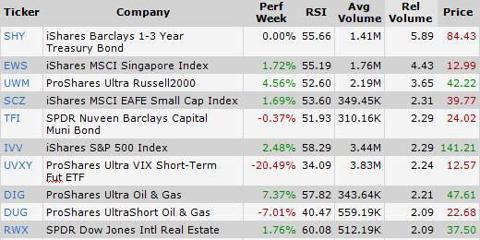 Unusual volume was largely a function of risk off to risk on positions. Short term bonds sold and small caps bought. Shorts covered in oil and gas and long positions opened.
Real estate is favored for dividends.
Overbought

Although this issue met our criteria of average volume over 300K, it is currently so thinly traded it shouldn't be given serious consideration as something to buy.
However, it does make a statement that global debt is at the top of the pile.
Oversold
None...
Trending Up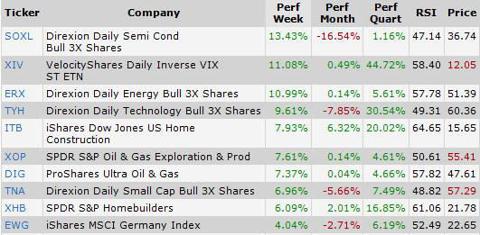 Ever volatile semiconductors are doing what they do best - wild swings. The VIX seems comfortable in the realms of the 2007 euphoria. It appears that early money is moving into oil on the anticipation of QE inflation. Previously, gold would have been the first mover, but gold got into a mess with speculators and large positions getting moved.
Much of the trust of gold as a "currency" has been lost. Also, gold's "season" usually doesn't start until late summer / early fall.
Homebuilders have been getting pops on each bounce off a bottom in the index, but from a fundamental standpoint, their business is construction and renovation of rental properties and actual new home construction is flat at the bottom.
Germany holds up as the best house in the bad European neighborhood.
Trending Down

The Euro remains a short position in virtually every hedge fund portfolio. This will be something to watch closely going forward. A short squeeze in the Euro could be an enormous market mover. Central banks watch these short positions and know they have the power to pop them if they wish.
Despite a small risk on pop in NUGT, gold miners are still in a free fall off the cliff.
In summary, May begins weakly. The old adage of "Sell in May and go away", might become "Hold in May and wait for QE in June". Disappointing economic data is likely to be all the Fed needs for another round of QE. Traders seem to be positioning in oil and risk on positions anticipating QE. England, Spain and Greece are in recession weighing on a global economy driven mostly by a slowing China.
An incumbent president with printing presses in the basement, isn't going to allow the market to tumble at the height of the campaign season. Double dip recession is simply not an option in the US if the Fed has to print money into oblivion to, at least, give the appearance that everything is just fine. Of course, dumping hundreds of billions into the market is clearly a sign of how poor things would be.
But hey, in our world you dance while the music's playing - even if the band is set up on the deck of the Titanic.
Disclosure: I have no positions in any stocks mentioned, and no plans to initiate any positions within the next 72 hours.