Rio Tinto (RTP) is up 60% over the past three months due in part to a takeover offer made by rival BHP Billiton (NYSE:BHP). Typically, a takeover offer is not a reason to go short, however, a newcomer to the iron ore industry will make it difficult for the Board of BHP Hilton to receive shareholder approval for the 124.63 Billion necessary to consummate the deal.
Reason #1: Fortescue emergence and increase of global iron ore supply.
The aforementioned newcomer to the iron ore industry comes in the form of Australian based Fortescue Metals Group, a newcomer to the industry previously dominated by BHP, RTP and Brazil's Cia. Vale do Rio Doce (NYSE:RIO). Fortescue Metals recently announced a discovery of one billion metric tons of iron-ore in Western Australia. Couple this with the massive increase in global iron ore supply and it looks like the increased competition in the industry will push the price of iron-ore down, presumptively lowering margins and effectively decreasing revenue for the entire industry.
Reason #2: China has great incentive to assist Fortescue, if necessary, and other potential competitors.
China has led the way in iron-ore consumption over the past several years due to the massive infrastructure growth . This consumption has pushed the cost of the commodity to previously unseen territories. In fact, iron-ore has more than doubled in price in the past three years. The Chinese Government has ample incentive to bankroll competitors like Fortescue in order to assist in keeping costs down as China continues to grow and prepare for the 2008 Olympic Games.
Considering the Fundamentals
Looking at the underlying fundamentals, a failed acquisition by BHP would likely push shares of RTP down dramatically. Compare industry rival RIO enjoying 37.7% yoy revenue growth trading at 7x earnings to RTP fundamentals of 13.5% yoy revenue growth trading at 20x earnings and there seems to be a tremendous premium priced into the stock based primarily on the potential merger. With the sizable barriers to a takeover, and the questionable fundamentals, RTP makes for a tremendous short opportunity over the next 3 to 6 months.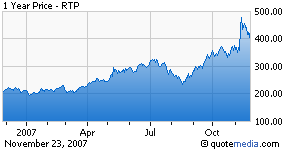 Disclosure: none