One of the major limitations of Quantitative Analysis is that it is very hard to know when to sell a stock. The reason for this is because most of your fellow investors do little if any research at all when they buy and sell. Therefore we are left with a situation where the actions of the market are mostly due to investor behavior. Since these investors do little if any research at all, they become extremely confused when things turn against them and they tend to panic.
So though we have done all our research and feel confident that we are in the best stocks, if panic erupts, then unfortunately we will go down just like everyone else proving why most money managers cannot beat the Indices. In the end we are just one investor in a sea of investors and though we may have the best stocks, in a panic we will suffer as well.
I have never been satisfied with the concept that I should suffer the same fate of my fellow investors, as I do a tremendous amount of work in researching my holdings and why should I suffer along with those who do little if any research at all?
A couple of years ago I introduced my Statistical Indicator Analysis (SIA) here on Seeking Alpha which you can read about by going here and since then I have improved my SIA-Charts significantly and will show everyone how my improved system works by analyzing Microsoft (NASDAQ:MSFT).
Recently just before Microsoft embarked on its recent run up in price, I wrote this article for Seeking Alpha that you can read by going here: and in it I explained from a quantitative and qualitative point of view why Microsoft was ready to take off. I was proved right in that the stock went from $26.59 on the day my article was published to close on April 27, 2012 at $31.98. I was able to prove then that the stock was attractive, but what about now? Is it still attractive or do we need to sell it?
Here is my SIA-Chart on Microsoft: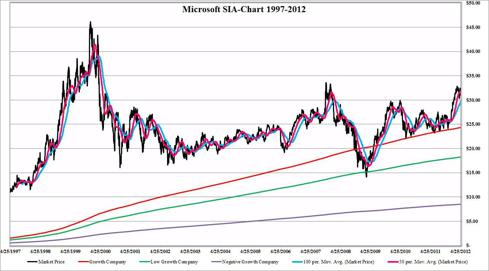 I was able to determine, from long hours of testing various averages, that if one bought a stock below its 3650 trading day moving average, there was a high probability of success in the majority of cases. But once you buy the stock, SIA was not able to help you much as to when to sell. Before we get into the selling part let me first explain the "Red", "Green" and "Purple" lines in the chart above.
Firstly going into this analysis one should be aware that not all companies are created equal and some have either superior products or great management at the helm and sometimes as is the case with Apple (NASDAQ:AAPL) you have both. The way to best determine the quality of an investment is to measure its growth rates. Basically I measure growth by using the following growth ratios:
1) MICHAELIS RATIO = (Yield + T.Rowe Price Ratio)
George Michaelis was one of the greatest investors who ever lived and used this ratio to pick winners. Warren Buffett was his funds largest shareholder and bought 40% of Michaelis' Source Capital Closed end fund. Mr. Michaelis died from a tragic accident in his prime and will be sorely missed.
The Growth part of that ratio I named the T. Rowe Price Ratio:
T. ROWE PRICE GROWTH RATIO = (Return on Equity)(100% - Payout Ratio)
T. Rowe Price was one of the fathers of Growth stock investing and this ratio is how I determine my growth rates in my work.
Therefore Microsoft should be considered a Growth Company because its T. Rowe Price ratio is as follows.
Return on Equity = net income/shareholder's equity = 38.23%
Payout Ratio = Dividends per share/ Earnings per share = .80/2.73 = 29%
T. Rowe Price Ratio = 38.23% x (100%-29%) = 38.23% x 71% = 27.14% growth rate
Therefore we would classify Microsoft as a Growth Stock and thus if its stock price were ever to break below the red line on our SIA-Chart above we would get a strong buy signal.
So a company with a 15% or higher growth rate needs to have its price fall below the red to be a buy. The Green line is the Low Growth stock line and a company with a 0%-10% growth rate would need to have its stock price fall below that line to be attractive. The green line is actually a 25% discount to the Red Line (SIA)
Finally the purple line is for negative growth companies that have negative T. Rowe Price Ratio results or a negative growth rate. For a company to be a buy there it would need to sell at a 65% discount to its SIA or Red Growth Line.
So now that we have explained the improvements in SIA charting to everyone, let's now go where the rubber hits the road. We now own Microsoft and it is obviously above its growth line, so since we are no longer in bargain territory, we need to determine whether to hold or sell and when?
This is where short term technical analysis enters the picture. During my entire career as an Analyst and Portfolio Manager/Investment Advisor, I have always tried to take extremely complex problems and hammer away at them until I break them down to their key elements and simplify them by identifying patterns that have consistently similar results a high percentage of the time. In technical analysis one is inundated with millions of data points all at the same time and they are all open to various interpretation, depending on who you talk to. I have simplified this process by backtesting over 800 stocks and found the following to be true in most cases.
1) When the 50 day moving average (pink line in the chart above) is above the 100 day moving average the underlying stock price tends to continue to go up consistently over time.
2) When the 50 day moving average drops below its 100 day moving average the stock price tends to continue to go down consistently over time.
As you can see from the chart above that one would have made some serious money making long term trades in Microsoft, following those two simple steps over the years. Microsoft is clearly still a hold as its 50 day moving average is still above its 100 day moving average and until that changes I am not selling. Since most companies trade above their SIA the 50 day/100 day pattern is where most of my time is spent after I buy.
Here are some very popular stocks that prove my theory:
As you can see the major run up in Apple started in March 2009 and has continued its upward move because its 50 moving average has pretty consistently stayed above its 100 moving average the whole time. Therefore the charts are telling you to hold and not to sell. But when should you sell? The early sign to exit is when the stock price breaks below its 50 day and then keeps going below its 100 day. As soon as Apple's stock price breaks below its 100 day moving average by 5% or more we can assume that its 50 day moving average will soon cross (in what is called a "Death Cross") below its 100 day. Therefore my SIA Chart system would tell one to sell at $475 as that should safely get you out before the death cross happens.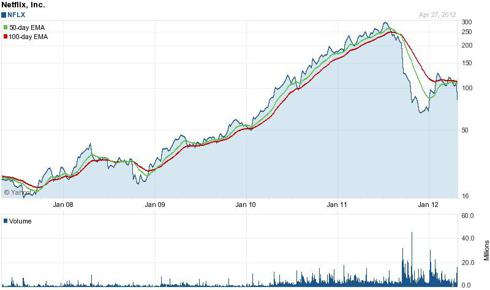 This chart clearly shows the run up on Netflix (NASDAQ:NFLX) and then the crash and burn that soon followed after the stock's 50 day moving average broke below its 100 day moving average. As you can see even though we currently had a nice run up, the stock has a very negative pattern and may head down further. Again we do not use the SIA-Charts to buy unless there is break below the growth line assigned to each stock. The 50/100 day moving average charts are there to tell you to hold or sell. The SIA or Growth company line for Netflix is currently $36.52 but I would be very surprised to ever see it ever hit that price anytime soon. Therefore Netflix is no longer on my radar.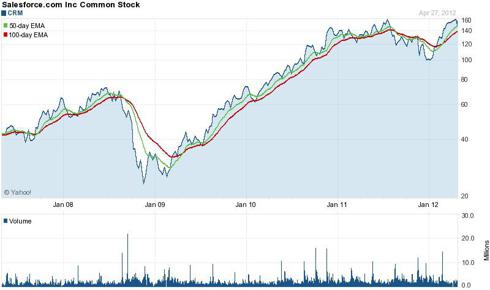 To the dismay of all short sellers, Salesforce.com (NYSE:CRM) has had its 50 day overtake its 100 day and the results are clear. Until you see the stock trade 5% or more below its 100 day moving average, which is currently is $133, my SIA-Charts say to hold if you own it and make adjustments to the 100 day moving average minus 5% all the way up.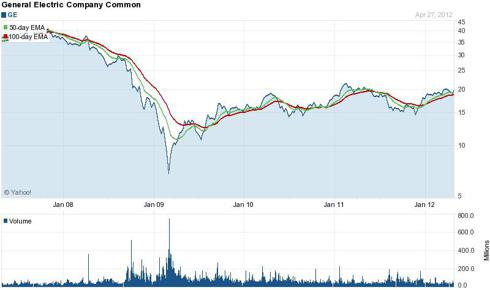 Had you used this simple tool you would have been out of General Electric (NYSE:GE) back in January 2008 and avoided the big crash in the stock that soon followed. Currently General Electric has a T. Rowe Price growth rate of 7% therefore I would look to be a buyer at $17.88 as that is when it will break below its low growth SIA and would not worry about the 50/100 day analysis because the stock is cheap right now from a SIA-Chart point of view. A Quantitative analysis of the stock would need to be done if it were to go down to that price to confirm its value. But if you own it I would not be a seller as the stock is cheap as at $17.88 it would trade at 75% of its 3650 day moving average, which makes General Electric a pure value play. In January 2008 when it experienced a "Death Cross" my buy price was $15.88 and the stock was trading at $30.92. So when the stock went down to $6.08 in March 2009 it even broke below its negative growth buy price of $7.83 which would have made it an amazing time to buy it. When you can buy a low growth company at a negative growth company price you are doing something amazing.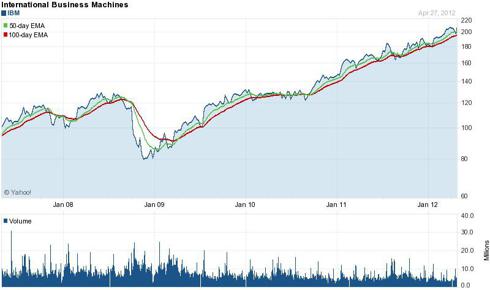 And here you would have beaten Warren Buffett to the punch with IBM (NYSE:IBM) by almost two years and had a wonderful ride up. The good times look like they will continue going up for IBM because for me to sell the stock it would need to fall to $185.50 as that is when the stock price would be 5% below its 100 moving average and would eventually experience a "death cross".
Finally you can analyze any stock with this methodology as it's all based on price action. Regardless if it's a roller coaster stock like Sirius Radio (NASDAQ:SIRI), or a dog with fleas like Research in Motion (RIMM):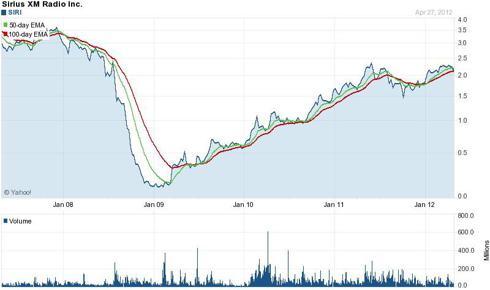 Research in Motion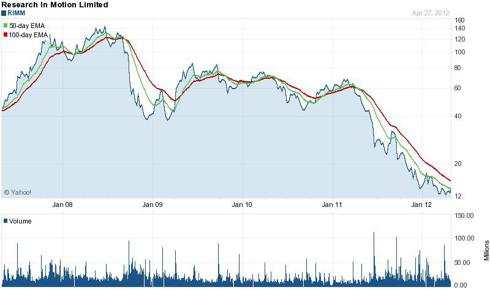 Had you used this methodology you would have gotten out of Research in Motion at $58 in 2011 and avoided the carnage that soon followed.
I call this part of my system "The Moving Train vs. The Falling Knife" as you don't want to step in front of a moving train when its 50 day moving average is above its 100 day and you don't want to try and catch a falling knife when its 50 day moving average is below its 100 day. Currently SIRI is a strong buy in my book as it is a growth company selling way below a negative growth company SIA figure according to my SIA-Charts, but one must do a qualitative analysis of the company before buying (your own due diligence). I don't own it as it is below my comfort level as it trades below $5 a share. As for Research in Motion even though it is classified as a growth company, from a qualitative point of view I would look at it as a negative growth company as management can do nothing right. So I would start looking at it at $10.88 because as we learned from Nokia (NYSE:NOK) this year, when management makes all the wrong moves, a stock can enter a death spiral and when margins go negative you are toast.
Of course this is a simple way to analyze a stock and I recommend that you also do a qualitative and quantitative analysis of each stock as part of your own due diligence, but you should always be aware when the 50 day and 100 day moving averages cross as that's where most of the game is played out these days in the markets.
Disclaimer: Please note, investments involve risk and unless otherwise stated, are not guaranteed. Past performance cannot be used as an indicator to determine future results. Strategies mentioned may not be suitable for everyone. The information contained in this article represents the opinions of Peter "Mycroft" Psaras, and should not be construed as personalized investment advice. Before acting on any information mentioned, it is recommended to seek advice from a qualified tax or investment adviser to determine whether it is suitable for your specific situation.