When there's something worth discussing - and there usually is - I like to review some of the activity my colleagues from Seeking Alpha pointed out on SA and across the Web.
Let's kick things off with the great Frederic Ruffy, who called Protalix BioTherapeutics (NYSEMKT:PLX) his "Implied Volatility Mover" for Wednesday:
PLX is up 81 cents to $7 in active trading of more than 10 million shares and implied volatility in the options on the biotech is down sharply after the FDA approved an orphan drug for treating Gaucher disease. PLX options are busy with 11,000 calls and 20,000 puts on the tape so far. The top trade is a 2000-lot of May 6 calls sold at $1.30 per contract on ISE, to open (according to ISEE data). It's possibly an overwrite strategy against stock. The next biggest trade is 1668 May 6 puts sold at a dime on ISE and a closing trade. Indeed, it seems that premium sellers are driving much the flow in PLX today and 30-day ATM implied volatility has plummeted 52% to 94. IV was at 52-week highs of 196 prior to today's news. The 52-week low of 49.5 dates back to March 16.
We discuss implied volatility frequently because it can turn what you might intuitively think of as a good trade into a loser. While IV comes up often around earnings, other major events can drive it. FDA decisions top the list.
PLX ended up closing the day at $7.03, up nearly 14%. As Ruffy noted, traders selling options make up most the volume in PLX options. Why? Heading into big news, IV spikes. Almost immediately after the dust settles, it swoons, taking option premiums with it. In this situation, you're better off being short (a seller) than long (a buyer) calls.
Check out the price action on PLX calls today, courtesy of CBOE LiveOptions: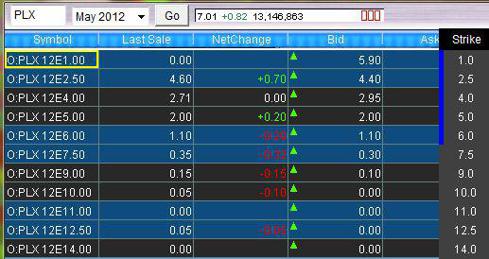 There's plenty of red there, even though the stock was up nicely. It has everything to do with the plummeting IV Ruffy wrote about. Let's look at the chart on the PLX May 2012 $7.50 call, courtesy of BigCharts.com:

The chart says it all. The lesson - don't go long calls or puts prior to a major event such as earnings or FDA decisions. It's akin to taking the Leafs over the Canucks on a Saturday night.
Plus, there's a always more to the story. In a nice debut article by Steve Johannsen, Seeking Alpha provides some color on PLX.
Frequent Seeking Alpha contributor optionMONSTER provides a concise summary of bearish put activity in Intel (NASDAQ:INTC) options:
INTC is down fractionally at $28.87 this morning after hitting $29.05 at yesterday, its highest price since 2004. The stock is up 50% since its 52-week low set in August.

Two of the largest option prints of the day come in INTC puts. A trader bought 20,000 June 29 puts for $1.02 and sold 20,000 of the May 28 puts for $0.28, according to optionMONSTER's Depth Charge system. The volume at that May strike was less than open interest.

It appears that the trader is rolling the put position out from May to June as we close in on the last two weeks before expiration, when time decay is at its worst.
Time decay, just like IV, can trigger considerable pain.
For the record, INTC closed trading at $29.18, up $0.23 or nearly 1%.
We can learn a couple of things here.
First, the trader is clearly bearish, however, he or she does not want to take the risk that things will not transpire as anticipated overnight. As optionMONSTER points out, the negative effects of time decay intensify in the final two weeks prior to expiration. They're already having an impact, but it's only going to get worse. Thus, the trader gets out of the near-dated puts and opts to move into a position in June. Also, notice how he or she went around- or in-the-money on both trades as opposed to taking a flyer on an out-of-the-money contract.
Second, I am short an INTC May $28 covered call. While my shares have not been called away just yet, it's likely to happen at expiration (possibly before) if this keeps up and the stock does not retreat back below $28. I erred on the decision, no doubt.
After Wall Street reacted negatively to Intel's recent earnings report, I expected stagnation. The opposite took place. While I do not necessarily feel great about giving up INTC shares, I'm not beating myself up over it. I'll have a chance to get them back.
Apple (NASDAQ:AAPL) bulls do not spend much time talking about this, but, despite the company's blow-out earnings report, the stock has not even threatened the highs it set back on April 9/10.
Have a look at the list of slightly ITM, ATM and slightly OTM options for May, courtesy of Yahoo Finance. The first of each identical strike is the weekly option. The second is the quote for the monthly contract.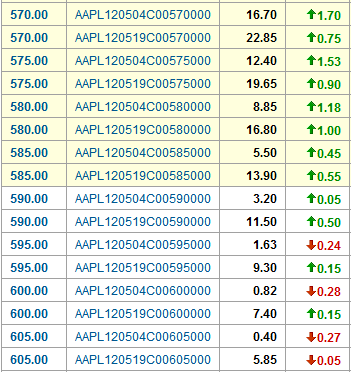 If you've been following along in this article and the many I have penned for Seeking Alpha in recent weeks, some red in the OTM options should not come as a surprise.
Let's go to the chart of the AAPL May $605 monthly call, which expires on the 19th:

That contract was ITM or ATM from the beginning of April right through the 18th, with the exception of April 16th's $580.16 close. After dropping OTM, it moved back ITM the 25th and the 26th before closing OTM by exactly $2.00 on the 27th. It and, for all intents and purposes, Apple's stock has not recovered since (see the price history here).
This example ties the entire article together as we see the forces of time decay AND IV work against somebody who is long a trade that looked quite sensible at the beginning of the month, particularly if you were caught up in the bullish fervor of Apple hysteria.
This is the type of material Robert Weinstein and I covered in our weekly Options Investing Newsletter.
Disclosure: I am long INTC.