There is no doubt about the fact that Monday was a bad day in the market.
What made it more disturbing was that we should have gone up as we are tremendously oversold. Black Friday was okay, and negativism is extremely high. The market was up on Friday, and many stocks were putting in a bottom.
Over the past few months, I have combed through the charts of about 1200 stocks, and picked out 75 that were in discernible downtrends. I run them through the charts every day, or every three days to see how they are behaving. And for most of them, it appeared that they were in the process of bottoming.
As a result, I covered a portion of my short positions at noon on Monday by closing my position in my iShares Dow Jones U.S. Real Estate Index Fund (NYSEARCA:IYR) puts - though I still own a large position in the UltraShort Real Estate ProShares (NYSEARCA:SRS) ETF - and covering a portion of my Canada short position by selling some of my Horizons BetaPro TSX60 Bear ETFs, [HXD.TO].
As well, some of the old favorites - such as Google (NASDAQ:GOOG), Apple (NASDAQ:AAPL), and RIMM (RIMM) - which looked like they were going higher, reversed intra-day on Monday. Google hit $693 intra-day on Monday, and was up $17. Then, at 2:30, it reversed, and closed down $12 at $665. An intra-day reversal for one of the market's most important stocks can only be construed as negative.
All news is bad news. Everything is being sold. With any minor rally, the sellers come in and whacking down the market.
Psychology is terrible. I think that even if the Fed were to cut by 50 bps today, the market would viciously sell the subsequent rally.
I am net short, and have been for some time. Monday was one of my best days in a while, and I'm having my best month in years. However, it has been a poor year for me - up, but not by much. And for some reason, I don't feel as good as I should. Maybe its because I was wrong about the bounce and am regretting covering a portion of my short book. But hindsight is always 20/20 and we always must look forward.
I have been saying for some time that "something bad" was going to happen either this year or next. We may be in the process of the bad stuff playing out now. I believe we have entered into a bear market, which will take the market down 20%-30% from the top.
It may go down more. Remember that the 1972-1973 bear market saw a 49% decline in the S&P 500 over 21 months. It fell 50% from 2000 to 2002 over 30 months. I do not know if it will be that bad - I doubt it - but the S&P 500 has fallen 10.7% from its highs just two months ago. The Russell 2000 is off 14% and hit its 52-week low this afternoon. Things can get a lot worse, and I am expecting they will.
A bear market in the U.S. will hit the rest of the world. The idea that the rest of the world is "decoupling" from the United States is, I believe, nonsense. If I am correct, then a good way to play a slowing global economy is by shorting emerging markets. ProShares has two emerging market UltraShort ETFs, UltraShort MSCI Emerging Markets, (NYSEARCA:EEV), and UltraShort FTSE/Xinhau China 25, (NYSEARCA:FXP).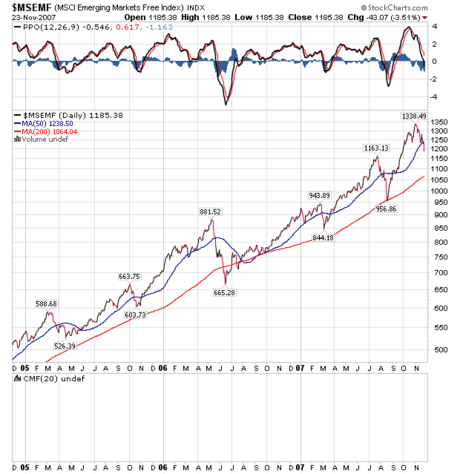 I am also getting nervous about my gold and silver position. I am long-term bullish on precious metals and think gold will eventually hit $1500-$2000. But since gold broke out in August, it has risen 31% in three months, which is similar to the 34% move in gold over six weeks from March to May last year before it gave back all of its gains.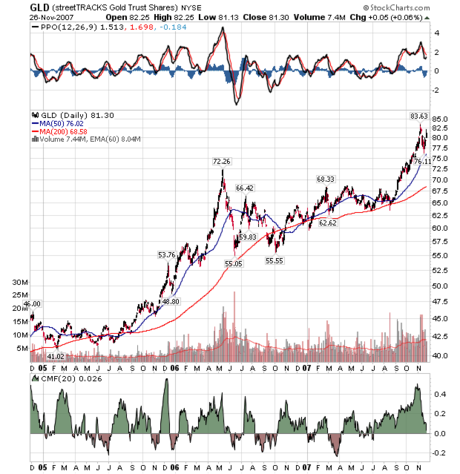 With the base metals breaking down, with credit tightening and with asset markets weakening - a deflationary event - I am having a hard time reconciling why gold and silver should not fall from here.
I do not believe gold has risen because investors are fearful. Rather, I believe it has risen because gold has become a proxy for liquidity. It has been rising more or less in line with Google since the Fed cut the discount rate in August.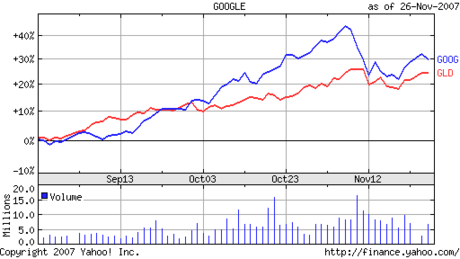 Therefore, any scarcity of liquidity should hit the price of gold.
I wish I could say something good about this market. Other than great values being created down the road, I cannot. Thus, any rallies are to be sold.