On Wednesday, May 2, 2012, after the markets closed, Annaly Financial (NYSE:NLY), the largest publicly traded mortgage REIT, reported its results for the first quarter of 2012. The company reported Q1 GAAP net income of $901.8 million, or $0.92 per share, compared to $445.6 million, or $0.46 per share during Q4 of 2011. Annaly had also earned $0.92 during Q1 of 2011.
Excluding unrealized gains, Q1 net income was $529.3 million, or $0.54 per share, which is identical to Annaly's performance during Q4 of 2011 if unrealized losses were excluded. Average Wall Street estimates called for Annaly to earn $0.48 per share.
Annaly buys agency mortgages that are backed by federal agencies. Other well-known agency mREITs include American Capital Agency Corp (NASDAQ:AGNC) and Hatteras Financial (NYSE:HTS). Index ETFs for mREITs include the FTSE NAREIT Mortgage REITs Index ETF (BATS:REM) and the Market Vectors Mortgage REIT Income ETF (NYSEARCA:MORT), though both of these ETFs also hold mREITs that invest in non-agency backed securities. Annaly shares are up about 2% so far in 2012, and paid a quarterly dividend of $0.55, which is worth about 3.5%. See a recent performance chart for NLY: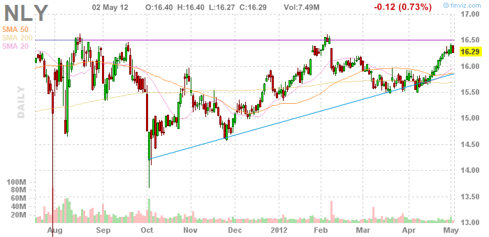 Annaly reported that its annualized yield on average interest-earning assets was 3.23% during Q1, while its cost of funds was 1.52%. As a result, Annaly had an average interest rate spread of 1.71%, which is the same spread it had during Q4 of 2011 and a 46 basis point decrease from the 2.17% spread it had during Q1 of 2011. Annaly also noted that at the end of Q1, its average yield on investment securities was 3.21% and the average cost of funds on borrowings was 1.51%, for a spread of 1.70%.
Fixed-rate securities comprised 91% of Annaly's portfolio at the end of Q1, with 8% in adjustable-rate securities and 1% in LIBOR floating-rate collateralized mortgage obligations. The company also noted that after taking into account the effect of interest rate swaps, the portfolio was comprised 51% fixed-rate assets, 41% floating-rate and 8% adjustable-rate.
Annaly also reported that its leverage rate at the end of Q1 was 5.8x, a slight increase from the 5.4x leverage it had in place at the end of Q4 2011, but below the 6.3x leverage it had in Q1 of 2011. Annaly's management became more conservative since issuing its last secondary offering during the start of the summer, last year, in advance of the debt ceiling crisis and subsequent downgrade of U.S. debt.
Annaly had previously commented that its reduction in leverage was by design, that leverage can be difficult to reduce and that the mREIT was concerned with current market volatility. Several of Annaly's competitors, including AGNC and HTS, have maintained considerably higher leverage rates, which has worked out well for them so far, but could one day turn out to be an added risk.
Michael A.J. Farrell, Chairman, Chief Executive Officer and President of Annaly, commented that:
Risks continue to evolve in the market, with an emphasis on sovereign weakness, slow economic growth, central bank activism and the implications of proposed regulatory reforms. Against this background of potential challenges to global financial stability, we continue to see the benefits of being conservative in our business.
Nonetheless, Annaly has apparently opted to put a little more leverage back into its portfolio, possibly after the Federal Reserve announced its intention to keep interest rates low through late 2014. Annaly also reported that its book value at the end of Q1 was $16.18, a twelve-cent increase from the end of 2011, and eleven cents below Annaly's closing price.
Annaly has reduced its dividend in each of the last three quarters. Last quarter, Annaly reduced its dividend by two cents, from $0.57 to $0.55, which is still one cent above Annaly's realized earnings over each of the last two quarters. As such, further reductions do appear probable in the coming quarters. Annaly usually announces its 2Q dividend in mid to late June, with an ex-dividend date at the end of June.
Disclosure: I am long NLY.
Disclaimer: This article is intended to be informative and should not be construed as personalized advice as it does not take into account your specific situation or objectives.