Since the first time I visited the Red Mile, I have been hooked on the Sport of Kings. A half century later, I still remember that day.
I was only ten-years old, and my Dad was guiding the station wagon through the country lanes separating the bluegrass horse farms in Kentucky. I was bored looking out the window, as I aligned the top rail of the endless white fence with the horizon. Meanwhile, my smarter, older sister lectured us about the proclivity of certain Derby-winning stallions to produce grass runners as opposed to dirt racers.
At sundown, we stopped at the Red Mile Race Track for hamburgers and some harness races. My father was not a gambler, and he was notoriously thrifty about getting the most out of his annual two-week vacation trip. He went to the Red Mile on "burger night" because kids were free. The Red Mile is named after the color of the loam and distance of the venerable harness oval. When the buggies took the track, I was awe-struck by the strength, bearing and beauty of the horses that powered them. When they charged the finish line, the adrenaline surge was incredible as my favorite was out-finishing the pick of my oh-so-genius sister. I have been a racing fan ever since.

This article offers some options for investing in racehorses. There actually may be some winners in this stable of investments, as we look at traditional horse purchases, breeding opportunities, partnerships and some racing-related stocks.
Maybe the most famous racehorse of all time is Secretariat, the Triple Crown winner of 1973, when he took the Kentucky Derby, Preakness Stakes and Belmont Stakes, setting a track record in the latter that still stands today (see photo below).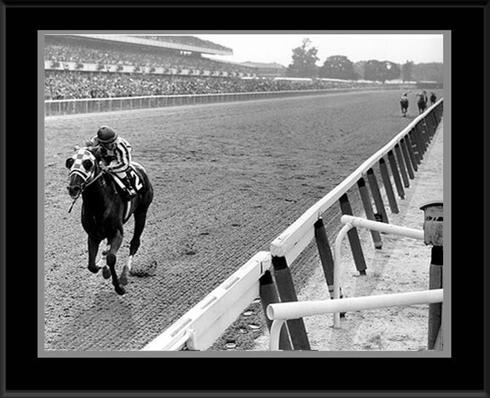 Secretariat won $1.3MM in two seasons as a racer, and he earned another $144MM as a sire. His stud fee in 1974 exceeded $100,000. Stakes-winning horses can be life-changing investments.
On the other hand, it is estimated that only about 70% of all thoroughbreds make it to the track, and only about 40% actually ever win a race. Nevertheless, these odds are better than those of stock option purchases, of which at least 80% expire worthless. However, at least stock options do not require food, training and shoes.
Traditional Direct-Ownership Thoroughbred Investing. Secretariat was bred on a farm for the purpose of racing. That is the normal beginning and intended destiny of every thoroughbred horse. Some are raced by their breeders, some are sold privately to professional owners and trainers, and some are sold at auction.
To buy a horse at auction, you must first be registered in your state as a thoroughbred owner. That means the state thoroughbred owners association has passed judgment on your ability to actually support the costs associated with being an owner. Most investors can qualify, and the dues are usually a couple hundred bucks a year.
The association can tell you the schedule of auctions, which may only be once or twice a year in your state, if any. They can also tell you the reciprocity with other states to determine if you can purchase and own horses in those states. Usually, new owners first select a trainer or a bloodstock agent, who then guides them through the process for horse selection and purchase.
At this point we should say a word about the science of thoroughbred breeding. Everyone knows that breeding a champion sire with a proven mare is likely to produce a winner. My know-it-all sister, Priscilla Perfect, not only identified the preferred track surface for the sire's progeny, but also their favorite distance for the race. Breeders even take into account the probability of the offspring improving in the mud. Breeding records have been carefully kept for decades, and the breeders know the best cross between sire lines to increase the odds of a successful match.
Of course, the match of the ideal sire and dam does not guarantee that all the offspring will be champions, as subjective factors come into play in racing. My full sister is a winner of national academic awards, and I, well, I can pick stocks occasionally.
Some breeding lines are so valuable that The Jockey Club, the industry's main governing body, restricts the use of thoroughbred names that suggest a famous bloodline that the horse does not actually possess. For instance, you cannot name a horse "Seattle Morning" unless the horse has Seattle Slew blood, and the name has not been already assigned.
You generally get what you pay for. A horse at auction can fetch a few hundred bucks or several millions of dollars...mostly due to its breeding lines and physical attributes. One Wall Street manager was telling me how he nearly lost his fortune on a string of racehorses. He advised me "to never invest in something that eats while you sleep." Whether it is a Derby winner or a nag, your horse will require food and maintenance costs that average about $1000 per month. If the horse makes it to the track, another $2000 per month for training is on the low side. After all that, you have a 60% chance of ending up with an expensive, ravenous and hyper-active pet. On the other hand, Seattle Slew (below) sold at auction for $17,500 and probably made more than $200MM at stud.
Seattle Slew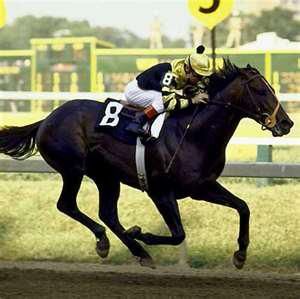 Tax legislation has made the owning of horses less attractive than years past. In order to declare tax "write offs" you have to be able to prove that you are in the business to make money, not just have fun. This usually requires that you prove you have a substantial investment in time in managing your thoroughbred business. If you want to own a racehorse for tax advantages, you will probably be disappointed. If your are in it to win more money than you invested, you at least have a chance to succeed.
I compare owning a young, unraced thoroughbred to owning a biotech company that plans to make money, based on theoretical science. They look good on paper, and both require continuous capital investment to get the products developed and to market. Finally, if they make it that far, they can be a boom or a bust.
Quarter Horse Alternative. Another kind of racer is a quarter horse, a muscular breed that races short distances, usually no more than a quarter mile, at incredibly fast speeds. These are not thoroughbreds, as their bloodlines cannot be tracked back to the three thoroughbred foundation stallions: Byerly Turk (1680-1696) the Darley Arabian (1700-1733) and the Godolphin Arabian (1724-1753). Quarter horses are bred from a variety of breeds, including thoroughbreds, Arabians, Morgans and even mustangs. They can be found working in ranches in the west, and if thoroughbreds are aristocrats, quarter horses are journeyman workers and runners.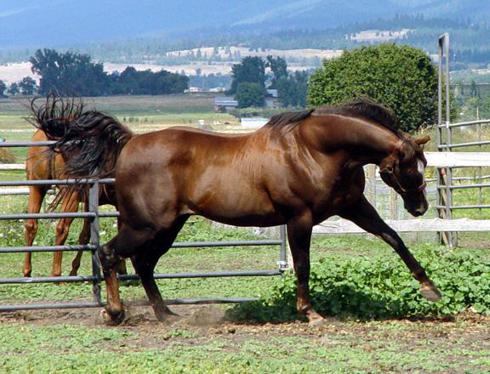 Unlike thoroughbreds with their long body, delicately thin legs, and high-strung carriage, quarter horses have shorter legs, powerful hind quarters and generally calm dispositions.
Their durability and intelligence are some of the advantages to owning quarter horses. Other advantages are that they can run more often, with less rest between races, and they have other uses than racing. Disadvantages are that there are not many quarter-horse tracks, the purses are generally smaller for their races, and they always play second fiddle to their pure-bred cousins. Nonetheless, if you have dreams of the big killing, there are several million-dollar races for this breed, the best-known being the All-American Futurity, with a $1.2MM first prize purse.
A considerable difference about quarter horse breeding is that artificial insemination is allowed. Thoroughbreds must mate the old-fashioned way. Since a great stallion can produce enough semen to impregnate hundreds of mares a year, it is less expensive to breed excellent blood lines into your quarter horse mare. Probably a viable "value investment" in the racing business is a winning quarter horse mare, both for racing income and for breeding marketable yearlings.
I compare quarter horse investment to owning a junior oil explorer, drilling in a proven but modest producing field. Maybe the steady income will support the investment, and, with some luck, you may eventually hit a gusher.
The Claiming Game. The closest thing to "day trading" in the racing world is the "claiming" system that exists at all horse tracks. To play this game you need to understand the mechanisms that the track stewards use to keep races competitive and fair for the betting public. Stewards are hired by the track to organize and oversee the races so they also meet governing regulations. They determine the "conditions" of the race, such as: "1 mile, fillies and mares, 3-years old, carrying 120 lbs. with a claiming price of $10,000." Most laymen can understand the restrictions for distance, sex, age and weight. The claiming price is considered a measure of the talent of the horse, and it is used to match competitors of equal ability. The trainer has to be willing to sell his horse to anyone for the claiming price in order to enter this race. He obviously will not enter a horse worth $50,000 in a race where the racer may be "claimed" for $10,000.
About half of all races at North American tracks are claiming races. The claiming price can range from as low as $2,000 to hundreds of thousands, although the majority are between $5,000 and $50,000. A person with an owner's license can fill out a claim form before the race to purchase the horse. Any winnings from that race go to the original owner, and the horse is then vanned off by his new owner. It is not likely that you will win the Derby with a "claimer," as horses generally run in these races because they cannot compete in stakes races.
The object of the claiming game is to buy an undervalued horse, move him up in price, and either win purse money or make a profit when the horse is claimed at a higher level. Some trainers specialize in this, and they consistently claim good horses from novice trainers and owners that need to "drop" a good horse into a low price race to earn purse money for upkeep. It is tricky though, and sometimes trainers drop seemingly good horses into training races because they have career-ending injuries. After their poor performance in the race, it is unlikely that they will ever get back to the same claiming level again, and the new owner is left holding the nag. Many handicappers do well betting on claiming races simply by reading body language and eliminating from consideration all the out-of-shape runners.
Hayburner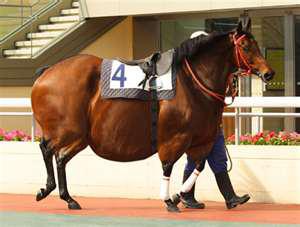 Active claiming trainers will claim and lose horses a few times a week. As a "long-time" investor, it is possible to find good horses that are proven winners and keep them by judiciously running them at the right level. For instance, with the onset of video gambling at some minor race tracks, as a concession to the horsemen, the purses have been increased greatly. A good $10,000 claiming horse in a known track without the slots may run for $20,000 at some of these "casino" tracks. It may be worth a $1000 van ride to move the claimers to the better-paying track. The legendary Seabiscuit was a claimer once.
Finally, you can find many old stakes runners in claiming races. They may have earned $300,000 in their career, but now can only race for $3000. That is because they are older and slower and nobody wants to get stuck with a horse that can no longer win. If he is an old male stakes horse he is probably a gelding and has no stallion future. On the other hand, it is possible to find stakes winning mares with respectable blood lines in claiming races, and that potential brood mare may be where the bargain investment lies.
Thoroughbred Partnerships. Partnerships allow a small investor to own a part of a legitimate prospect for as little as a few thousand dollars. Partners share the costs and winnings according to their ownership percentage. This is a good way to be able to participate in the major leagues of horse racing, if you don't mind sharing the winners circle.
Winners

Although there are several partnerships, we will review one currently offered by Hibiscus Stables as an example. The horse is a 2-year old filly, bred in NY, and the minimum partnership interest is 3%. The cost of the interest is currently $4300 and that includes all maintenance and training fees for 2012. For 2013, the estimate is $105 per month for those costs. The horse offers the opportunity to participate in the traditional Saratoga Springs summer thoroughbred meet, probably the most elegant and prestigious meet for horse-racing insiders.
Let's try to assess the value and judge the potential for returns for this type of investment. For reference, the name of this runner is Your Time is Up, and her sire is Freud, the second best NY sire for the past three years. The dam has produced 13 foals, and 9 of those are winners, and the dam's sire is the legendary Damascus. Because of the records of both dam and sire, it is reasonable to think that this horse may be able to compete at a relatively high level. Because of the bloodlines, this filly could also have some value as a broodmare, especially after a winning race career.
At auction the average sales price for a Freud 2-year old is about $50,000. If we assume that the exceptional winner percentage on the dam side adds 33% to the average, then the market value may be about $66,500, and a 3% interest would be worth about $2000. Of course, there are dozens of other factors that horse buyers will analyze, but we are just trying to make a general evaluation.
The 8 months of training and maintenance, at $105 per month, is worth about $840. The residual breeding value of Your Time is Up may be about $10,000, which equates to another $300 at 3%. Therefore the cost of this partnership share breaks down as follows:
Cost of horse (3% share)---------$2000
Maintenance and Training - 2012---$840
Residual Value---------------------$300
Partnership sales fee, Other------$1,160
Total Partnership Cost - 3% share $4,300
If this is close to accurate, it seems a fair price for this share. Now we must determine what the odds are that we will get our money back, or make money.
Your Time is Up is scheduled to run in Maiden races at Saratoga Springs this summer. The purse for this type of race varies from $55K to $65k, with 60% to the winner and smaller percentages for the next four finishers. We will assume that this filly will run in 5 races in 2012, winning one maiden race and earning an average of 20% of this purse in the other four races. The 2012 earnings for this filly would be $84,000. After trainer share (generally about 10% of winnings), jockey share (about 5% from winnings) and other fees paid from the winnings, we may see revenue of about $68,000. With our 3% share we will have earnings of about $2000. That would be a very good year, I think.
In 2013, running the full year, maybe the winnings could be a little more, but the maintenance and training fees must be taken from those, so maybe we have net revenue of about $1500. As the horse climbs the class ladder, it is harder to win races, so by 2014, Your Time is Up may be only producing $1000 for us, and she could be ready for the breeding shed.
Even with these realistic but optimistic projections, the horse will have about broken even, using my numbers...a $4500 return on a $4300 investment, with some additional profit on sale of the horse. In order to generate this revenue, the filly would have to earn more than $200,000 in three years of racing, which would make her an exceptional race horse. That kind of a runner would be a prime breeding prospect. As for making money on this partnership, I think it is a high risk proposition, with the possibility of either exceptional returns or losing all the investment. However, if you want to have fun, and rub shoulders with sheiks and aristocrats at Saratoga, it is a relatively cheap ticket.
I am sure that the partnership managers can provide a more accurate projection than this. One should consult with them and understand completely what follow-up costs may be required and the risk that the horse may not even make it to the track.
Some partnerships invest in a group of horses, which can spread the risk, but that may not have the personal attraction of an interest in your "own" horse. These are like mutual funds in that they provide some diversification.
Race Horse Stocks. There are a number of public companies that operate race tracks. Following are a few and a summary of their value and growth prospects:
Churchill Downs (NASDAQ:CHDN) owns the race track where the Kentucky Derby is run, as well as tracks in New Orleans, Illinois and Florida. It also operates on-line services for horse players: Twinspires.com for on-line wagering and Brisnet.com which provides information related to horse racing and breeding. It also manufactures tote machines that dispense wagering tickets. It is selling at its all-time high of $60, which is about 16 times earnings. Growth is projected at about 5% annually and the stock is reasonably valued at less than twice book value and twice sales. This is the "purest play" on racing in the stock market.
Penn National Gaming (NASDAQ:PENN) owns 11 tracks for racing horses, harness buggies and greyhounds. PENN also owns several casinos. At $45 per share, the market capital for PENN is about three times that of CHDN, but the growth rate and value measures are very similar to CHDN. This company has more exposure to non-horse entertainment than CHDN.
MTR Gaming (MNTG) owns race tracks in West Virginia, Ohio and Pennsylvania, as well as casino operations. At $5 per share, its market cap is about one-tenth of CHDN, although its revenues are about two-thirds of that competitor. MNTG has been operating in the red, although the stock is at a 52-week high. It has struggled with debt, and is leveraged more than the previous track stocks.
Pinnacle Entertainment (NYSE:PNK) owns a track near Cincinnati and just announced the purchase of the race track in San Antonio, Texas. The largest portion of its earnings comes from casino and hotel operations. Actually the track operations contributed less than 1% of revenue and operated at a loss in 2011. PNK is hanging its hat on the expectation of putting video slots in its two tracks near large metropolitan centers. An interesting side investment of PNK is a 26% minority interest in an MGM casino in Viet Nam, one of the hottest emerging markets. PNK has solid growth and a superior combination of valuations in terms of book value, forward PE and price to sales than the other race track owners in this article.
Global Cash Access Holdings (GCA) does not operate race tracks, but its special ATM machines are found in most tracks, casinos, cruise ships, etc. These machines allow cash access from debit cards, check verification and allow cashless wagering. The stock, currently at $8.62 has been on a tear lately, making new highs. Obviously business is growing at a double digit rate, and its forward PE on 2012 earnings is only about 12. The concern has to be if there is a saturation point in the near future, but almost all the stocks listed in this article have expansion plans that will require more of the GCA machines.
Conclusion. It is called the "Sport of Kings" because it helps to have a treasure available if you plan to own and race horses. In my opinion, if you are OK with playing in the minor leagues, claiming a good quarter horse mare for racing and breeding may be the best risk/reward proposition if going the direct ownership route.
For a newcomer to the business, a small investment in a thoroughbred partnership would give the thrill of the sport, with professional management making the important decisions.
Of the race-related stocks, Pinnacle Entertainment is the most intriguing to me, although it is only lightly associated with the racing industry. PNK announced strong earnings on Tuesday and the stock shot up 5% before settling back to close with a small gain.
Maybe the best way to riches in this industry is to go to the track or sports book and place your bet. I remember walking into the Caesars Palace Race and Sports Book humming "World on a String" from the Rat Pack impersonator show I took in the night before. As I hummed, I looked down at the program and World on a String was a thoroughbred entered in the next race. I placed a small bet, and it won at a price. Race bettors are superstitious, and sometimes the racing gods seem to give you one. Now I have to place my bet, as I see that Priscilla Perfect is going to post in the next race.
Disclosure: I have no positions in any stocks mentioned, and no plans to initiate any positions within the next 72 hours.