With a gain of almost 135% in one year, Suntech Power Holdings Co. Ltd. (NYSE:STP) is one of the leading performers amongst solar stocks. For Q3, the company has flied past the expectations (EPS of 36c against expectations of 28c). We believe that the company's patented Pluto technology can contribute to the company continuing with its strong growth story (rev CAGR of 188% through the last five years).
It was in 2006 that STP, the largest solar module manufacturer in the world, commenced pilot production of its Pluto technology. Pluto technology, a patented technology that the company developed in conjunction with University of New South Wales, has been found to outperform both conventional screen-printed solar cells and semiconductor finger technology. During pilot production, Pluto achieved 18-19% conversion efficiency and the company expects an increase in this number to 20% in 2008. By avoiding the use of expensive materials like semiconductor grade silicon wafers, the company also expects this technology to reduce its production costs. Due to the low manufacturing costs associated with Pluto, STP can increase its gross margins by 10-12% relative to its conventional screen printing cell technology.
With such results, the company has taken the initial steps to migrate to mass scale production based on Pluto. It has also ceased retrofitting other lines with semiconductor finger technology. In Q3, the company took the delivery of equipments designed for large scale manufacture and is being evaluated as part of the upgraded pilot line facilities. STP expects to commence production, based on Pluto, in mid 2008, by retrofitting one of its existing production lines. With the company planning to utilize almost 80% of the existing equipment during the process of retrofitting, one is probably justified in not expecting much of a spike on the cost front.
Despite broad market weakness, STP is only lower by 10% from its all-time high, aided by rocketing oil prices. With Pluto, the company appears well poised to leverage the increasing fervor in the non conventional energy space. STP remains a good pick for long-term play.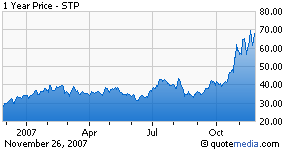 Disclosure: none