FACTORS AFFECTING COCOA PRICES:
While political concerns in West Africa and fluctuations of the U.S. dollar can have a major effect in the price of cocoa, weather conditions in Ivory Coast (#1 world cocoa producer), Ghana and Indonesia are at least just as important. Two years of back to back La Nina events (cool ocean currents off the coast of South America and low pressure over Darwin, Australia) has resulted in above-normal world production and one key reason for cocoa prices to fall some 30% or so from their highs. Coffee and cotton futures have also been adversely affected by larger world crops this past year---something we predicted months ago.
(Click to enlarge)

Source: Marcus Weather
Just a few months ago, workers in Nigeria and several other west African countries were having quite a few political problems. Higher grain and fuel prices this last year has been one reason for so much international political instability in several parts of the world and west Africa has been no exception. When this happens, it can have a positive effect on cocoa prices. However, given the big rebound in world production the last couple years, it may take some severe weather woes to get cocoa prices out of the gutter. Is this possible? For this, we look at some relationships of which weather conditions may affect global cocoa production in the months ahead.
EL NINO MIGHT FORM BY SUMMER AND ITS POTENTIAL IMPACT
Sometimes traders get too excited whenever El Nino looks like it is forming and they buy cocoa in anticipation of higher prices. While cocoa prices do NOT always rally in the face of El Nino, there is a modest correlation with below normal world yields. So, this year, after a big fall in prices, we are starting to see some concerns in the cocoa market about dry weather.
(Click to enlarge)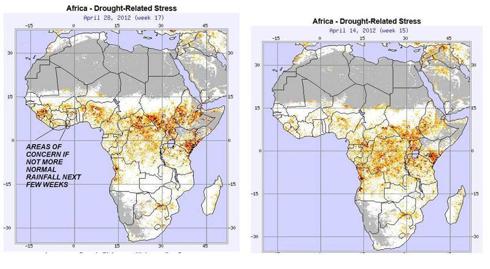 The graphs of Africa (above) shows dryness developing in west Africa (left) compared to two weeks ago (right). Right now, I expect more normal May rainfall to ease some of these problems, otherwise, cocoa prices might explode
Source: FAS -- Crop Veggie Index
(Click to enlarge)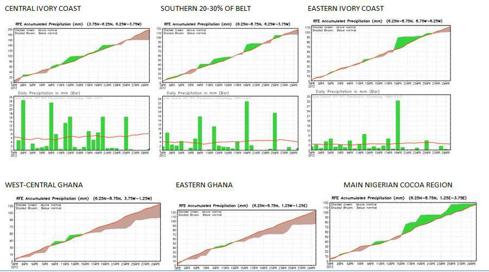 Source: FAS/NOAA/NCDC
The charts above show areas of dryness in west Africa (gray), versus wetter conditions the last few months (green). If the dry areas do not see good rains the next 1-2 months, then cocoa prices could explode.
(Click to enlarge)
WILL EL NINO FORM IN TIME TO HURT COCOA CROPS?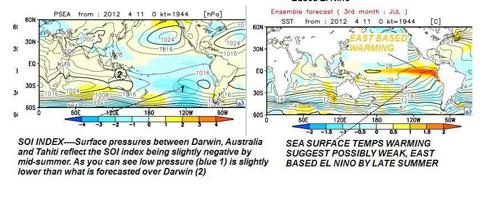 Source: Japan Meteorological Center
The maps above show the Japan Mode forecast by July. If warming extends further and further west (as the map to the right suggests) then summer dryness may affect West African cocoa.
There are many factors, not just El Nino, that dictate the weather conditions in many countries, including West Africa. Solar activity, whether high or low pressure prevails over Greenland or the Arctic, as well as sea surface temperatures around Africa. These factors all influence cocoa crops in West Africa and Indonesia. While few weather forecasters are expecting El Nino to form until the Fall at the earliest, the maps above show the forecast of the Japan Model (just one of many models) that depict warming along the equator and to the west of South America as well as surface pressure rising over Australia and lowering over Tahiti (SOI index to become negative). I like to look at a lot of other variables in the atmosphere, to to me, I think it is a good bet El Nino will form by summer sometime and continue into winter.
GOOD U.S. CORN AND WHEAT CROPS THIS YEAR
I continue to feel that the potential of above-normal trendline corn yields, drought-easing rains in Europe and Canada, as well as a stellar wheat crop in Kansas, etc., is a bearish aspect to these two grain markets. Pre-El Nino conditions should result in a normal to cool Midwest summer with normal to above normal rainfall
PLAYING THE COCOA MARKET
My confidence was much higher in calling for a warm winter and subsequent lower natural gas prices- plus the South American drought and higher winter and early spring soybean prices- than in predicting cocoa prices. However, if El Nino forms, one way to play cocoa from a possible bull side is by the Ipath Pure Beta Cocoa ETN (NYSEARCA:CHOC). This index has dropped about 30% from its 52 week high and opening price a year ago and may be a good buying opportunity over the next year or two. Another "possible play" is the Ipath Dow Jones-UBS Cocoa Total return sub-index-ETN (NYSEARCA:NIB)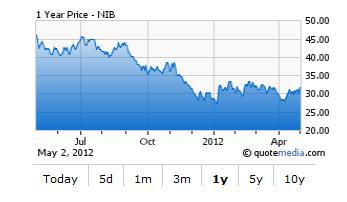 The ETN has broken down some 30% due to less political tension in Africa and the onset of relatively large world crops onto the market. A year from now, it may be a different story.
Source: Seeking Alpha
Disclosure: I have no positions in any stocks mentioned, and no plans to initiate any positions within the next 72 hours.