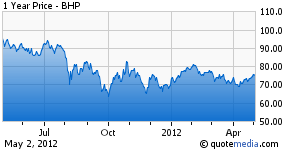 Wild weather and a prolonged strike at its coal mines in Queensland, Australia exacted a toll on the world's biggest miner, BHP Billiton (NYSE:BHP). That said, there still was plenty of news to cheer investors.
BHP Billiton reported first-quarter 2012 production numbers, with iron as the brightest spot. Energy coal also was strong and copper remained flat. However, heavy rains and industrial action hit production of metallurgical coal (MET).
Although BHP's Western Australia iron ore operations had to cope with the tropical cyclone season, sales were only 500,000 tons less than production, with shipments reaching 34.8 million tons.
Total petroleum production increased 58 percent year over year, helped by the company's new focus on high-return liquid rich shale. The company is adjusting to lower U.S. gas prices by concentrating on more profitable shale production. Liquids production from its onshore US business was up 35 percent quarter over quarter, while its guidance for the full year now stands at 225 million barrels of oil equivalent.
BHP energy's contract in Algeria expired last quarter, while in Australia bad weather combined with drilling delays and scheduled maintenance lowered production. The company's Mad Dog field in the Gulf of Mexico was offline and is expected to resume operation in June. The company's other oilfield in the Gulf of Mexico, Atlantis, also was offline due to scheduled maintenance and should remain so until September.
These two fields haven't been producing, but in the past they've been highly productive for the company. When they're up and running again, their contribution in the second half of the year should provide a solid boost.
Copper production was flat yoy, with higher grades at Escondida (Chile) that were counterbalanced by bad weather at Pampa Norte (Chile) and planned maintenance at Olympic Dam (Australia).
Queensland MET coal operations remained constrained by heavy rain, with production down 14 percent qoq but up 10 percent on a yearly basis. However, energy coal set a new production record at the company's key mines. The company expects to resume mining at San Juan Coal in New Mexico in June.
BHP Billiton remains one of the best mining stocks to own. The company produces a diversified portfolio of commodities that limits earnings volatility and provides stable cash flows. The company's assets are relatively low cost, giving it one of the highest margins in the mining industry.
Disclosure: I have no positions in any stocks mentioned, and no plans to initiate any positions within the next 72 hours.