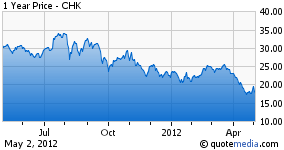 Chesapeake Energy (NYSE:CHK) reported Q1'12 results on May 1, 2012. Click here for the news release.
Notable items include:
Company missed analyst estimates for operating profit, EBITDA and net income. Click here to review how CHK manages quarterly expectations and guesstimates.
First quarter 2012 production was 81% natural gas compared to 87% during Q1'11. As "America's champion of natural gas" CHK is reducing the number of rigs that are drilling for dry natural gas to 12 from 50 at year-end 2011.
The company wants to be a liquids-rich producer. This means that there will be more, not less, natural gas brought into the market. Although EIA-914 data suggests that natural gas production is flat to slightly declining, $2/MMBtu natural gas is, yes, $2/MMBtu natural gas. Based on injections/withdrawals and our own guesstimates, natural gas storage will be considered full roughly 100 days ahead of 2011's full date. Click here to see EnerCom's 2012 natural gas storage estimate graph.
Chesapeake is working to be cash flow positive by 2015.
The company said on its conference call that it is still committed to its 25/25 Plan - reduce debt 25% to $9.5 billion by year-end 2012 and grow production 25%. CHK still needs to close certain future transactions to meet the debt side of the plan - a VPP with the company's Eagle Ford assets, a Joint Venture of the company's Mississippi Lime assets, and a sale of the company's Permian Basin assets. Total Q1'12 production was up 18% year-over-year. One quarter is complete. The company is reducing its 2012 capital expenditure program and total number of rigs working for CHK. The majority of the questions on the call from analysts were directly and indirectly focused on how the company will meet the 25% production growth target. Click here for the link to CHK's Q1'12 conference call.
Cash on hand at 3/31/2012 was $2.3 billion vs. $3.1 billion at 12/31/2012.
The company is working to balance its production base. Crude oil and liquids represented 19% of total Q1'12, up 46% year-over-year. CHK released that it added net proved reserves of 1.8 Tcfe during the quarter through the drill bit. We appreciate the point, but we'd like to see how that number actually holds up over time. Reserve additions are rigorously worked and released once a year for a reason - time. We don't know how many wells were drilled and completed in March and included as part of the 1.8 Tcfe figure. We typically see mid-year disclosures of reserves. First quarter is unusual.
Chesapeake discussed reducing its current rig count to 125 by Q3'12. The company was operating 154 (131 liquids, 23 dry gas) during the first quarter 2012. Management said the company will run two rigs in the Haynesville and Barnett shale basins. During the conference call management noted that it was the best oil story in the business - during 2012 CHK will reduce its capital spending and cut the number of rigs drilling for liquids by 12% over the course of the year.
To conclude, as investors and analysts were queuing up for today's conference call they were greeted with several news items and notes about CHK's iconic founder, Aubrey McClendon.
Disclosure: I have no positions in any stocks mentioned, and no plans to initiate any positions within the next 72 hours.