I previously released an article referencing MediciNova (NASDAQ:MNOV), which engages in the acquisition and development of small-molecule therapeutics for the treatment of serious diseases for the United States market. This is an up-and-coming company that has incredible potential as an investment because of its strong pipeline of six clinical stage compounds and tiny market capitalization. As of the end of the trading day on May 2nd, this value was around $50 million. I have seen companies that look far less appealing selling in a price range that reflects a $150-$200 million market cap. Even if MNOV could achieve the bottom end of this range, that would put it around $9/share compared to the $3.02 price it currently sits at. Let's take a look.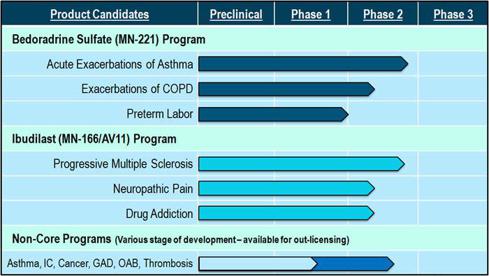 Although this pipeline taken directly from MNOV's website contains numerous clinical pipelined drugs, I want to focus on the most advanced clinical drug to date.
The drug candidate that I feel is not giving MNOV appropriate visibility is their MN-221 drug for Acute Exacerbations of Asthma, more commonly referred to as an asthma attack. Why is this drug important? For starters, asthma affects one in twelve people or about 25 million in the United States alone.
Secondly, approximately two million emergency room visits per year are due to asthma attacks. Of those, about 500,000 lead to hospital stays. MediciNova is looking to prevent these people from needing that expensive hospital stay by filling an unmet need for those not responding to the typical treatments. The reason is pretty simple for people's tendency to go to a hospital for asthma: breathing is the most critical necessity of life.
MediciNova has completed 2 phase II clinical studies for MN-221, with important data from one of the studies due out before the end of this month, the other at the beginning of June. Positive results from these studies could lead to a possible pivotal trial if the trials confirm the success of the prior phase 1 studies which would certainly lead to a major partnership with a large pharma.
Patients suffering from acute exacerbations of asthma in the emergency room who were not promptly responding to standard pharmacotherapy were enrolled in the study. MediciNova is currently in the process of auditing and organizing the data and preparing to lock the database for a complete analysis.
In prior double blind studies, MN 221 was given to patients from an IV. Once in the bloodstream, MN-221 directly enters the lungs and migrates to the irritated bronchial tubes, eventually relaxing the muscles which results in an open airway. Most of the time when people go to the ER for an asthma attack, they are given the same types of things they take at home just in higher doses combined with medical therapy. It's clear to me that these advancements have not gone far enough to help people with a symptom as scary as not being able to breathe. MediciNova is looking to fill an unmet need whose end result is 500,000 people not responding well to common treatments.
In modeling the market potential of MN-221, Chief Business Officer Michael Coffee says that if the company can demonstrate a reduction in hospital admissions, he believes that insurance payers would feel comfortable with an attractive branded price. In an earlier Phase 2a trial, the company generated data showing a 54% reduction in potential hospital admissions.
"Given that, we've extrapolated to show that acute asthma and COPD exacerbations represent a combined annual worldwide sales potential in excess of $1 billion," he adds.
Let's look at the current environment for treating asthma:
These drugs are not for asthma attacks but rather less severe symptoms. Again, GlaxoSmithKline sells $7.4 billion worth of their drug, and it does not cover the most severe issues that asthma brings.
To me, it seems like an incredible fit for one of these big players to partner with MediciNova, if not flat out buy the company.
Look at it this way, Glaxo could fire away $200 million at MNOV and it would be a tiny 2.7% of the sales it did for one asthma drug of theirs. This would then enable a company like Glaxo to treat not only the regular mild form of asthma, but also the more serious, life threatening variety. Here is where the extremely small market cap again comes into play regarding MNOV. What would this relatively tiny investment from GSK translate for MNOV shareholders? Approximately $12/share.
The second most advanced product that MediciNova is working on is their MN-166 (Ibudilast). This has been approved for dizziness after stroke and asthma in Japan and South Korea, and has treated more than three million patients. "But it was our scientists who determined that ibudilast had a potential clinical utility in central nervous system disorders," Mr. Coffee points out.
The company has conducted successful early-stage testing to determine safety and tolerability of higher doses of ibudilast in three clinical areas: progressive Multiple Sclerosis, neuropathic pain, and drug addiction.
In progressive MS, Mr. Coffee says the company is organizing a Phase 2b trial with MN-166 and anticipates announcing in the second half of this year the company's plans for conducting this trial.
In preclinical in vivo and in vitro studies, MN-166 inhibited leukotriene activity, phosphodiesterases and nitric oxide synthase, all of which are inflammatory mechanisms known to be involved in Multiple Sclerosis. These studies also suggested that MN-166 may suppress the production of pro-inflammatory cytokines (IL-1ß, TNF-a) and enhance the production of the anti-inflammatory cytokines (IL-4, IL-10). Based on the potential mechanisms of action of MN-166, its clinical safety history in Japan, the results of pilot studies conducted by Kyorin Pharmaceutical in MS patients, and the issuance of a U.S. patent covering the method of using MN-166 to treat the disease, MediciNova decided to pursue development of MN-166 as a novel oral agent for the treatment of MS.
MediciNova also has non-core programs in asthma, interstitial cystitis, generalized anxiety disorder, thrombosis and overactive bladder that are in various stages of development. The company is seeking to monetize these non-core programs through licensing partnerships.
Let's take a look at the MNOV chart: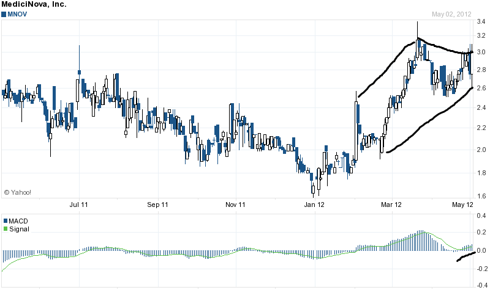 A nice systemetrical continuation triangle has formed also creating a nice wedge pattern. The MACD and signal are trending upwards. The volume has begun to pick up, and this chart looks to be setting up a bullish short term pop to a price over 3.50 a share in my opinion, possibly higher.
If the data from MN-221 turns out to be good, and if phase 2 follows phase 1 and confirms, expect MNOV to partner up with a large pharma, and expect the stock price to move over $4 a share. MN-221 faces a multi-billion dollar market. and with MNOV being a very small cap coming in at around $49M, savvy investors will see the huge value in this company moving forward in my strong opinion.
It is my opinion that MNOV is a strong speculative buy and worth taking a gamble on for a long term hold. As I mentioned in my article about bio-pharma catalyst trades, I expect a run-up to start within the next 2 weeks before the data on MN-221 is revealed. At $3.02 a share, no debt on the books, and a market cap under 50 million, MNOV is highly undervalued, and should be selling for near $4 a share. I would not be surprised to see a $4 a share price after the data on MN-221 is released.
My price target opinion: $3.50 a share short term, $4.25 midterm, and an $8 one year target price.
Disclosure: I am long MNOV.
DISCLAIMER: This article is intended for informational and entertainment use only and should not be construed as professional investment advice, but rather my opinions as a writer only. Always do you own complete due diligence before buying and selling any stock.