The 3D printing industry is evolving as rapidly as its printers, evidenced by last week's merger of long time industry leader Stratasys (NASDAQ:SSYS) and competitor, privately held Objet in a $1.4 billion deal. These machines are facilitating dramatic process change in a variety of industries, although to this point primarily product design and manufacturing. 3D printing allows for rapid creation of accurate 3D parts for prototyping and in limited, but growing instances, end use. One industry starting to realize the benefits of this technology is dentistry. Dental workflow requires the use of many models for accuracy checks and molds for creating orthodontic appliances. This has long been a laborious and time consuming practice requiring the collection of a molded impression of the patient's mouth created by the dentist. After which, to begin work, the impression is sent to a lab where a mold is manually generated and a model poured.
Now, a new technology called intra oral scanning allows for the acquisition of a 3D digital image of the patient's mouth while in the dentist's chair, facilitating rapid volume production of dental models with 3D printing. Intra oral scanning opens the door to a whole new world of digital dental workflow solutions that will benefit many new technology companies. One public company poised to benefit is Align Technology Inc. (NASDAQ:ALGN).
Opportunistic Acquisition
Align has long been the leader in a novel form of braces called clear aligners. Its Invisalign product is the market leader and is offered by dentists all over the world. This has been a strong growth business for the company and recognizing potential to leverage its existing network of dentist providers, Align's management identified an attractive strategic acquisition. In March of 2011 the company acquired Cadent, a company with intraoral scanning technology and a services business model where dentists acquire the digital scan and send the file back to the company for other revenue generating services like milled models and other orthodontic work. From a company press release:
Over the next 5 years, intra-oral scanners will become widely used in dental practices and intra-oral scanning technology will transform the dental industry. According to iData Research, Inc., the growth rate for intra-oral scanners will exceed 20% between 2010 and 2015. The acquisition of Cadent extends Align's strategic leverage by demonstrating the value of applications at chair-side that dramatically simplify and streamline treatment, and make the entire Invisalign procedure easier on the patient and more efficient for the practice. In addition, the use of digital technologies for restorative dentistry such as CAD/CAM or in-office restorations has also been growing rapidly and intra-oral scanning is required to enable this essential part of dental practices. The acquisition of Cadent positions Align as a leader in one of the best growth opportunities in dentistry and medical devices today. And;

Cadent has a portfolio of best-in-class products and services for restorative dentistry and orthodontics which include the iTero and iOC intra-oral scanners. Cadent's iTero technology provides dentists with a full range of restorative choices, flexibility to choose labs and fabrication processes, and control in providing the highest standard of care for their patients.
Digital Workflow For Dentistry
Align's management clearly sees synergies between the Invisalign process and the relationships it has established with "over 55 thousand" dentists. Intraoral scanning at the chair creates the opportunity to offer these same dentists new products and services enabled by transmitting digital images back to Align owned or partnered fabrication centers. It also offers the company a large captive audience of users to sell their newly acquired intraoral scanners to. Being able to generate the scan digitally at the chair will accelerate the process for all of Align's services including its clear braces by eliminating shipping of impression materials. Intraoral offers patients a much improved dental office experience without the discomfort of impression material being put in the mouth, especially post-operative when this can be particularly uncomfortable. From the 10-K:
By enabling the dental practitioner to create a 3D image of the patient's teeth using a handheld intra-oral scanner inside the mouth, intra-oral scanning is more efficient and precise and more comfortable for patients, compared to the mess, discomfort, and subjective nature of taking physical impressions. The digital model created with an intra-oral scanner is more accurate than a physical impression and substantially reduces the rate of restoration "remakes" so patients are recalled less often and the appointment time for the restoration is shorter because of fewer adjustments, which results in greater overall patient satisfaction.
Strong Quarter
ALGN reported impressive 1st quarter profits on Monday April 22,2012 and the stock traded up 18% to all-time highs over $32/share. Interestingly, while reading through the earnings report it became quite apparent that the Cadent acquisition isn't contributing very much to revenues at this stage. Of the $135.1 million of revenues generated in the quarter only $11.8 were from CAD/CAM products and services and the other 91% of revenues were from Invisalign. Invisalign is still a strong growth product, with revenues from the segment growing 17.6% over the previous year's quarter, but intraoral and CAD/CAM services are sure to begin to deliver more significantly to revenues as adoption accelerates. It will be impossible for dentists to resist this technology as patients will demand it for a less invasive and more comfortable experience and labs are pushing scanning on dentists as an easier way to acquire and manage workflow.
At roughly $25,000 per scanner, this is a significant market opportunity for Align. If the 55,000 dentists that currently provide Invisalign to patients acquire a scanner, that would equal roughly $1.4 billion in revenues. That does not factor in all the software usage licenses for labs and others that require access to the scanned itero files for different aspects of the work chain or the resulting services. According to the most recent 10-k, scanner and services revenues are roughly equal implying a potential further $1.4 billion in CAD/CAM services generated by intraoral transition.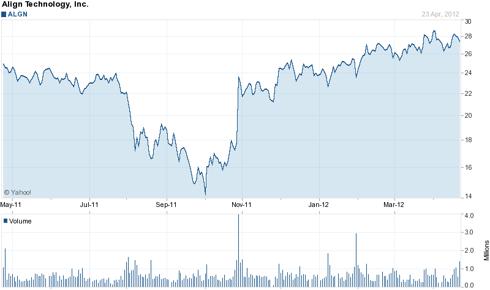 Source: Yahoo Finance
More Room For Growth
The opportunity for Align is significant. Invisalign is a market leading growth product. Now Align can drive even stronger growth with intraoral scanning and CAD/CAM services from Cadent. From the recent Q1 report, it is clear scanning hasn't yet begun to significantly contribute to earnings. Align has a loyal provider network of 55,000 dentists and while there is competition from other major players like 3Shape, 3M Lava (NYSE:MMM) and other newer entrants, Align is likely to have first rights to many of its existing orthodontic based users when they purchase an intraoral scanner as the industry makes this digital transition. This is a big market, as there are 191,000 dentists in the U.S. alone, and the competition gets trickier outside of its core market, but Align is well positioned to participate in the digital dental boom.
Disclosure: I have no positions in any stocks mentioned, and no plans to initiate any positions within the next 72 hours.