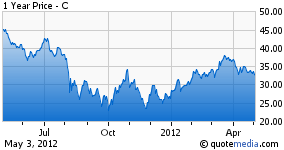 Citigroup (NYSE:C) reported first-quarter results that were stronger than had been expected because of increases in underwriting and bond trading activity over the fourth quarter of 2011. However, profit declined by 2%, which shows the difficulty of trying to boost earnings in a sluggish global environment. Revenue for the quarter at $20.2 billion, after excluding accounting adjustments, was up 1% on a year on year basis, and 17% over the preceding quarter.
Investment banking revenue was negatively impacted particularly in North America and Europe. The consensus of opinion is that though Citigroup has its unique problems possibly shared only by Bank of America (NYSE:BAC), it is coping reasonably well though nowhere near the performance of JPMorgan Chase (NYSE:JPM). Growth was particularly strong for trade finance and total loans outstanding (excluding bad loan provisions) were $619 billion against $600.57 billion a year ago and $617.13 billion at the end of the preceding quarter.
Progress on the capital plan did not meet expectations and Citigroup was one of the few large financial institutions that did not receive approval from the Fed for a dividend increase or a buyback of shares. The reason for this failure is unclear though some analysts believe that Citigroup was requesting the distribution of too much capital or misjudged the losses that it would incur under the Federal Reserve stress tests. A fresh proposal would be made in June 2012 and the issue is still being discussed with regulators. The CEO mentioned that Citigroup may choose not to raise the dividend or launch the buyback this year. He also said that the increase in capital has been quick enough so that sale of the minority interest in the brokerage joint-venture with Morgan Stanley (NYSE:MS) is no longer required. Citigroup's balance sheet as at the end of March 2012 is already stronger than the balance sheet as at the end of December 2011 and Tier 1 Common Ratio, a measure used under Basel 1 regulations, rose to 12.4% from 11.8%.
First-quarter net income fell by 2% to $2.93 billion ($.95 a share) against $2.99 billion ($.99 a share) a year earlier. If you exclude the impact of certain accounting changes, earnings per share were $1.11 a share against the consensus estimate of $1. Revenue from securities trading and investment banking dropped 12% from a year earlier but rose 65% from the preceding quarter. Delinquency rates for credit card and retail loan customers in North America declined by 31% on a year on year basis allowing the release of bad loan reserves worth $1.2 billion.
Let us consider the implications of these numbers. Citigroup is certainly making progress in fixing core profitability and adopting a conservative approach to business which is strengthening the balance sheet. I believe that unless things in the euro zone and go badly wrong, and this is extremely unlikely, Citi is likely to benefit from an improved economic environment. It can look forward to a climate more conducive to investment banking as well as better prospects from the emerging markets where it has a particularly strong presence. The marked improvement in the delinquency rates in North America means that, over a period of time, loan loss provisions can be reduced further boosting the bottom line. These provisions are currently well in excess of $11 billion.
Because of the string of bad news about the banking sector in the last few years, there is a perception that banks are not investment worthy and every other bit of bad news tends to reinforce this perception. In my opinion, every bank stock should be considered on its own merits and fundamentals and these perceptions should not serve to cloud your judgment. After the financial crisis of 2008, every bank has had its fair share of problems to be resolved and the common problems include deleveraging or shrinking the balance sheet and improving credit is cyclical. Deleveraging is automatically achieved if capital is accumulated systematically without inflating the loan book disproportionately. You should also remember that credit quality is cyclical and tends to be high in bad times and more lax in good times.
Citigroup, in particular, has had more than its fair share of bad publicity. In recent news, they were one of 4 of the 19 banks that had failed to pass the stress tests conducted by the Federal Reserve. News like this immediately tends to create suspicion about capital adequacy (despite the improvement shown by Citigroup in the first quarter) and the availability of adequate returns for the investor. However, I think that too much has been made of Citigroup's negatives without a balanced view of the positives that could make it an attractive investment. The results show that it has made good progress in shoring up the fundamentals of its business and there is reason to believe that the worst is over.
When you compare Citigroup to its peers such as Bank of America, Morgan Stanley, Goldman Sachs (NYSE:GS), Wells Fargo (NYSE:WFC) and JP Morgan, it has been among the least impressive performers in terms of its stock price. I believe that the current valuation does not take into account the inherent strengths and the growth potential and the improvement in its fundamentals. It has by far the strongest global franchise of its peer group and is exceptionally well-placed in targeting the growing and more affluent middle class in emerging markets in Asia and Latin America. While it may be a little premature to buy stock, I would certainly recommend that you hold onto any stock that you may already own in view of the limited downside and potentially lucrative growth potential. In fact, you should watch this stock closely and add to your position if it gets any cheaper.
Disclosure: I have no positions in any stocks mentioned, and no plans to initiate any positions within the next 72 hours.