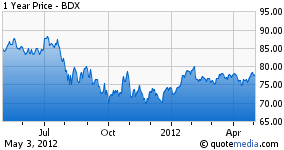 Becton Dickinson (NYSE:BDX) has been a single-digit grower for most of the past decade, and that really hasn't seemed to bother anybody. There's nothing wrong with consistent high-quality performance, particularly when accompanied by improving free cash flow conversion. Although one quarter, or even one year, proves little, I do wonder if the recent trends in margins are just an aberration or a sign that management is having to push harder to find more growth.
BD Showed Some Solid Growth In Q2
BD reported revenue growth of about 4% for the quarter - a little higher (4.6%) on a constant currency basis, and a little lower (3.6%) on an organic basis. Medical and Diagnostics both rose about 5% in constant current, while Bioscience was more of a laggard this quarter (up less than 2%).
I guess margins are the big talking point of this quarter. Gross margin climbed a bit sequentially, but fell almost a point from last year. Likewise, although operating income rose 13% sequentially, it fell 8% from last year and the company saw two and a half points of margin compression at the operating line.
Is This Really A Problem?
Sometimes it's worth asking whether a company's "problems" are real operating concerns, or just the handiest talking point for sell-side analysts and investment writers who have to find something to say about a company that, let's face it, isn't the most dynamic from quarter to quarter or year to year.
I was encouraged to see the 7% growth in BD's diabetes care business, and it's hard for me to see how this isn't a long-term growth opportunity. Sure, I suppose Sanofi (NYSE:SNY), Lilly (NYSE:LLY), and Novo Nordisk (NYSE:NVO) can go elsewhere for insulin delivery solutions, but BD doesn't hold more than 50% share in products like pen injectors by accident.
And while I understand the worries about margins, it's not as though BD hasn't had year-on-year margin declines before. Although the company didn't go into this level of specificity, I have to wonder if at least some of the elevated marketing spend is directed towards emerging markets (where sales rose 10% this quarter) and supporting BD Max and Viper in the diagnostics market. In other words, investing today for growth tomorrow.
Diagnostics Is Everybody's Go-To Growth Market
If I do have a worry about BD, it's in whether or not they can drive the growth that investors seem to expect in diagnostics. There's no doubt that BD is a strong diagnostics company - it has, by my estimation, somewhere around one-third to 40% share of its addressed markets and major positions in markets like culture media, cytology, and molecular diagnostics.
The bad news is that so many companies have pointed to diagnostics as their growth driver of the future. To one extent or another, Abbott (NYSE:ABT), Roche (OTCQX:RHHBY), Johnson & Johnson (NYSE:JNJ), Siemens (SI) and Danaher (NYSE:DHR) have all placed meaningful future growth expectations on diagnostics, to say nothing of purer plays like Cepheid (NASDAQ:CPHD) and Qiagen (NASDAQ:QGEN). And now we have Hologic (NASDAQ:HOLX) making a big splash in the market by buying Gen-Probe (NASDAQ:GPRO), yet more proof that another company sees diagnostics as an important growth driver.
Simply put, they can't all win. Diagnostics is a great market, and one that could well grow above the overall healthcare spending rate, but this is not a market large enough to allow a dozen different winners.
In the short run, I definitely think BD can get a boost from new test launches (like BD Max MRSA, Viper Trich and so on). Longer term, I think Hologic may struggle to leverage Gen-Probe's capabilities, and that could be an opportunity for BD, though I wouldn't dismiss rivals like Roche or Cepheid gaining share as well.
The Bottom Line
I do sometimes wonder if BD has under-innovated in its medical business (especially Med-Surg) and let others like J&J, Covidien (COV), CareFusion (NYSE:CFN) and Bard (NYSE:BCR) capitalize on opportunities that could have been theirs. That said, I like the business and at the right price I'd be happy to own shares.
Today's price is not the right price. Even with solid mid-single-digit free cash flow growth expectations, I see BDX shares undervalued by about 15-20% today. That's certainly enough to make it a solid "hold", but I prefer wider margins of safety when I buy and there are other, even cheaper, quality med-tech names to buy first.
Disclosure: I am long OTCQX:RHHBY.