Shares of investment banking giant Morgan Stanley (NYSE:MS) are up nearly 6% so far in 2012. Shares of Morgan's chief rival, Goldman Sachs (NYSE:GS), are up nearly 20%. There are now four reasons why MS is a better buy than GS.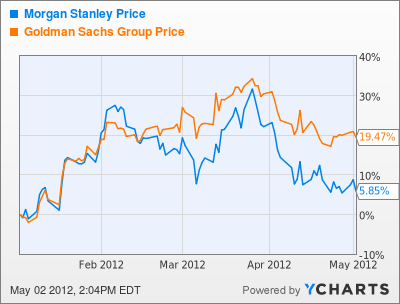 Options Activity
Option Monster reported on the high level of bullish options activity in MS; 20,000 June 19 calls were purchased. This comes after put selling activity indicating confidence in MS. The large trades likely represent institutional money. Institutional money is usually smarter, thus worth following. In summary, the recent options activity points to upside ahead for MS over the short term. Of late, GS has not experienced the same level of bullish options activity.
Smith Barney Acquisition
MS is scheduled to buy an additional 14% of Smith Barney this month. This means that MS will own 63% of Smith Barney. While there has been talk of MS making an offer to buy the entire 51% of Smith Barney that it does not own, MS CEO James Gorman has said this is very unlikely. Rather, MS will continue to buy the remaining 51% of Smith Barney over the next five years, as originally planned. In any event, the increased stake in Smith Barney should serve as a bullish catalyst for MS. Contrastingly, GS does not have any major transactions in the works.
Facebook IPO
MS has been selected to be the lead bookrunner for the Facebok (NASDAQ:FB) IPO. While GS will play a part in the IPO, MS will be the lead bookrunner. MS will get a higher portion of the fees, and more importantly, MS will also get a largest allocation of shares for its brokerage clients. With shares likely to soar on the first day of trading, MS will benefit from more from the Facebook IPO than GS.
Valuation
MS trades at 0.47 times book value while GS trades at 0.83 times book value. While both valuations are compelling, MS is trading at a much cheaper valuation than GS.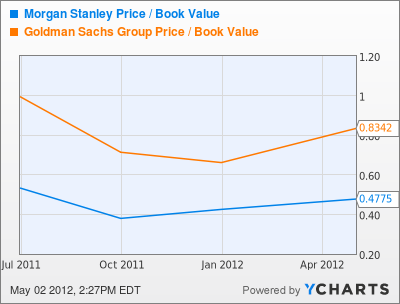 Conclusion
GS has outperformed MS so far in 2012, but the outlook is now better for MS. The bullish options activity, Smith Barney deal, Facebook IPO, and valuation all support MS as a better buy than GS.
Disclosure: I have no positions in any stocks mentioned, but may initiate a long position in MS over the next 72 hours.