Research In Motion (RIMM) has been dropping ever since the conference on BlackBerry 10 (BB10) started, down from $14.5 three days ago to $12.03 earlier today. Why?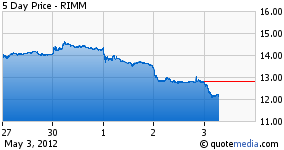 There are at least three reasons:
1. BB10 disappoints.
There is nothing in BB10 to wow investors. It appears to be a re-hashed operating system that looks very similar to iOS, Android and Windows 8. There will be no obvious benefits for customers to switch to the new BB 10 OS. RIM will be quite lucky to even maintain its current customer base with BB10. Unless BB10 emulates the two biggest mobile OS platforms in the market, iOS and Android, it is a disappointment. BB10 has to be way better than existing systems ("as good" isn't good enough), simply because RIM doesn't have the resources to compete with the three arguably most powerful companies in the world: Apple (NASDAQ:AAPL), Google (NASDAQ:GOOG) and Microsoft (NASDAQ:MSFT). It is not better. In addition, there is no obvious advances for RIM's most distinguished feature, keyboard-based smart phones, by using BB10.
This point by now is widely known, the next two points are more important.
2. RIM will have two very ugly quarters and burn piles of cash.
Due to market expectations of an entirely new operating system, any potential customer left for RIM will put their purchase on hold until BB10 is released. We have seen similar phenomenon prior to the release of iPhone 4S. But RIM is no Apple. During these two quarters, RIM will have very ugly earnings records, and it will burn a big chunk of the limited cash it currently holds. In the meantime, those customers in waiting will have an enhanced probability of switching to a different operating system such as iOS or Android. Service is not the savior in this regard: Over the past year, 75% of RIM's revenue is from selling devices.
3. The hope for a takeover is gone.
Most importantly, RIM's stubborn decision to pursue BB10 in full force means its earlier consideration for "strategic alternatives" is put on hold. It will not be actively searching for a proper suitor to buy out the company, at least until the end of 2012. That itself keeps a large number of RIM speculators out of the market. They will almost surely dump shares.
By the end of this week, the wave of negative news should come to an end. Investors will come back to do a reality check when RIM releases quarterly earnings.
Disclosure: I have no positions in any stocks mentioned, and no plans to initiate any positions within the next 72 hours.