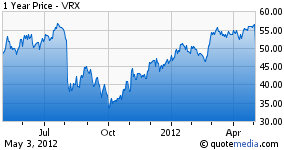 The history of Valeant Pharmaceuticals (NYSE:VRX) is one of constant change. The company's oldest root seems to be ICN Pharmaceuticals, founded in the 1950s by Milan Panic, an amazing man who managed to serve as Prime Minister of Yugoslavia in 1992-1993 while still an American citizen. After Mr. Panic became tangled up in lawsuits with former employees and the SEC (not to mention ticking off Serbian tyrant, Slobodan Milosevic), the nucleus of Valeant was formed in a multi-unit merger of ICN Pharmaceuticals, ICN Biomedicals, SPI Pharmaceuticals and Viratek.
Another major building block was added in 2010 when Biovail took over Valeant but kept the Valeant name for the merged company. Since the merger, the company has taken over PharmaSwiss S.A., Dermik [the dermatology of unit of Sanofi (NYSE:SNY)], the Ortho Dermatologics unit of Janssen Pharmaceuticals, AB Sanitas, Afexa Life Sciences, iNova, Probiotica, Eyetech, Natur Produkt, Pedinol Pharmacal, and certain assets of Atlantis Pharma and Gerot Lannach. Along the way, Valeant has made unsuccessful offers for Cephalon, now part of Teva Pharmaceuticals (NYSE:TEVA) and Ista Pharmaceuticals (ISTA). It remains to be seen whether the company has become a multi-headed hydra or a smoothly functioning international pharmaceutical giant.
Valeant has been such a blur of activity, it is difficult to focus on what the company is becoming, but one thing is sure; it's getting bigger. Sales have gone from $840 million in 2007 to 2.46 billion in 2011. But growth is not always a joyful experience. Diluted profits have dropped from $1.22 per share to in 2007 to $0.49 in 2011, while dividends dropped from $1.50 to zero.
The acquisitions binge has been concentrated mainly on dermatology products and 'branded generics' in emerging markets. A branded generic is something like Bayer aspirin, a common product in which the real value lies in the brand that is well-known and trusted by the consumer. As of the first quarter of 2012, about half of sales were divided between dermatology and neurology products in the U.S., while the rest were international sales, much of it in branded generic drugs.
The key to understanding Valeant lies in the bio of its CEO and chairman, J. Michael Pearson. Prior to coming to Valeant, he worked at McKinsey, a management consulting firm, where for 23 years he was "an integral driver of turnarounds, acquisitions, and corporate strategy." He seems to be putting into practice in his own company all the advice he has given others over the years.
The model for what the company is trying to achieve seems to be Johnson & Johnson (NYSE:JNJ), which combines a high profit, high risk pharmaceutical arm with a high volume, low margin consumer staples business.
Valeant's key brands in dermatology include an antibiotic drug called Acanya , tretinoin (a retinoid) drugs Atralin and Refissa, all used for acne. In neurology, the company's main prescription product is Wellbutrin XL, used to treat depression and seasonal affect disorder. Other drugs include Cesamet for chemotherapy-induced nausea, Nitoman to treat hyperkinetic diseases, including Huntington's chorea, and Xyrem, which is a central nervous system depressant. The company also markets prescription pain medicines.
Valeant has a pipeline of drug-candidates, derived in part from the Biovail merger. Its dermatology pipeline includes five different compounds used to treat acne, psoriasis, or fungal infections. Valeant has a partnership with GlaxoSmithKline (NYSE:GSK) to develop neurology drugs to treat refractory epilepsy.
Valeant's acne drugs compete with a retionoid drug called Differin approved in 2010 and marked by Galderma, which is a partnership between Nestle (OTCPK:NSRGY) and L'Oreal. A similar drug is Tazorac (tazorotene) marketed by Allergan (NYSE:AG). As an antidepressant, Valeant's Wellbutrin competes with a whole host of drugs, including the now very cheap fluoxetine, the generic version of Prozac marketed by Eli Lilly (NYSE:LLY). But patients are very idiosyncratic in their response to various antidepressants. Wellbutrin's closest competitor is probably Effexor, marketed by Pfizer (NYSE:PFE), which like Wellbutrin is a serotonin-norepinephrine reuptake inhibitor
At its current price of about $55, Valeant currently trades at a price/earnings (P/E) ratio of over 100, which sounds really rich. But the average estimate of analysts for 2012 earnings is $4.16, which gives a forward-looking PE of about 13, which is much more reasonable. Analysts estimate earnings for 2013 at $4.66, although given the Valeant's penchant for mergers and acquisitions, this number is clearly a moving target. The price-to-book ratio is about four, but given all of the assets the company has acquired or is in the process of acquiring, a team of crack accountants could argue for weeks about what the company is actually worth. In 2011, amortization of intangible assets amounted to $550 million, over 25% of total operating expenses, versus reported income of $160 million. So, while the company is no doubt raking in tax benefits from all its accumulated good will, it is taking a hit on the bottom line.
Is the stock of Valeant a buy? Of nineteen analysts, fifteen rate it as an outperform or a buy. I rate it a cautious buy, one for risk capital only. Mr. Pearson seems bent on creating a pharmaceutical giant by agglomeration, rather than by organic growth. It has been and will continue to be a hell of a ride, possibly a quite profitable one.
Pharma mergers are something of an exception to the usual problematic process of combining companies. Pharmaceutical companies are usually after drugs, not operating entities. So, acquirers keep the drugs and maybe a few good salesmen, sell the buildings and jettison the management and research departments. There are a lot of synergistic cost savings to be realized in this way. But it is the way of the cannibal, and it surely generates a lot of bad feelings among those cannibalized along with bad karma, in general. Sometimes this comes back to bite in unexpected ways.
With a market cap of $17 billion and worldwide operations, Valeant is already a major company and currently profitable. The main risk to investors is that one or more of Mr. Pearson's acquisitions have hidden liabilities and that the hoped-for profits do not make it to the bottom line.
Disclosure: I have no positions in any stocks mentioned, and no plans to initiate any positions within the next 72 hours.