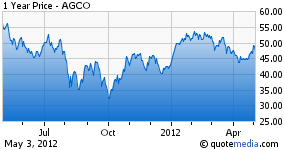 As an investor with a value inclination, I'm always a bit intrigued when a company seems unfairly or illogically maligned relative to its competitors. Given its strong performance in an otherwise mediocre quarter for industrial companies, AGCO (NYSE:AGCO) springs to mind as one such candidate. Although AGCO's historical financial performance has been pretty volatile, it seems like the market treats this company as an afterthought compared to CNH (NYSE:CNH) and Deere (NYSE:DE).
A Big Jump In Q1 … But Maybe Not Where You'd Expect
Analysts seem to like to go on and on about AGCO's strong market position in Latin America (particularly in Brazil), but that's not what drove significantly better-than-expected results this quarter.
Revenue rose more than 26% as reported, with organic growth of 19%. North America was the growth leader at 27% (organic), while the Europe/Africa/Mideast region nearly matched the growth rate (25% organic) and more than doubled the dollar revenue contribution. South America was a notable laggard, growing just 1% this quarter.
With better revenue came better operating leverage. Gross margin improved almost two points from last year, while operating profit jumped 56%. Profit leverage was especially strong in North America, as segment income rose almost 300%. Profits were strong in Europe (the company's highest-margin market), with 64% growth, while South America saw operating income drop 28%.
How Did AGCO Gain Share?
To be fair, it's not like rival CNH had a terrible quarter. This company saw ag sales grow 18%, or 20% on a constant currency basis. While CNH doesn't give the same level of detail as AGCO, it sounds as though the same basic trends were at play here as well. As for Deere, that company is on an off-calendar cycle and won't report for a little while yet.
One way or another, it looks like AGCO did grab share this quarter, and that may have been a byproduct of its leverage to smaller tractors and specialty equipment (equipment like sprayers and hay tools make up a meaningful part of the North American business).
There have also been suggestions that CNH and Deere under-produced for the North American market and AGCO took advantage. Although there is certainly overlap between these companies, I'm not sure there's enough overlap for that explanation to really hold up.
Brazil Still A Good Long-Term Story
Latin America didn't help much AGCO much this quarter, but that's not really a surprise. Considering the comments from companies like Eaton (NYSE:ETN) and Cummins (NYSE:CMI), Brazil's buying spree has slowed a bit. Moreover, the La Nina-induced drought in South America also has to be having some impact (and it certainly has impacted the stocks of farming companies like Adecoagro (NYSE:AGRO) and Cresud (NASDAQ:CRESY).
Longer term, this is still a very good market for AGCO and the company's strong tractor share (50%+) ought to serve it well, as Brazil is quite likely to be a leading agricultural exporter for quite some time. On the other hand, AGCO lags far behind CNH and Deere in combines (which isn't a large category for the company on the whole), and it lacks other potentially useful product lines like equipment for sugarcane farming. Given AGCO's acquisitive history, this is something that I wouldn't surprised to see get resolved by a deal someday.
Does AGCO Deserve It's Discount?
It's true that metrics like operating margin and return on invested capital have been more erratic at AGCO than Deere or CNH, but the other side of that argument is that AGCO's lows aren't any lower and the highs are higher. What's more, while the company isn't as good as Deere in turning revenue into free cash flow, it is at least better than CNH.
I can understand some of the skepticism on AGCO. The company has minimal share in Asia and really isn't leveraged to China at all at this point. Moreover, there are questions and concerns about the company's U.S. distribution, and that's never a quick fix. But I nevertheless find it odd that the company gets as little respect and credit as it does.
The Bottom Line
Whether AGCO is a bargain today or not really depends on whether you agree with the sell-siders who believe (for whatever reasons) that AGCO is going to seriously lag CNH and Deere's growth over the coming years. Yes, AGCO is a pure agricultural equipment company while CNH and Deere both have some leverage to commercial construction, but I don't really believe that explains all of the difference.
With Street expectations, AGCO is probably worth about $50 or so. Apply the sort of growth rates expected in CNH and Deere's ag businesses, though, and that fair value gets a lot closer to $60. While neither price target is really enough to lead me to buy today, I'd definitely keep an eye on AGCO with a look towards taking advantage of any meaningful sell-off.
Disclosure: I have no positions in any stocks mentioned, and no plans to initiate any positions within the next 72 hours.