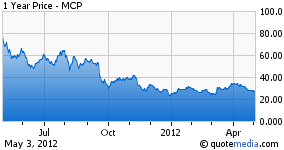 Rare earth metals may end up being as important in the 21st century as copper was to the 20th century. Many technology and clean energy products use different rare earth metals and elements in their production. The industry is still relatively new with a handful of mining companies in the early stages of development and production. Of the rare earth mining stocks available, Molycorp (MCP) provides investors the best opportunity to profit from this new natural resources sector.
The rare earth elements consist of 17 different metals which are used in products such as computer, headphones and hybrid propulsion systems. A Popular Mechanics article notes that a Toyota (NYSE:TM) Prius includes 10 pounds of the rare metal Lanthanum. The metal allows the production of lighter, more efficient batteries. Rare earth metals are found all over the earth - not very rare - but mineable concentrations are quite rare. A mine will produce many or all of the commercially viable rare earth elements. Currently China supplies over 90% of the global supply of rare earth metals and elements, with 70% of the world's production coming from a single mine. China has indicated it plans to limit export amounts to retain rare earths for its own industrial use. The quest for alternate sources of rare earth minerals is reaching the level of national importance for many countries.
Molycorp has been in business since 1949 and mines rare earth minerals and elements primarily at the company owned mine in California. The company is fully integrated, producing rare earth products from the mine to finished metals and magnets. Molycorp owns processing facilities in Arizona and Estonia. In 2011, a joint venture was announced to produce high tech magnets in Japan. In March of 2012, the Molycorp announced the acquisition of rare earth producer Neo Material Technologies for $1.3 billion. According to the press release, "Molycorp will gain cutting-edge technologies and will leverage Neo Materials' years of processing experience and knowledge". Neo Materials CEO Constantine Karayannopoulos stated, "We will be vertically integrating the world's best rare earth resource outside of China with the world's best rare earth processing technology company." The pro forma 2011 results of the combined companies would be a tripling of revenue and gross profits while the holding of Molycorp shareholders will be diluted only about 15%.
The combined Molycorp and Neo Materials is forecast to produce $1 billion of revenue and $3.80 per share of net income in 2013 when the merger is fully completed. Outside of China there are only a few other publicly traded companies trying to make it in rare earth elements mining and production. Canadian company Avalon Rare Metals (NYSEMKT:AVL) has a market capitalization of $260 million and owns a mine in Canada with excellent minerals potential. However, the company is still in the feasibility study phase of building a separation plant. Australian company Lynas (OTCPK:LYSDY) completed the concentration plant at the company's Australian mine in early 2011 and building an advanced materials plant in Malaysia. Quest Rare Minerals (NYSEMKT:QRM) is another small cap stock with a mine but has not yet constructed processing facilities. The major hurdle in the production of rare earth elements is having the ability to separate the metals from the mined material and each other.
As indicated above, Molycorp currently has virtually no competition outside of China, and the recent acquisition of Neo Minerals gives the company access to China, the worlds largest market - consuming 70% of global production - for rare earth metals and elements. Molycorp also has the vertical integration facilities to generate additional profit from processing the metals into more refined forms and magnets. Although Molycorp has a long corporate history, the company's rare earths business really took off in 2011. Revenue for the year increased to $362 million, up from just $35 million in 2010. And the revenue was highly profitable, with a 55% gross profit margin. Net income for the year was $1.27 per share, compared to a lost of 81 cents in 2010.
Molycorp faces two threats to continued growth and growing profits. One threat is the Chinese stranglehold on the majority of global production, allowing the company to dictate prices. Rare earths should command high prices due to the growing need for these minerals, but the Chinese government may work to keep prices down. Another threat is that large mining companies may see the profit potential in the metals and be able to produce rare earths as a side product. Brazilian oil company Petrobras (NYSE:PBR) contacted mining giant Vale (NYSE:VALE) to see if the company could provide the lanthanum oxide needed in refining crude oil.
The bottom line is that becoming a rare earth metals producer is an expensive process and Molycorp currently has the non-China production world to itself. The company should be able to grow revenues and profits at a very health pace over the next several years.
Disclosure: I have no positions in any stocks mentioned, and no plans to initiate any positions within the next 72 hours.