As I mentioned in my Roth IRA Strategy series, the most important factor I look for in a company is a strong, dedicated management.
It was this criterion that first drew me to LHC Group (NASDAQ:LHCG).
LHCG is a small company with a market capitalization of $450 million. The company provides post-acute healthcare in non-urban markets of the United States. They offer services through home nursing agencies, hospices and long-term acute care hospitals primarily to Medicare beneficiaries. LHCG has operations in Louisiana, Mississippi, Alabama, Texas, Arkansas, West Virginia, Kentucky, Florida, Tennessee, Georgia, and Ohio.
The company was founded by Ginger Myers, a registered nurse, in 1994. The idea arose after her conversations with Mayor Harold Taylor of Palmetto, Louisiana about health care needs in his village of a few hundred people (Mayor Taylor now serves as vice president/director of government affairs for LHCG). Due to Myers' dedication, the company grew quickly.
A couple of years later, her husband Keith Myers joined the company full time. Mr. Myers realized the coming opportunities in healthcare for the ageing population and found that changes in government compensation could prove quite lucrative. Since then the company has grown to 167 service providing facilities.
Home based services for the nine months ended September 30th accounted for 81.3% of company revenues. This compares to 72.8% from the comparable period in 2006. The remaining percentage of revenues was from lower margin facilities based operations.
The company receives 82% of its revenue from Medicare reimbursement. For this reason, it is crucial that the company have a wealth of legislative knowledge. To this end, the company has assembled an impressive array of experienced directors including:
Representative W.J. "Billy" Tauzin
Rep. Tauzin is Lead Independent Director on LHCG's board. Tauzin served twelve terms as a member of the US House of Representatives for Louisiana's 3rd Congressional District. He is also President and Chief Executive Officer of the Pharmaceutical Research and Manufacturers of America.
Senator John B. Breaux
Sen. Breaux is on the Governance & Nominating Committee of LHCG's board of directors. He served in both the US Senate and the US House of Representatives for his state of Louisiana. He is a Director of CSX Corporation and a former Senior Managing Director of the Clinton Group.
Monica Azare
Ms. Azare is a Louisiana native and serves on the board's Compensation Committee. She is the Senior Vice President of Public Policy and Government Affairs for Verizon Communications. Her responsibilities include leading Verizon's public policy, regulatory and legislative activity in New York and Connecticut. She was formerly Chief Counsel to Rep. Billy Tauzin.
John Indest
Indest is President, Chief Operations Officer and a member of the board. His expertise came as the founder of Homebound Care. Indest's experience includes testifying before the United States House of Representatives' Ways and Means Subcommittee on health care issues.
For a company with a market capitalization of less than half of a billion dollars, this partial list shows an impressive lineup. It demonstrates management's dedication to fully understanding the legislative process and its impact on the healthcare business. Further, the company clearly has important insiders to the political process itself.
On November 20th, LHCG hosted its first ever Investor Day on November 20th, 2007. After the sudden departure of former CFO Barry Stewart in August, it was an important move for the company to reiterate the strength of its management team. In addition to over 30 mangers, the company's entire board of directors was in attendance (I did not personally attend the conference which was hosted by Lehman Brothers).
The biggest risk for LHCG is its reliance on the policies of the US Government and the Centers for Medicare and Medicaid Services [CMS] for over 80% of revenue. In the company's thirteen year history, they have proved very adept at adapting to rule changes which can often be substantial. So far, the company has been able to find the best way to operate within the CMS plan. For my long term investing strategy, short term policy changes can provide opportunities when investors panic.
Policy changes also create opportunities for LHC Group. The proposed changes to 2008 CMS rules, which will be finalized in December, are considerable. Although LHCG will be pressured, the stress will be greater for many smaller companies. This may present an opening for LHCG to make acquisitions at attractive prices. Despite solid organic growth (organic net revenues grew 43.3% in the first nine months of 2007) the company has a history of making numerous small acquisitions. In 2007 alone, the company has acquired eleven entities and a majority ownership in eight other operations.
I started my long term investment in LHCG with a 1/4 sized position in September. This piece highlights the importance of a strong management and is not necessarily a recommendation for the stock. The company has substantial risk to changes in CMS policies and is not for every investor. Please do your own research as your strategy is likely very different from mine.
Here is a look at some of LHCG's trailing twelve month data compared to the full years 2005 and 2006. The most recent information is from the quarter ending September 30th. These metrics were compiled from SEC data.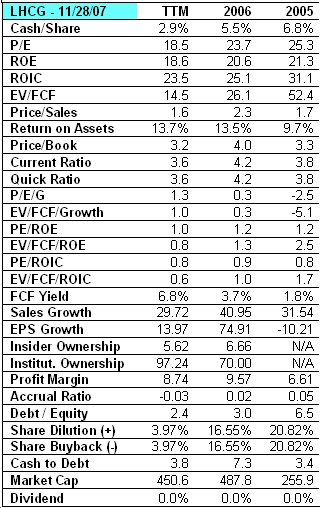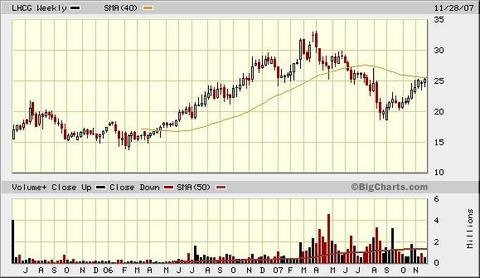 Disclosure: Author has a long position in LHCG