One of the most lauded things about Amazon.com's (NASDAQ:AMZN) latest quarter was how the gross margin rose to 23.95% of revenues, from 22.82% in the same quarter the year before. This made for 114 basis points (1.14%) of improvement, which on revenues of $13.2 billion meant an improvement of $150 million that flowed to the operating profit, helping it come in above expectations. I will show how this happened precisely because of a very negative development.
Amazon.com vaguely attributed this improvement to a better mix of revenues. And it was right. I'll show in this article, how the huge drop in Kindle eReader sales answered for almost all of the gross margin improvement.
Estimating the Kindle eReader sales
Amazon.com, for all its glory, is one of the least transparent companies in the market. Shareholders aren't even entitled to know how much stuff it sells, namely they have no clue, from the company, as to how many Kindle eReaders and Kindle fires are sold. Sure enough, the company quite often repeats that these are the products that sell the most; that they are seeing growth; that - and this is said often - they like what they see. But no concrete numbers are put forward, and at times there are pretty obvious clues that the truth is very far from the optimism expressed by management. This is one of those times.
To put it short. The Kindle eReader has dropped out of bed. It has fallen beyond the wildest dreams of Amazon.com's management. They never told it to the market, but this is reality. I have proof, and the proof is undeniable. The drop in Kindle eReader sales came with the introduction of the Kindle fire, and the cannibalization has been nothing short of stunning, massive. Why do I say this? Well, Amazon.com has slowed down its demand for Kindle eReader e-ink screens to near zero since December 2011, the month after the Kindle fire was introduced. Basically at that point Amazon.com had enough Kindle eReaders' screens on hand to fill demand for at least 4 months straight.
How do we know this? We get it straight from the mouth of the only e-ink screen supplier:
"Our major customer was too optimistic about its sales in the fourth quarter of last year and ordered too much from us," Liu told an investors' conference in Taipei. "That made the customer order almost nothing from us in the first quarter."
Here e-ink holdings is referring just to Q1 2012, however, a consultation of its monthly sales evolution published in Digitimes shows that the drop had already started back in December 2011 - or maybe even partially during November 2011 as Amazon.com introduced the Kindle fire: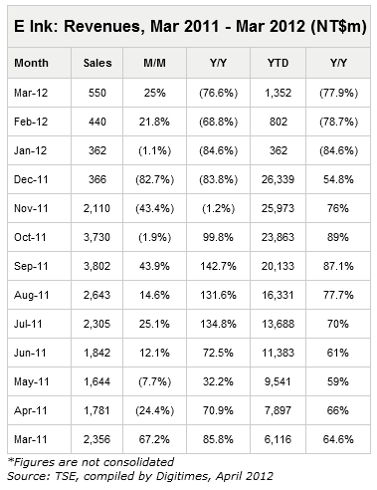 Interestingly enough, since the drop was to near zero (regarding Amazon's orders), we get a unique chance to calculate the number of Kindle eReaders made by Amazon.com per quarter with reasonable accuracy. E-ink holdings reported the following in its Q1 2012 earnings release:
First-quarter revenue totaled NT$3.84 billion, down 63 percent from the previous quarter and 61 percent from the previous year, data showed.
So e-ink holdings' revenues fell from NT$10.38 billion the previous quarter or NT$9.85 billion the same quarter in the previous year. These drops amount to NT$6.0 billion and NT$6.54 billion. In dollars (using $1 = NT$29.2423), that makes for drops of $223.6 million and $205.4 million.
Now, we also have an estimate of how much each Kindle eReader display panel costs, from a IHS iSuppli teardown. It's $30.50. So the drops, which were close Amazon.com's total orders before since these orders fell to close to zero, amount to 6.7 - 7.3 million Kindle eReaders. Since these are over a single quarter, and Amazon.com should under normal circumstances strive for a relatively stable inventory ratio, this means that 7 million or so Kindle eReaders were being sold on average, per quarter. But sales imploded.
Kindle eReader sales fell so much, that the e-ink screens Amazon.com held on November 2011 were enough for it to satisfy Kindle e-reader demand for the next 4 months, without ordering more. If we believe that Amazon.com would otherwise work on a monthly ordering schedule -- as it seems to have done in the past, given e-ink holdings' revenues -- then sales have to have fallen at least 75%, for Amazon.com not to need to order anything more for a full 4 months. Possibly even more, if April also brings no recovery for e-ink holdings.
Since we now know that 7 million Kindle eReaders were being sold on average per quarter, that must have fallen to a pace of around 7/4 = 1.75 million per quarter, for a yearly run rate of 7 million, possibly a bit more, say 10 million, given the seasonality of the coming Q4.
And how did this improve the gross margin?
The Kindle eReader, much like the Kindle fire, was sold at around 0% gross margins. Some models were actually sold at negative gross margins, some positive. The IHS Suppli teardown already shows the cheaper Kindle eReader at a negative margin before a host of additional distribution, transport and warranty costs, among others that could hit gross margins.
So during Q1 2011, when Amazon.com achieved 22.82% gross margins, it was selling around 7 million Kindle eReaders at around $100 average each. That's $700 million of 0% gross margin sales.
Fast forward to Q1 2012. Amazon.com is selling just 1.75 million Kindle eReaders, so 5.25 million less than it was selling back in Q1 2011. 5.25 million Kindle eReaders at an average of $100 are $525 million in revenues at 0% gross margin that are gone. Granted, Amazon did replace these at a regular gross margin that should be around 24.5% (since that's what would make Q1 2011's gross margin 22.82% with $700 million in product sales at 0%). Voilá, the absence of 5.25 million Kindle eReaders or $525 million in 0% gross margin makes for a $525 million x 24.5% = $128.63 million improvement in gross margins! That's around 86% of the improvement Amazon.com saw in the quarter.
The Kindle fire also imploded
Amazon.com's better gross margins were not just helped by the Kindle eReader's problems. The Kindle fire's sales, too, fell off a cliff. Here data is sketchier, but as IDC revealed today, Kindle fire's share of the tablet market fell from 17% in Q4 2011, to just 4% in Q1 2012. So its sales fell more than 75% as well.
Since the Kindle fire is also a 0% gross margin product, this too helped Amazon.com's show improvement in those margins (though in this case, only from Q4 2011 to Q1 2012, not from Q1 2011, where the Kindle fire still hasn't being sold). However, this also means that Amazon.com is completely failing at its attempt to mitigate the changing paradigm in digital goods sales.
Conclusion
The imminent failure of Amazon.com's strategy to dominate the e-reader space, as illustrated by an estimated 75%+ drop on Kindle eReader sales, was what brought about Amazon.com's much celebrated gross margin improvement. This is simply not a positive development. This is another development confirming the migration of e-reading from Amazon.com's controlled environment, to a larger set of devices. These devices run Apple's (AAPL) iOS or Google's (GOOG) Android.
The Kindle fire suffering the same fate so early, also means that Amazon.com's attempt to mitigate Apple and Google's dominance has already failed. This failure certainly doesn't seem to be priced in the market.
Disclosure: I am short AMZN.