Fresh off its initial public offering, MSCI Inc. (MXB) has launched a new index family and a new tradable index. Calculation for the new products will begin November 30.
The MSCI Frontier Market Indices come after MSCI launched a consultation paper earlier this year seeking input on the possible construction of a family of frontier indexes. The new family is the end result and currently covers 19 markets, with new countries considered for inclusion on a semi-annual basis. (See table below.)
Our decision to launch the MSCI Frontier Markets Indices reflects the growing interest from international investors in these equity markets, as they look beyond existing developed and emerging markets in their search for new investment opportunities, says MSCI Barra Chairman and CEO Henry Fernandez.
Frontier markets are generally smaller and less developed than emerging markets. However, they have lower correlations with developed markets than do emerging markets, and they are often seen as growth opportunities. Examples of frontier markets include Romania, Vietnam and Kenya.
In addition to indexes covering solely frontier markets, indexes will be calculated that combine the new frontier markets indexes with MSCI's existing indexes, creating a whole new group of regional and global composite indexes. Among these new indexes will be the MSCI Emerging and Frontier Markets [EFM] Index and the MSCI All Country World and Frontier Markets [ACWI FM] Index.
Currently, the only other major index provider with a full family of frontier market indexes is Standard & Poor's, which has been in the space for several years.
At the same time, MSCI has also launched the MSCI Asia APEX 50 Index. The index is a blue-chip index specifically designed to underlie investment products. It includes 50 of the largest stocks in terms of market capitalization in the Asia ex.-Japan region. The index is a subset of the MSCI AC Asia ex.-Japan Index and is optimized for tradability and minimal tracking error with its benchmark index.
While MSCI's country and regional indexes are the bases of a wide range of ETFs, index mutual funds and other investment vehicles - the iShares MSCI EAFE Index Fund (NYSE: EFA) is the second-largest ETF in the U.S. at roughly $50 billion - the company may now feel pressure to expand more into narrow indexes. And, now that it has been spun off from Morgan Stanley and is answering to its own set of stockholders, MSCI also may feel pressure to pursue new avenues of growth.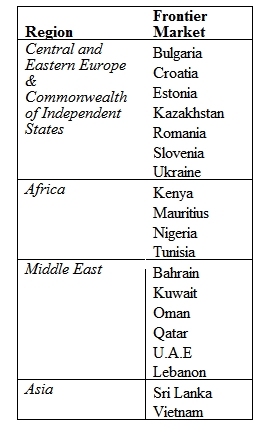 Written by Heather Bell