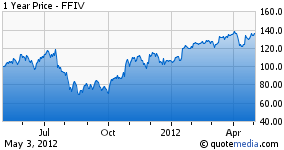 Big data is creating headaches for CIOs tasked with compiling, securing, managing and exploiting terabytes, which is good news for F5 Networks (NASDAQ:FFIV).
Big data is getting bigger.
Consumers and enterprises are buying up smart phones and tablets in a global embrace of the data anywhere culture. So much data is being collected, mined and repurposed, research firm IDC expects the "digital universe" will jump to 2.7 zetabytes this year. That's pretty awe-inspiring given it represents 48% growth from the record set last year.
And at the same time consumers are downloading feature length films and C-level executive are pressuring IT departments for practice solutions, enterprises are shrinking server footprints. F5's application delivery network ("ADN") products sit at the intersection of these trends, which is boosting sales and profits.
Data is useless if it isn't accessible and secure.
Our insatiable demand for cataloging, controlling and massaging data taxes network speed and security. As a result, integrated solutions targeting compression, load balancing and firewall protection are being deployed in both physical and virtual applications. This is expected to produce a doubling of the ADN market by 2015.
A lot of those sales will come from telcos, which account for about 19% of F5's sales. Carriers are increasingly depending on data revenue to boost average revenue per user ("ARPU"). This is creating a battle over network throughput as the business of delivering big data represents an increasingly large chunk of profits at providers such as AT&T (NYSE:T), which saw data sales climb 20% year-over-year last quarter to $6 billion.
Given both Apple (NASDAQ:AAPL) and Samsung (OTC:SSNLF) reported phone growth of more than 80% last quarter, it's unlikely this trend will end anytime soon.
But, it's not just telcos driving demand.
It's also high bandwidth social media applications. The more devices evolve, the more content providers are deploying feature rich services. This supports data center investments such as Facebook's new North Carolina facility, which went live last month.
And while austerity derails government spending in some areas, it's doing little to dent its spending on IT. It shouldn't shock most to recognize governments create more data than just about anyone, making them ripe for products designed to manage and secure information.
Another 16% of the company's sales come from the financials industry, which is finally emerging from its spending gridlock as loan growth returns. Increasingly, banks and financial services companies are spending money on technology to maintain margins, boost sales and comply with regulations.
These industries helped F5's overall sales climb to $339.6 million in FYQ2, which was up 5.3% sequentially and 22.4% from last year. The future outlook so bright, management has guided for sequential growth through the remainder of 2012.
Global installations boost service sales.
Product sales accounted for 60%, or $205.2 million of revenue last quarter. That was up 18% from the prior year. And, with each product installation, the company boosts future services revenue, which climbed 29%.
Company wide, the fastest growth came out of Asia Pacific and Japan, where sales increased 14% to 24% of revenue and 47% to 7% of revenue, respectively.
Sales in the Americas increased 21% to 58% of sales. And, despite EU austerity sputtering economies across the pond, sales increased 19% in Europe, the Middle East and Africa.
The sales growth left the company with $1.03 billion in cash and equivalents at quarter end, even after buying back 404k shares of its stock. It's likely more cash will hit the company's coffers in the coming quarters too, as deferred revenue grew 8.6% from the prior quarter to $412.8 million.
Disclosure: I am long FFIV.