The markets India ETF products track concluded the month of April with the first monthly outflow from foreign investors in 2012. This is a red flag for India ETF investors as foreign investment is a large driver of Indian market returns. According to IndiaETFs.com, non leveraged India ETFs lost between 7% - 12% over the last four weeks. Here's a performance grid snapshot from the site.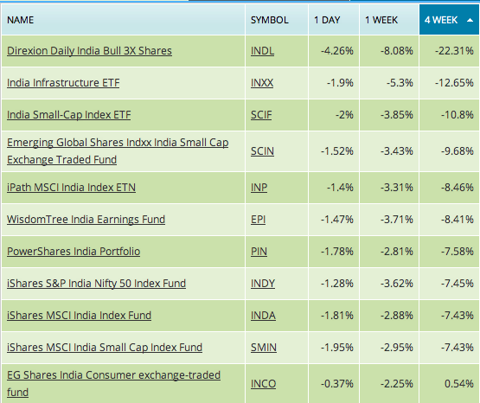 Outflow Data
Data from Bloomberg shows, foreign investors sold approximately $100 million of Indian equities in April after investing close to $9 billion the first three months of the year. This complete direction change by foreign investors is a 2012 milestone and reflects the growing problems within India. These concerns include a weakening rupee, a large fiscal and current account deficit, rising oil prices and uncertainty around new tax policy on corporations. In fact just last week, S&P downgraded its outlook on India from stable to negative. This move puts India's credit rating, currently at the lowest rung of investment grade, in jeopardy.
Great Start But...
India ETF products started the year with strong momentum backed by a move from the government to further open capital markets to foreign investors. Money poured into this oversold market immediately, with over $2 billion invested in January alone. But with internal issues mounting in India over the last few months, the spigot of foreign investor cash closed and actually went negative in April.
India ETF Performance
Here's the year to date performance chart of the leading India ETFs including the WisdomTree India ETF (NYSEARCA:EPI), the PowerShares India ETF (NYSEARCA:PIN), iShares India ETF (NASDAQ:INDY) and the Market Vectors Small Cap India ETF (NYSEARCA:SCIF). Note the downward slope of the ETFs in April, as foreign investor flows went negative.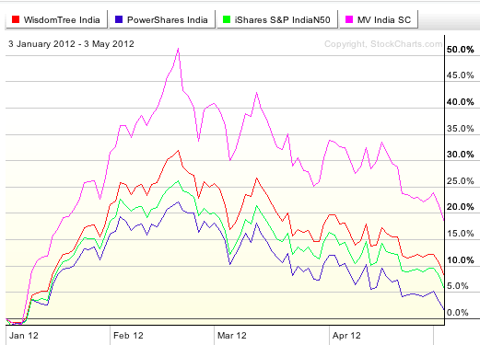 It is interesting to note that the chart above from stockcharts.com shows that all India ETFs displayed still remain positive for the year. In addition the small cap India ETF continues to lead in performance versus the competitors shown as well as the entire India ETF peer group.
India ETF Flows In April
A quick look at ETF flows in the month of April shows that EPI from WisdomTree, the largest India ETF, was the only India ETF of the four highlighted above to have outflows. Here's the data from the Index Universe Fund Flow Tool.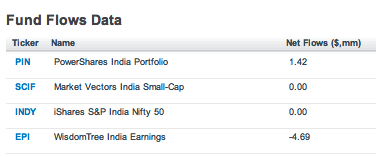 Going forward investors in India ETF products should be advised to be cautious. India is not out of the woods yet as many of the issues - deficits, oil prices and the value of the rupee - are still not close to being solved. And while the current decline from year to date highs has been steep, Indian markets could go much lower from here as evidenced in past market plunges.
Disclosure: I have no positions in any stocks mentioned, and no plans to initiate any positions within the next 72 hours.
Additional disclosure: Christian Magoon publishes IndiaETFs.com.