While earnings season has been generally positive, for companies associated with coffee or investors holding their shares, it has been an earnings season to forget. After the close last Thursday, Starbucks (NASDAQ:SBUX) came out and reported better than expected earnings but lowered guidance. As a result, the stock saw a drop of 5% on the day.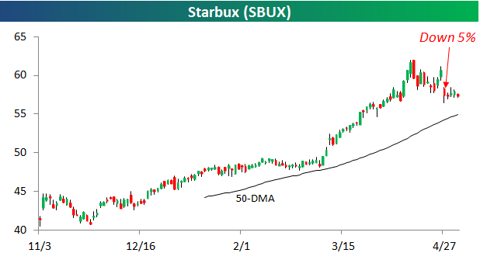 From there, it only got worse. Tuesday (5/1) after the close, Peet's Coffee & Tea (NASDAQ:PEET) reported weaker than expected EPS and revenues, and then saw its stock drop 8% when it opened for trading on Wednesday and then another 5% today.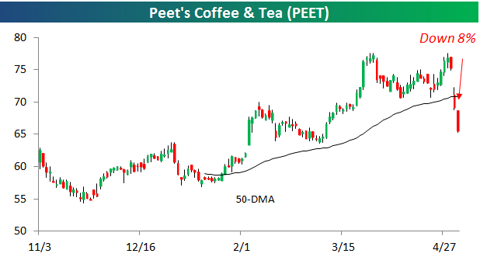 As if those drops weren't bad enough, Green Mountain Coffee Roasters (NASDAQ:GMCR) reported earnings after the close on Wednesday. While the company reported better than expected earnings, revenues were less than forecast and guidance was slashed. Today, the stock was down more than 40%. Coffee anyone?