Mortgage real estate investment trusts (mREITs) continue to yield 12% or more based upon the current Treasury Bond market. The Government Sponsored Entity (NYSE:GSE) mortgage backed security (MBS) space closely tracks the Treasury Bond market. I will highlight a few standout performers and two bargain priced mREIT. I own all of these names and am comfortably collecting 15% annual dividend yields.

American Capital Agency (NASDAQ:AGNC)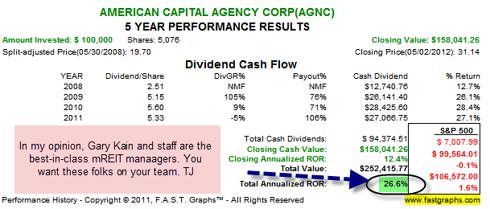 American Capital Agency had, in my opinion, a brilliant first quarter of 2012. The management team, led by Gary Kain, is the clear standout in term of performance, shareholder openness, and results driven business model. A management team that is making money for shareholders, hand over fist, deserves the recognition.
As CEO Gary Kain preaches, book value per share is vital. True to form, he managed to increase the first quarter book value per share to $29.06 from the fourth quarter book value per share of $27.71. This is an increase of $1.35 per share. This equates to a 4.8% book value increase in one quarter. This is exactly what investors want to read in their SEC filings.
The leverage closed, for the first quarter at 8.4x. The average leverage during the quarter, reported by very few mREITs, was 8.2x. The transparency of such details and willingness to explain these issues at conferences sets Gary Kain apart from his peers.
Action
This is the best mREIT name. By selectively and attempt to time your entry price close to book value per share.
Annaly Capital Management, Inc. (NYSE:NLY)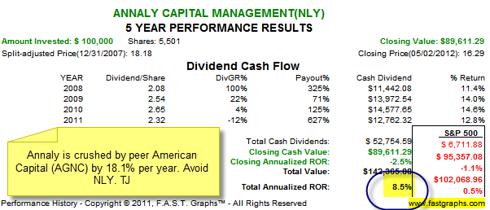 Annaly Capital is the largest market cap agency mREIT. As the tables show, the returns are meager compared to its peer group. American Capital Agency, per the above tables, has beat Annaly by an average of 18.1% total annualized rate of return over the past 5 years.
I recommend folks to avoid Annaly and stock with the outperformers. Annaly's book value for the first quarter increased by 12 cents from the 4th quarter. This equates to a .07% increase in book value change. By comparison, American Capital Agency's book value increased by 4.8% for the same time frame.
Dynex Capital (NYSE:DX)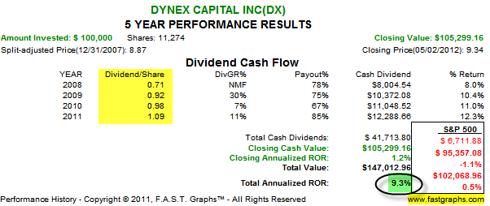 Dynex Capital is a non agency mREIT. The company invests in both agency MBS and non agency MBS. Dynex Capital reported 33 cent earnings and a book value of $9.62 per share. This was a terrific quarter as the mREIT increased their book value per share. In addition management reduced leverage from 6x to 5.4x.
Apollo Residential Mortgage (NYSE:AMTG)

Apollo Residential Mortgage is relatively new in the non agency mREIT sector. They are currently trading at a discount to book value per share. This is due, in part, to a sizable secondary offering. 13,900,000 shares were sold to the public. This has put short term pressure on the stock.
Although the first quarter book value per share has not been provided, I estimate it to be $19.37 per share. The first quarter earnings and book value per share will be released on May 9th. My estimate is based upon market trends, SEC filings, and the December 31st book value per share of $19.92.
Apollo Residential Mortgage shares are trading at $18.17 as of May 4th. Assuming my estimate of $19.37 is in the ballpark, Apollo Residential Mortgage shares are trading at a 6.2% discount to book value per share.
Action
I believe this is name is selling at a terrific price that is trading on the low range due to a major secondary. Buy shares and collect the rewards.
Capstead Mortgage Corporation (NYSE:CMO)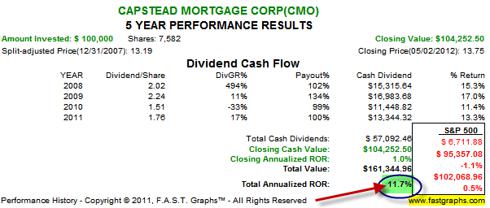 Capstead Mortgage Corporation was formed in 1985, in Dallas, Texas, as a mortgage real estate investment trust (mREIT). It manages a portfolio of agency adjustable rate residential mortgage securities (Agency RMBS) issued and guaranteed by either the Ginnie Mae, Freddie Mac, or Fannie Mae. As of March 31, 2012, its portfolio had a market value of almost $13 billion. Capstead's book value per share, for the first quarter, increased by 52 cents to $13.04.
Capstead raises capital from the issuance of equity and short-term debt and uses the proceeds to purchase Agency RMBS. It employs a leveraged business model where its total debt is significantly higher than its total equity (by a factor of eight as of March 2012) and where its RMBS portfolio delivers significantly higher interest income than the interest expense it needs to pay on debt. This interest spread provides net interest income from which it pays expenses tied to REIT management, administration and operation.
As a REIT, Capstead's portfolio is relatively risk free because it is backed by government entities. However, it is still exposed to interest rate risk (interest rate changes inversely impact the fair market value of debt), interest spread risk (where a narrowing of net interest income reduces profits) and prepayment risk. Capstead manages these risks through selective hedging operations that can result in significant swings in profits or losses and impact net income.
Financials: As the table below shows, for its first quarter ended March 31, 2012 (Q1 2012), Capstead reported a 23.7% increase in interest income to $65.9 million compared to $53.3 million in the first quarter of 2011 (Q1 2011). Its interest expense in Q1 2012 was $16.3 million, a 12.2% increase over Q1 2011 while its expenses increased by a smaller margin of 9.1% to $4.5 million. As a result, Capstead's net income for the quarter gained 30.2% over Q1 2011, to $45.2 million
Capstead's average interest rate earned on its investment portfolio was 2.08% with better performance over Q1 2011 due to lower prepayments. Its average cost of capital in the quarter was 0.56%, with a moderate benefit from hedging positions.
As the table below shows, in its latest quarter, Capstead paid dividends of $5.2 million to preferred shareholders, leaving $40 million as net income for common stockholders, a 34.8% rise over Q1 2011. Quarterly earnings per share were $0.43, up 4.9% year to year.

Capstead paid dividends of $0.43 in the quarter, up 4.9% from $0.41 in Q1 2011, with a dividend payout ratio of 98% of earnings. Capstead has a solid track record of regularly paying quarterly dividends over the past 22 years. Its dividend stream however has fluctuated considerably as the graph below shows, reflective of the volatility of its earnings.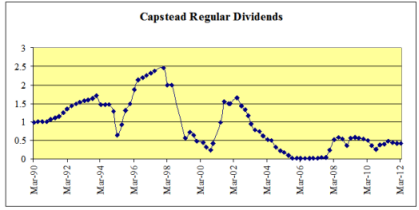 At current levels, Capstead has an expected annual dividend payout of $1.72 and a dividend yield of 12.5% with shares at $13.77 as of May 4, 2012.

At quarter end, Capstead had residential mortgage investments of $13 billion, up 6.1% sequentially over the previous quarter. It held debt of $12.1 billion from repurchase agreements and other borrowings and a portfolio leverage ratio of 8x. Stockholders' equity was $1.4 billion, modestly higher than its market capitalization of $1.3 billion.

Action
I recommend investors buy shares and collect on the high yielding dividends. The company is the grandfather of the sector. This is a quality name specializing in agency adjustable rate MBS.
Overall mREIT Portfolio Moves
Investors must understand the business model pertaining to non agency mREITs and agency mREITs. Due diligence is required to understand any investment. There are mREITs which, in my opinion, are high risk and managed by staff incompetent to be in their current roles. I avoid those names and invest in quality mREITs.
If one takes the time to understand this space, an investor can earn 15% yields. This asset class can be one segment of your income portfolio. I advise investors to use hedges to minimize any capital risk loss. This is part of one's portfolio management process. The goal is to make money and minimize losses. There can be zero excuses when investment dollars are at risk.
Apollo Residential Mortgage is the best value of the above mentioned names. As discussed above, I believe the shares are trading at an approximate 6.2% discount to net asset value. My estimate is a book value per share of $19.37.
Dynex Capital is now a 'must own' mREIT as they are delivering every quarter. Management has to be applauded for the earnings, book value increases, and business acumen. This is an off the radar name that should be on everyone's position list.
A mREIT position list, in my view, should include CEO Gary Kain's names, Dynex Capital, Apollo Residential Mortgage, Hatteras (NYSE:HTS), CYS Investments (NYSE:CYS), and Anworth (NYSE:ANH). All names should be selectively purchased to avoid any short term weakness due to a secondary offering.
In my opinion, I recommend investors avoid Annaly. Investors should purchase outperforming names for the mREIT income space in your income portfolio.