The Wall Street Journal and CNBC are reporting that the Obama administration is about to imminently unveil new guidelines on hydraulic fracturing, more commonly known as fracking. The WSJ reports this announcement, expected from the Interior Department, would introduce:
"sweeping new environmental-safety rules for hydraulic fracturing on federal land, setting a new standard that natural-gas wells on all lands eventually could follow."
Details Leaking
Based on reporting from the two news outlets, the new policy tightens the rules for wells, their stability and the treatment of wastewater tied to fracking. This is likely in response to concerns over possible ground water contamination. However according to the WSJ story, the new rules reportedly don't include disclosure requirements regarding the chemicals used in fracking, which will certainly cause some controversy. CNBC is reporting that the disclosure requirements are in place however, so stay tuned.
Initial Reactions?
One oil and gas industry executive is quoted as saying the rules appear to be "better than expected," as some of them leaked out in February of this year and were met with harsh oil and gas criticism. Another oil and gas official believes these new rules will "slow down" permits to frack on federal lands. Clearly market reaction - which appears to be mixed right now - will develop as the full policy is announced as soon as Friday.
So what ETFs may be the best way to play market reaction?
Focused, But New
First and foremost, the Market Vectors Unconventional Oil & Gas ETF (NYSEARCA:FRAK) comes to mind. This ETF is the closest proxy to a fracking play as it contains companies that use this technique and other less conventional means to tap oil and gas reserves. Here's the index description from Market Vectors:
The Market Vectors Unconventional Oil & Gas Index (MVFRAKTR) is a rules based index intended to track the overall performance of the unconventional oil and gas segment, defined as: coal bed methane, coal seam gas, shale oil, shale gas, tight natural gas, tight oil and tight sands.
FRAK launched on February 14th of this year and has gathered slightly over $16 million in assets. It is dominated by large cap companies (87%) with a heavy portfolio concentration in the United States (71%). Here's a chart of FRAK's top 10 holdings which comprise over 54% of the portfolio as of March 31, 2012. This data is from the most recent FRAK fact card.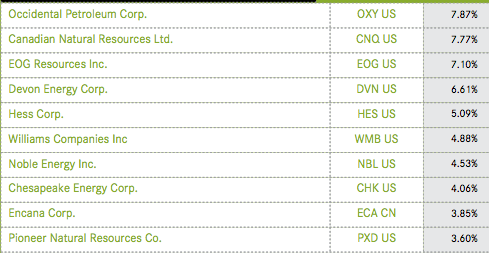 A Broader Option, But Is It Pure Enough?
Another ETF that comes to mind is the SPDR S&P Oil and Gas Exploration ETF (NYSEARCA:XOP). This ETF tracks an index that takes a much broader approach to the gas and oil exploration space. Indeed its 74 holdings versus FRAK's 44, points to its breadth. XOP holdings are spread out across all capitalizations. It has more than 98% of its portfolio invested in U.S. companies. Additionally XOP was launched in 2006 and has close to one billion in assets.
XOP's index takes a modified equal weight approach and thus is less concentrated than FRAK. Indeed XOP's largest holding makes up only 1.9% of its portfolio versus 7.8% for FRAK. Here are the latest XOP top 10 holdings from the fund's website as of May 2nd.

Only Pioneer Natural Resources (NYSE:PXD) overlaps between each funds' top 10 holdings. One of the largest natural gas drillers, Chesapeake Energy Corp (NYSE:CHK), only makes FRAK's top 10.
Why Not Just Own Broad Energy?
How have these two exploration ETFs performed relative to each other? And has there been enough of a difference in performance in these two sub sectors versus the broad based energy sector to get more focused? These questions need to be answered in two parts due to FRAK's short history.
First let's view a comparison between the two exploration ETFs and the energy sector in general. In this case, the energy sector will be represented by the SPDR Energy ETF (NYSEARCA:XLE). Here's the stockcharts.com look at all three ETFs.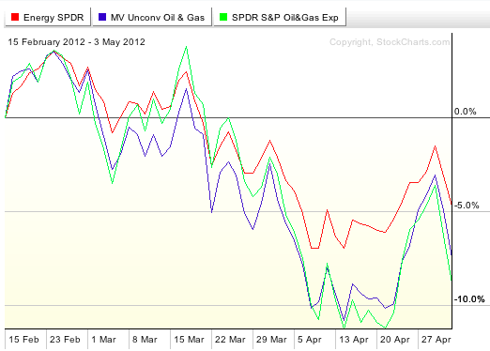 In this very short period of time, we do witness more similarity between XOP and FRAK than XLE. It is hard though to see enough difference between XOP and FRAK in this short term comparison. However, it is a good sign that they deliver enough of a difference in performance versus a broad based energy ETF to remain a consideration.
Taking a longer look back, let's benchmark XOP against XLE since June of 2006 to view performance. Here's the chart.
Reviewing the chart it is easy to see that over time, especially during runs upward in the energy sector, XOP has demonstrated different performance characteristics versus a broad based energy play like XLE. Thus I believe it is fair to say that exploration focused ETFs do offer enough of a difference in performance dynamics to go beyond a traditional energy weighting in this developing situation regarding fracking.
More Focus For The Coming Storm
Clearly the exploration ETFs - XOP and FRAK - deserve a close look for those interested in investing in the twists and turns of fracking's fortunes. The Obama administration announcement should be just the beginning of a volatile period for the fracking segment. After all, it is election year and Mitt Romney is building a pillar of his campaign on energy independence, of which fracking plays a big part. This ensures plenty of Presidential debate and rhetoric on fracking, taking FRAK and XOP along for the ride.
Disclosure: I have no positions in any stocks mentioned, and no plans to initiate any positions within the next 72 hours.