It was a tough day for the Bakken players, with respect to earnings. Mark to market derivative losses, increased costs, and production issues plagued producers in North Dakota and Montana. Even companies that beat on earnings and revenues, were punished as it was a bad day for oil and gas.
Kodiak (NYSE:KOG) missed on both revenue and earnings. I had covered this possibility in Bakken Update: A Kodiak Miss Could Provide A Buying Opportunity. It wasn't a big surprise as Kodiak had already reported a big production miss. Kodiak reported average sales volumes of 10578 Boepd in the first quarter. Most analysts were expecting between 14000 and 15000 Boepd, so this miss was substantial. There were hopes Kodiak would redeem itself in the first quarter as the fourth quarter of 2011 was quite bad. Analysts expected earnings of 9 cents/share, but Kodiak reported a 10 cent loss. It reported first quarter revenues of $79.93 million versus the street's estimates of $96.4 million. It reported 1 cent/share earnings versus the street's estimates of 10 cents/share. Mark to market derivative losses accounted for a 7 cent loss on the quarter. Kodiak also had an additional interest expense of $4.6 million, with most associated with its recent acquisitions. It spent $6.8 million to acquire additional undeveloped acreage in its core areas.
For those who have followed Kodiak, it is known that costs continue to dog this company. These costs generally came in higher, even during good quarters usually decreasing earnings by 2 to 3 cents/share. A large portion of its lease operating expense has been water. This is a problem seen with many of the small producers in the Bakken, so it is independent of Kodiak. The biggest reason for lower costs, is a 30% decrease in lease operating expense due to the connection of wells to third party pipelines, the construction of water gathering systems and the drilling of disposal wells. This should continue to decrease the cost of trucking flow back to third party disposal wells. In my last article I reported 8 wells with poor results by Kodiak in the late fourth quarter of 2011 and in the first quarter of this year. It reported 14 good well results for the quarter, but keep in mind these results are not as good as its previous Koala wells.
Kodiak revised the lower range of its full year average production guidance, which was from 19000 to 21000 Boepd. Now its guidance is from 17000 to 21000 Boepd, but it would be tough to find an analyst that still believes the top end of this guidance is still achievable. My estimate is in the 17500 to 18500 range, if Kodiak executes. It maintained guidance of 27000 Boepd for its 2012 exit rate. I believe we will see a number between 24000 and 25000 Boepd. I like Kodiak going forward. I would hope its stock would pull back in the morning below $8, but I don't think that will happen, as Kodiak's results were not that bad. Analyst expectations EPS being 10 cents per share, was considerably less than the 18 cents just 90 days earlier.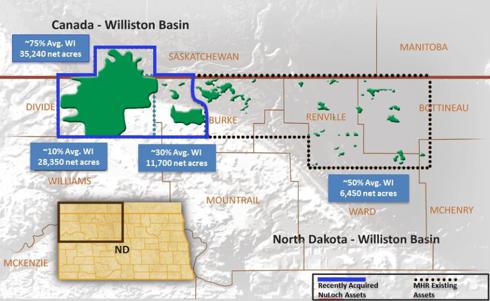 Magnum Hunter (MHR) had a decent quarter reporting a loss of one cent/share (excluding one time items) versus the street's estimate of a 3 cent loss. Including one time items, Magnum had a net loss of 13 cents/share. It missed on revenues, reporting $57.2 million versus the street's estimates of $59.37 million. The story doesn't revolve around revenues and earnings as Magnum continued its spending spree, which had a negative effect on shares. Recently, shareholders had warmed to Magnum as it monetized its midstream business, to decrease company leverage. On April 18th, Magnum announced it would be acquiring 50414 net non-operated Bakken acres from Baytex (NYSE:BTE) for $311 million. To pay for this acquisition, Magnum is offering 35 million shares of stock in an underwritten public offering.
Magnum is not a stock I would own, as it continues to increase its debt through the purchase of additional acreage. This does not mean it is not a good investment, just is too levered for my taste. Magnum does have some very good acreage. Its Williston Basin acreage, is located in Divide County, North Dakota. This acreage is characterized as low cost when compared to other areas of the Bakken, as it is a more shallow area of this play. Its lower pressure is characterized by lower IP rates, but is an area of very thick shale. Its Eagle Ford acreage is in one of the best areas of the play, near EOG Resources (NYSE:EOG) which has some of the best IP rates. It also has and is building it Utica shale assets. These three assets allow Magnum to increase liquids production and place some of its gassy assets on hold until prices improve.
In summary, neither company had a very good quarter. Kodiak continues to be a favorite of mine, as I do not believe it will continue to have issues going forward. I would guess we will see costs continue to decrease with respect to water disposal, and well costs through pad drilling and zipper fracs. I am looking to add to my position if Kodiak's stock pulls back around or below $8/share. Magnum is a more difficult story as it continues to add debt. It is possible it will continue to grow at a fast clip, but it is not the type of stock I buy.
Disclosure: I am long KOG.
Additional disclosure: This is not a buy recommendation.