Wal-Mart Stores, Inc. (NYSE:WMT) provides well above average valuations and technical support to give it a current ranking of Hold.
Companies that have the very best fundamental valuations, technical momentum and consensus opinion are always candidates for buying. Conversely the companies that have the very worst fundamental valuations, technical momentum and consensus opinion are always candidates for short sale. As an old university professor, I still use the old bell curve using A's for excellent bullish candidates for buying; B's, C's and D's for the middle that have no investment interest; and F's for failing bearish candidates for short sale. All my company analytics fall into one of these three categories.
This is fun stuff because the reward for my analytics always yields a clear current and future perspective of the company. It works every time if you are meticulous and experienced in your on going research efforts.
We are all seeking "Results" and comparative analytics produces the highest possible probability of profits of all the many theories that are expounded so freely by bloggers and the financial media. This is true if you are seeking bullish candidates for buying or for bearish candidates for short sale.
Here is a quick reference Nasdaq - Compare that provides a good beginning to your possible relating to comparative analytics. It provides four peers with a WMT input; (NYSE:TGT), (NASDAQ:COST), (NYSE:M), (NYSE:DG). A quick study of this data will give you a perspective of how comparative analytics works. You won't get much of a fundamental valuation or technical perspective but you will get a good start on how this analytic process works.
An animated one year and twenty year chart is available click here.
Economy Current Considerations
Over the past couple of weeks or so my economic focus has been on earnings and general market valuations. A couple of good question to ask yourself is, where were the earnings and valuations at the beginning of earnings season and what is the direction the company earnings and valuations after posting earnings in this season? The answer to this question is that they were too high at the beginning and have now trended higher. I suggest that there is a bubble in the making and am becoming concerned.
The GDP posted another negative this past week and that is a major. But consumers are still spending. That is a plus but government and business had better chip in too.
My take is that the U.S. economy as well as the world economies are much more negative than the public is being told.
General Market (Indices) Opinion
The Marketplace is fundamentally supporting very high valuations and unmerited financial ratios. Technically it is Over-Bought to historical high levels. Consensus opinion is currently simple much too euphoric.
Sector Opinion
The Consumer Services / Retail Sector is and remains even more out of balance than in my above comments for the General Market.
Valuation of WMT
| | |
| --- | --- |
| Current Price: | $59 |
| Target Price: | plus + 4% / minus - 20% |
| Trailing P/E: | 13.1 |
| Forward P/E (fye 09/42/13): | 11.2 |
| PEG Ratio: | 1.44 |
| Price/Sales | 0.45 |
| Price/Book | 2.83 |
| Valuation Divergence: | minus - 24% |
source of raw data: Yahoo Finance
Notes for the above table:
Target Price is calculated and produces a probable range of the current price over the coming 3 to 6 months.
Valuation Divergence is calculated a produces a plus or minus percent of price over the following 3 to 6 months after a given bullish or bearish inflection point.
This is not a strong valuation and target price projection. More intense fundamental analytics and comparative studies suggest a price top is in the making. Five year Earning growth is projected to be steady through 2015. WMT is an excellent company to hold, if you are a buy and hold investor. Data changes and must updated frequently. I recommend holding WMT at this time.
Earning Chart (MorningStar):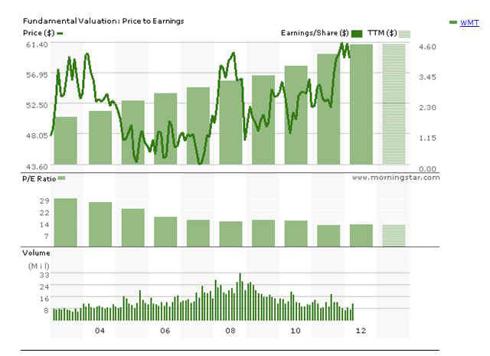 Valuation of: TGT, COST, M, DG.
| | |
| --- | --- |
| TGT | Too Strong to Short at this time. |
| COST | Too Strong to Short at this time. |
| M | A Fundamental pull back is in the making. |
| DG | Too Strong to Short at this time. |
Technical Opinion of: WMT, TGT, COST, M, DG.
| | |
| --- | --- |
| WMT | Strong Up Trend - Hold with Caution |
| TGT | Strong Up Trend - Hold with Caution |
| COST | Strong Up Trend - Hold with Caution |
| M | Strong Up Trend but is Turning Bearish |
| DG | Strong Up Trend - Hold with Caution |
So Professor What is Your Pick?
All five of these companies are currently strong both fundamentally and technically. The standout for a possible pull back is Macy's, Inc. (M).
Summary:
WMT is a company that merits holding and its peers support this opinion. I will give it a B+ because many of its peers produce stronger valuations for the coming years.
Conclusion:
Wal-Mart like so many DOW 30 and large-cap securities are not the companies they used to be. That too is a warning that is appropriate in this market environment!
Instablog and past articles that I have written for SeekingAlpha.com frequently focused on the Dow 30 Industrial components such as Wal-Mart - Stores. I am currently a strong bear that has focused my recent postings in Instablog on those Dow companies that I believe should not be currently held in your portfolio. It is important to understand that holding cash can be a wise choice during time frames that are questionable or bearish. I have not included WMT in my Instablog to date, but will do so in the near future.
Disclosure: I have no positions in any stocks mentioned, and no plans to initiate any positions within the next 72 hours.