The 1979 summer camp spoof Meatballs, while not my favorite Bill Murray flick, accomplished a couple of things. First, it was a decent springboard for Bill Murray and director Ivan Reitman that led to blockbusters like Stripes and Ghostbusters. Second, it was a pretty darn good return on investment. The budget was estimated to be around $1.6 million and ended up grossing about $43 million. Big money for 1979.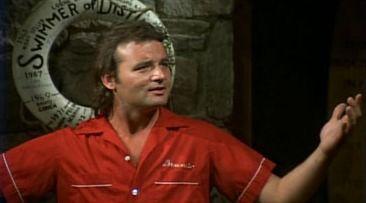 Although playing an amalgam of his SNL characters, Murray created one funny scene in particular. Trying to rally the nerdy, misfit campers for a competition against the rival, snobby camp, Murray becomes unhinged during his pep talk, devolving into maniacally chanting "It just doesn't matter!" while banging a log on the ground.
As I watch and listen to talking heads obsess ad nauseam about market fluctuation, sometimes I feel like breaking into that chant. "It's a bear market! It's a bull market!" Sometimes, maybe it just doesn't matter.
In the words of Warren Buffett: "I never attempt to make money on the stock market. I buy on the assumption that they could close the market the next day and not reopen it for five years."
This quote probably sums up why the Oracle of Omaha has been so wildly successful. The day to day, minute by minute, tick by tick movement of the markets and stock prices isn't the important part. There are a few criteria that, at the end of the day, have very little to do with the stock market per se. I'll call this the "Why, What, How Method."
1. Why did you buy? Was it for income? Growth? A trade? Do you even know? All too often, investors shoot first and ask themselves these questions later, and many times the end result is investors shooting themselves (figuratively speaking, of course). Before you put money to work, ask yourself this question. If the answer remotely resembles "because the market is going up" or "a buddy of mine at work said to" -- just stop now. You may as well flush your money down the toilet. Set very clear objectives as to why you are investing money. This will help you succeed.
2. What did you pay? It's always tough to figure out if you paid too much or too little, right? Sometimes the answer is yes. Sometimes it's no. You're smart enough to figure it out. Did you buy Apple (NASDAQ:AAPL) in the $300s, or in the $500s somewhere in the middle of its parabolic move when Jim Cramer said it was going to a bazillion dollars a share? (To be honest, I firmly believe that $300 is too much and many investors are irrationally optimistic about the company's future.) Or did you buy French oil giant Total (NYSE:TOT) because it pays a 5.3% dividend and the forward P/E is 6.5, vs. the S&P 500's forward multiple of around 12.5 times earnings? Again, establish a process -- a real process that fits you.
3. How are you being paid? There's risk in everything: crossing the street, taking a new job, picking up the phone to call your mother -- but especially investing. And in taking an investment risk, like any risk, you should expect to and be compensated for assuming that risk. In buying stocks, there seem to be a lot people out there who are perfectly OK with being paid in hope. Translated: You buy a stock and hope it goes up. I'm not going to knock that. There are millions of stock pickers who have done that and made obscene amounts of money. There are also millions of wannabes who have done that and lost a lot of money. The median dividend yield of Berkshire Hathaway's (NYSE:BRK.A) top 10 holdings is 2.66% (funny enough, Berkshire doesn't pay a dividend, but I'm not debating that now). Clearly, Warren Buffett believes in getting paid just for showing up. Common stock dividends are how investors are compensated for their belief in the company. Additional payoff comes in dividend growth and price appreciation when the company executes effectively. I'll concede that even Apple has decided to do the right thing and compensate shareholders somewhat. Remember that hope can't buy a loaf of bread.
Now, don't get me wrong. Markets do matter, sort of. The fourth quarter of 2008 and the first quarter of 2009 mattered. Investors needed to play some defense, and the cascading effect of what was going on could not be ignored. However, there were bargains galore for the bold who had cash and defined objectives. But those were, indeed, historical days that will be printed on mutual fund marketing charts for decades to come. But those types of storms are going to blow up every so often. History shows they will. However, the day to day, risk on/risk off, yammering and obsession? Nah. Armed with a goal and a process, it won't matter.
Disclosure: I have no positions in any stocks mentioned, and no plans to initiate any positions within the next 72 hours.