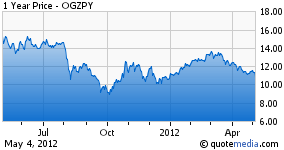 The major potential catalyst over the past 5 years for Gazprom (OTCPK:OGZPY) has been a pipeline deal to supply China with Natural Gas. This has remained only potential as again over the weekend talks collapsed, for the 15th time, over a $100 per 1000 cubic metre pricing dispute. However, this catalyst is about to dramatically change after a meeting Thursday with Japanese officials. The meeting included a potential expansion of the current gas supply to Japan where pipeline gas would accompany the existing LNG exports. This deal makes sense to both parties. For Gazprom, who has vast unused reserves and is struggling to sign a deal with China and for Japan as they are trying to move away from nuclear power but are being crushed under the expensive LNG spot market. Currently Japan buys LNG off the spot market at $15 Btu, while Gazprom would be happy to supply large volumes at $11.
These talks come 2 days before Japan is set to have its first weekend without any Nuclear power in 50 years. There will be a power shortage of 5-16% nationwide from reports released by Japan this week. Japan the largest importer of LNG globally is already pushing prices to fresh highs in anticipation of this. A pipeline deal would be a very sensible route for the country to take; they need a new reliable and consistent energy source to replace nuclear. The International Energy Agency believes that Japan will be consuming up to 130 billion cubic meters of Natural Gas without the use of nuclear power (an increase of 30billion). While it would be unlikely that Gazprom will capture all of this 130bn; it takes time to develop the fields and Japan will want a diverse supply chain, one can be very optimistic about the prospects. Currently, Gazprom's biggest "client" is Germany who imported just under 40 billion cubic meters in 2011. It is very conceivable that Japan now becomes Gazprom's biggest client. If we assign a yearly contribution of 50 billion cubic meters, then net of customs duties, Gazprom would receive an additional 480bn RUB in revenues each year. Exportation of gas is Gazprom's highest margin business and thus the 10% increase in group revenues will have a profound impact on EPS.
Where will this gas come from? Currently Gazprom are developing several major fields close to the Vladivostok region; the Sakhalin fields are in prime position. This is where Gazprom currently exports LNG to Japan, where the distance is only 40km to the Northern Japanese island Hokkaido - this field (Sakhalin II) alone contains over 500 billion cubic meters of gas.
In the past week Gazprom has released record earnings which beat expectations, benfitted from a tax deal that allows a portion of the domestic gas price increases to translate into profits and now potentially is coming close to signing a new supply deal with Japan. This gas giant which has reserves equivalent to Exxon Mobil's (NYSE:XOM), BP's (NYSE:BP), Royal Dutch Shell's (NYSE:RDS.A), Total's (NYSE:TOT) and Chevron's (NYSE:CVX) reserves all combined, is valued on only 3x Earnings. It pays a new and vastly increased 5% dividend. It is and will continue to benefit from forced increases in domestic (Russian) Natural Gas prices by 15% a year. It has supply opportunities in China, as well as now Japan. Simply, Gazprom today is a long term investment made in heaven.
Disclosure: I am long (OTCPK:OGZPY), (BP).