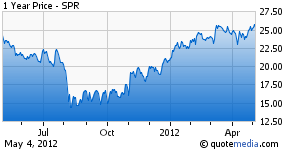 Spirit AeroSystems Holdings, Inc. (NYSE:SPR) continued its recent trend of good earnings with the first quarter of 2012 coming in at 2 cents over projections. The company that manufactures aircraft components and parts primarily for Boeing (NYSE:BA) but also for EADS Airbus and military aircraft saw its stock price close Thursday flirting with its 52 week high of $26.00 set a year ago on volume that was two-thirds above average.
The stock price is now up almost eighty percent from its low in September and has provided a year to date performance of over twenty-three percent or slightly above the market as a whole. This now makes two straight quarters when the earnings have been five to six cents above predictions with the company blowing away the average earnings growth rate for the aerospace industry as a whole.
The Wichita, KS based company reported revenues of $1.27 billion or just over twenty percent higher then the same quarter last year. Income was up $52 million to $122 million with a net income of $74 million more then twice the 2011 figure.
Much of the growth has been driven by Boeing thanks to the 787 airliner program which is starting to see ramped up deliveries after years of delay. Boeing recently produced the first of the advanced, composite 787 from their Charleston, SC plant making it the first major aircraft delivered outside Washington State since World War II. Increased 787 production can only help Spirit over the next several quarters.
Spirit is also the major component produced for the 737 airliner and Boeing plans to introduce a new version, the 737 MAX, which provides greater fuel economy and performance. Boeing announced at their earnings call that they booked 301 orders for the new 737 model in the first quarter. This level of sales saw them raise their estimate for the full year to $4.35 a share on up to $80 billion in revenue. Spirit will do well with Boeing but it also makes components for EADS' new airliner, the A350 XWB, which will compete with the 787.
The company projects revenue of $5.2 to 5.4 billion taking into consideration predicted Boeing and EADS' sales as well as their support to Gulfstream and military programs like the CH-53K made by Sikorsky. Its investment of significant funds over the last year to expand production facilities will support these growing programs. Unfortunately in mid-April the Spirit facility in Wichita was heavily damaged by a tornado that caused an 8 day disruption to operations. This event has yet to be reflected in their predictions for the year.
Spirit stock has shown solid growth over the last year. This could falter due to the effect of the tornado and the potential for Boeing and EADS to not meet their production and sales goals. That could have a downward effect on the company's performance and stock price. Further contraction in the European and U.S. economies would also negatively affect the air transportation industry further pressuring Spirit. Overall that would lead to a major shift downwards over the next twelve months.
The company should see further increases in its stock price. Boeing especially will aid this. There sales in Asia should continue to be decent with recent deals like the one with China Eastern where it sold 20 777 aircraft to replace Airbus A340 airliners.
Analyst predictions for earnings expect the rest of 2012 to mirror the first quarter at around 56 cents a share with it rated a strong buy.
Spirit seems to be in good shape for the long term with predictions of revenue above last years and upwards movement in stock price.
Disclosure: I have no positions in any stocks mentioned, and no plans to initiate any positions within the next 72 hours.