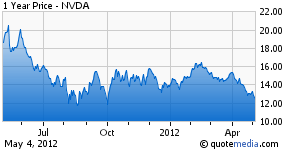 Graphics chip maker Nvidia (NASDAQ:NVDA) has endured significant share price weakness over the past few months, having fallen more than 20% from its mid-February highs. The company has been buffeted by events largely out of its control, such as last year's Thai floods, which hurt PC sales and thus impacted the core graphics business at Nvidia (as well as competitor AMD (NASDAQ:AMD)). Furthermore, chip yield issues at Nvidia's sole producer, Taiwan Semiconductor (NYSE:TSM) have limited supply of Nvidia's new Kepler-series 28 nm chips. Since Nvidia pays by the wafer (rather than by the chip), this also raises the cost of the chips that do come out. These yield problems have affected not only Nvidia, but also competitors AMD and Qualcomm (NASDAQ:QCOM).
However, these are both relatively short term bumps in the road, and should not have a major impact on Nvidia's growth. The company's first modem design win through its Icera subsidiary, the ZTE Mimosa X, is scheduled for release this quarter. Furthermore, the Tegra 3 chip scored a number of design wins for products that are now starting to ramp into production, which should provide a boost to sales going forward. Additionally, this fall Microsoft (NASDAQ:MSFT) is expected to release its new Windows 8 operating system and the associated Windows RT OS, which runs on the ARM (NASDAQ:ARMH) architecture. The traditional Windows 8 will likely spark a PC refresh cycle, helping Nvidia's legacy graphics chip business, while Windows RT provides Nvidia a major opportunity in Windows tablets, and possibly also notebooks. The company's Tegra line is expected to win a major piece of the Windows-on-ARM business.
Nvidia's fundamentals are thus strong, and analysts expect FY13 EPS of 69 cents to grow to 91 cents in FY14. Both of these estimates seem fairly conservative. Furthermore, the company has over $3.1 billion in cash and short term investments on its balance sheet against virtually no debt. This means that roughly 40% of Nvidia's market cap is represented by cash and short term investments. Nvidia's cash balance has been growing for several years, and it's not clear that the company needs to maintain such a large cash reserve. Nvidia's cross-licensing agreement with Intel (NASDAQ:INTC) provides a steady income of $233 million per year, which can offset any potential weakness in Nvidia's other businesses.
Along with Nvidia's cash balance, the company's share count has also been rapidly growing over the past decade. Perusing the annual reports, it is easy to see how stock-based compensation has resulted in substantial dilution of investors. Going back to the end of FY04, Nvidia had roughly 483 million outstanding shares. By contrast, as of the end of FY12 this past January, the company had 616 million outstanding shares. By reversing this ongoing dilution at a time when Nvidia's stock trades near 52-week lows, Nvidia management could create value for shareholders. The company already has a $2.7 billion repurchase authorization valid for another year. At Thursday afternoon's share price of $12.61, the company could repurchase 100 million shares while maintaining a cash and investment balance of nearly $2 billion, boosting future EPS by roughly 15%.
One potential problem is that some of Nvidia's cash is held overseas for tax purposes. It is not clear how much domestic cash the company currently holds. In any case, Nvidia could consider repatriating some cash depending on the tax rate it would incur. Furthermore, since the company has a large net cash position and no debt, Nvidia could likely float a bond at a low interest rate to provide cash for a buyback. It is time for Nvidia to use some of its growing cash pile to ensure that shareholder dilution is reversed.
Disclosure: I am long NVDA.