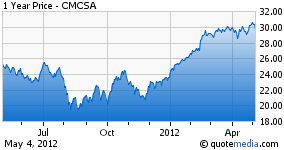 Market conditions are still suitable for Comcast (NASDAQ:CMCSA) to thrive as part of the video/voice/internet oligopoly. Although competition exists for Comcast, its market is large enough for the company to own a significant piece of the video/voice/Internet pie.
Comcast just had a positive report for Q1 2012. The company added a total of 565,000 customers in the first quarter. Revenue increased 23% to $14.9 billion and EPS increased 32% to $0.45 over Q1 2011. Operating cash flow rose 15% to $4.7 billion and free cash flow rose 37% to $3 billion.
High Speed Internet and Business Services are driving the company's growth which increased 10.3% and 37% respectively. Comcast added 439,000 HSI customers in the first quarter bringing its penetration up to 35%. Small business is driving the growth in the company's Business Services segment. Comcast is also seeing increased contributions from mid-sized companies.
The increases in the other business segments include:
18% in Broadcast Television revenue (excluding the Super Bowl)
5.7% in Cable Communications: Total revenue per video customer increased 7.8%
2% in Voice revenue growth: 164,000 customers were gained for 18% penetration
4.8% in Advertising revenue
1.6% in Video revenue: Digital penetration increased to 93%
5.7% in Theme Parks revenue
Comcast was able to keep capital expenditures steady at $1.1 billion for Q1. This allowed the percentage of cap-ex to cable revenue to drop from 11.6% in Q1 2011 to 11% for Q1 2012.
(Click to enlarge)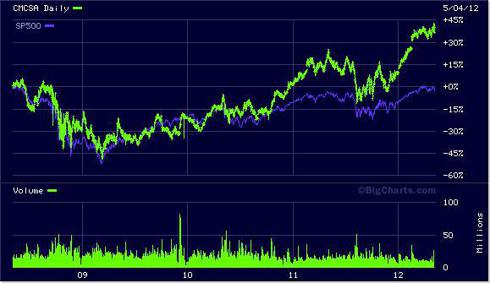 The company is currently undervalued with a forward PE ratio of 13.48, a PEG of 1.08, and a low price to book ratio of 1.75. Since the beginning of 2009, Comcast's earnings have grown slightly faster than the stock price creating this undervaluation.
Comcast has 11 upward earnings revisions for 2012 and nine upward revisions for 2013. It has grown earnings annually at 21.57% for the past five years and is expected to grow earnings annually at 14.98% for the next five years. The company also pays a dividend of 2.1%, creating a potential total annual yield of 17.08. If dividends are reinvested, a $1,000 investment in the stock could be worth about $2,200 in five years for a total gain of 120%.
The company is focused on growth investments with strong returns in: Business Services, advanced set-top boxes and modems, new businesses, Xfinity Home, Wi-Fi, and X1 (cloud-based user interface to ease the process of discovering content) . Comcast will also continue to invest in product enhancements.
The February launch of Streampix expands the company's video offerings with thousands of movies and TV shows available for streaming. The Streampix selections are expected to expand as the year moves on.
Although the company did lose 37,000 video customers in the first quarter, this was an improvement over Q1 2011 when the company lost 39,000 customers. Despite the lost video customers, Comcast is doing well in all other segments especially High Speed Internet and Business Services. NBC Universal has also been a strength for the company, where its operating cash flow increased 16.6%.
Comcast feels that it is doing well in terms of competition. The company admits that Verizon (NYSE:VZ) has done well with bundled services in certain markets and that DirecTV (NYSE:DTV) does a good job with marketing its NFL Sunday Ticket plan. Comcast says that it is doing well competitively by innovating at a better rate. By introducing new products like Streampix and X1, and by increasing speeds, Comcast is trying to remain a step ahead of the competition by delivering more value to customers.
Overall, Comcast should do well enough to continue to outperform the S&P 500 and remain a top-notch investment in the years ahead.
Disclosure: I have no positions in any stocks mentioned, and no plans to initiate any positions within the next 72 hours.