I've never been a fan of analysts, but their coverage of First Solar (NASDAQ:FSLR) has been sub-par even by their own lackluster standards. Every analyst's estimate has been too low every quarter. In other words, every analyst has been wrong every quarter. I understand the game of underpromising and overdelivering, but this has been too extreme.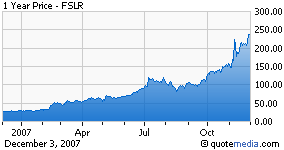 Just as an example, CIBC initiated coverage with a "sector perform" on FSLR back on Nov 5th and Merriman Curhan Ford initiated with a "sell" on Oct. 23rd. On Nov. 8th upon trading 35% higher upon a stellar earnings report, both tried to save face by upgrading the stock. Does three days really change your entire outlook on a company? Only if your outlook was unjustified to begin with.
Back in Feb 07 the analyst consensus was that FSLR would break even in 08. Now the estimate is $1.90, still way too low. Laughably, many analysts have been upgrading their price targets of 15% year end appreciation by 15% every month to keep pace. Those that lag behind commonly end up doubling their price targets. The truth is the analysts lag way behind the market. Even the market lags somewhat behind reality.
The official earnings estimate for FSLR was 19 cents last quarter. I was looking for 25-30 cents thanks to a favorable exchange rate due to the decline in the dollar. FSLR's costs are in dollars but their entire sales are in Euros, therefore any rally in the Euro dramatically increases margins. Actual earnings were 49 cents due to not only the exchange rate but also faster than expected rampup at the German plant.
Well, the quarter is halfway over and the Euro is at $1.48. Yet First Solar's official estimates are still based of a $1.30 exchange rate. Unless the exchange rate falls to $1.15 by the end of the year in order to meet that $1.30 average target, expect another huge upside surprise. I'm looking for 65 to 70 cents this quarter vs 53 cents.
Disclosure: Author is long FSLR.