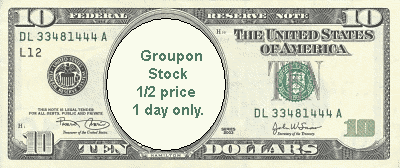 Hedge fund manager, James Altucher, appeared on CNBC's Fast Money, Thursday, and called Groupon (NASDAQ:GRPN) an "easy double" and the "fastest growing company in history." Google (NASDAQ:GOOG) executives realized this back in 2010 when they bid 6 billion dollars for Groupon while the companies annual revenue was a mere 310 million. Since then Groupon's revenue has soared 500% to 1.6 billion and continues to boom. Groupon fell from favor amidst an accounting snafu that caused Groupon to restate earnings in order to correct a 30 million accounting error. As a result, Groupon is now trading at about half its IPO price - making it the "deal of the day."
Just a few days ago at Evercore Partners, Analyst Ken Sena, upgraded shares of Groupon to "Overweight" and has a conservative $15 target price. Nasdaq research list 6 Strong Buy, 10 Hold, and 3 Sell ratings making Groupon a "Buy."

Bloomberg is reporting that Groupon is replacing 2 board members with seasoned financial experts Daniel Henery, and Robert Bass to reassure investors that the accounting problems will not reoccur.
Daniel Henry, the finance chief of American Express (NYSE:AXP), and Robert Bass, a vice chairman of Deloitte LLP, will become directors, underscoring efforts to shore up investors' confidence in its accounting.
The sell-off is clearly overdone and obviously exacerbated by fear mongering short sellers that traffic in terrorizing investors. But before you give your shares away, consider these facts. Groupon has no debt, over 1 billion in cash, and an astronomical revenue projection in 2013. Earnings growth for 2012 is estimated at 97%. In 2013, earnings growth is forecasted off the chart at 975% as international growth kicks in to warp drive.
From a technical perspective, Groupon could easily rally back to $15 before encountering any serious resistance. Even at $15 the price is still attractive and could grind up to about 18.50 before encountering serious resistance.
Earnings release for Q1 is scheduled for May 14th, and I suspect the smart short sellers are already headed for the exit. Thursday, May 3rd, Groupon dipped slightly below $10, but heavy short covering and bargain hunters forced an afternoon reversal to close well off the low at 10.31. After hours price action traded up to the 10.70 range before settling at 10.45.
Is the bottom in? Is Groupon a buy? Maybe and yes, respectively. But don't be surprised if you hear a lot of trash talk on Friday. All the bad news was in the stock at $15. The last $5 dollars down was unwarranted.
Disclosure: I am long GRPN.