Shares of Chesapeake Energy (NYSE:CHK), the venerable oil and gas wildcatter, land-baron cum mid-stream marketer, royalty trust, etc., fell some 9% in-mid April on news that CEO Audrey McClendon received more than $1 billion in previously undisclosed loans against his interest in thousands of wells as collateral.
Mr. McClendon is no stranger to controversy and we highlighted some of our concerns about the company in previous reports here. What makes this particular episode so interesting is that it reveals a continuing pattern of lousy corporate governance by a company famous for financial engineering and off balance sheet arrangements.
CEO McClendon has a reputation for being a risk taker and it appears he's consistent in his habits. This time however, shareholders did not take kindly to the news, and the company lost some $500 million in market cap the day Reuters reported the loans.
In another startling revelation Monday (also reported by Reuters), McClendon's hedge fund activity adds yet another layer of judiciary concern to the picture. A poor earnings report didn't help matters either.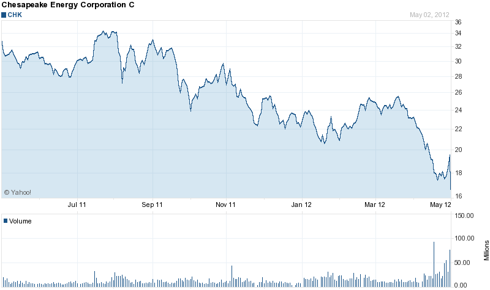 To some, the stock looks pretty cheap now, but with natural gas prices near decade lows and CHK's history of poor operating cash-flows, asset sales appear to be the only clear means of generating liquidity near term.
It should be noted that aggressive production of shale assets in recent years is the primary cause to the current glut in natural gas supplies.
If not for fundamental weakness in natural gas markets, the loan issue (itself) would not be reason enough for the sell-off in CHK shares. However, the trend of alacrity by both management and the board in dismissing concerns of shareholders only reinforces a notion that interests of all parties are not aligned.
CHK appears to be taking on a visage eerily reminiscent of Enron. There are too many moving parts with no clear connection between the "gears". What once was an aspiring non-conventional E&P outfit, CHK is now a debt-bloated enterprise being forced to curtail cap-ex spending largely because they do not have the operating cash-flows to sustain future growth.
As for their intent to transition into oil, they will need exploration assets to produce oil. A company forced to sell assets sooner than expected isn't how you position yourself for future growth or deliver "exceptional returns" to shareholders. It's called covering your butt and if CHK's bond prices and CDS activity are any indication, chatter of default risks should not be taken lightly. Liquidity is the issue here.
Similarly, CEO McClendon may well be the vision behind the company he founded, but shareholders thus far have not reaped the benefit of this "vision". Management and the board have failed stakeholders miserably. What else is hiding in their closet? Maybe it would have been better to remain a private company.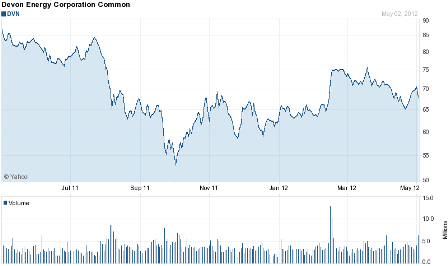 CHK is a speculative trade at best, so why not consider competitors Devon (NYSE:DVN) or Cimarex (NYSE:XEC), as alternatives in this space? Each of the latter is well-managed and both pay a dividend.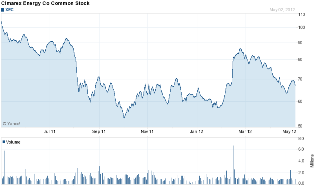 Disclosure: I have no positions in any stocks mentioned, and no plans to initiate any positions within the next 72 hours.