Market Recap: The market continued its correction on the back of a worse than expected jobless claims report Friday morning. Non-farm payrolls came in worse than expected, continuing to suggest the slowdown in employment increase is occurring. The unemployment rate, on the other hand, came down to 8.1% from 8.2%, but it was not enough to stop a major market correction day. The combination of weak ADP Employment, ISM Services and Non-Farm Payrolls gave the market some fuel to correct after a nice start to May. The market was looking for a reason to "Sell in May" and found it today.
A big election this weekend in France is looming with Sarkozy looking like he will lose to his socialist challenger. That situation was also creating a selling environment on Friday. A surprise there could help the markets, but a confirmation of the loss could make for a rough Monday. Here is a pairs trade we like heading into next week:

Two Trades
We like going long on Dick's Sporting Goods right now with a short in Johnson Controls (NYSE:JCI). DKS has limited downside into its earnings report next week and good support at the 20-day MA. With a market that appears to be weakening, DKS is somewhat of a stalwart in the market, rarely losing in large quantities, which is what we want to avoid. At the same time, it has upside potential with earnings looming. JCI, on the other hand, dropped through support lines and tested the 200-day MA. With heavy European exposure and rough looking technicals, we like being short JCI as a way to short this market and weakness.
Trade #1: Long DKS, Short JCI
(Click to enlarge)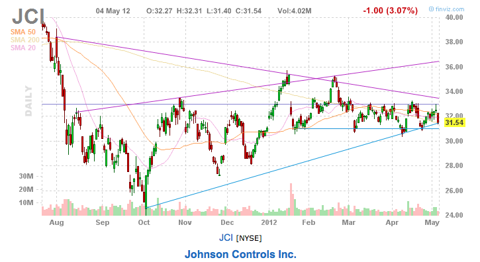 Analyst Moves:
The interesting moves for analysts was resumption of coverage by Stifel Nicolaus on Microsoft (NASDAQ:MSFT) and Barcalys PT upgrade on LinkedIn (LNKD). For MSFT, Stifel Nicolaus placed a Buy rating on the stock with $38 PT. We like the rating as we have MSFT buy-rated with $42 PT. At the same time, we cannot agree with Barclays. LNKD is a stock that we continue to keep at Sell rating with $70 PT. While we see a lot of potential for the company, the market is pricing in growth models that are absolutely unsustainable. We believe that too much premium is in this stock, and while it might be a fun ride right now, it will correct itself at some point.
Commodity Talk
We have been shorting oil with short on Ultra Proshares Oil (NYSEARCA:UCO) since Wednesday and have done quite well with that position. We believe the move has been made and we should see oil get back into a 95-100 range. We would look to go long off any strength in the dollar or positive reports at the early part of next week. We continue to be long gold as hedge to portfolio with SPDR Gold Shares (NYSEARCA:GLD).
Our Moves
We had a mixed day as we closed our pair trade in long Equinix (NASDAQ:EQIX) and short UCO for a solid 6.5% gain. We, on the other hand, took losses on Alexion (NASDAQ:ALXN) and Teva (NYSE:TEVA) of 2%. We did get out of a United States Oil (NYSEARCA:USO) bear call spread for May18 for 15.5% gain on the 42/43 level. We added the pair trade discussed above, and we also added a bear call spread in BP (NYSE:BP) for Jun16 at 44/45 level.
We have the following positions. In our Short-Term Equity Portfolio we are long DKS, short JCI. In our Options Portfolio, we are long GLD, Panera (NASDAQ:PNRA), Coca-Cola (NYSE:KO), Walgreens (WAG), Dollar General (NYSE:DG), Visa (NYSE:V), Polaris Industries (NYSE:PII) and Nike (NYSE:NKE). We are short United States Oil . We have a reverse iron condor in Direxion Financial 3x (NYSEARCA:FAS). In our Earnings Portfolio, we are long Wynn (NASDAQ:WYNN), Western Digital (NYSE:WDC), Ace Limited (NYSE:ACE), and Coinstar (NASDAQ:CSTR). We are short Amazon.com (NASDAQ:AMZN). We have reverse iron condor in Las Vegas Sands (NYSE:LVS).
Chart courtesy of finviz.com.
Disclosure: I am long V.