Vivendi SA's vast network through multiple entertainment entities may have been put to use as it prepares to take control of Activision Inc, the US videogame maker, to form a new company, Activision Blizzard. The deal will supposedly give Vivendi a large presence in the gaming industry, potentially rivaling that of gaming giant Electronic Arts Inc (see article by Eric Savitz).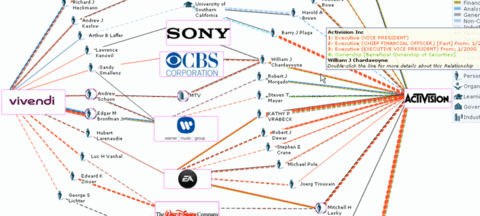 An IntellectSpace Knowledge Map of the common ties shared between the companies reveals numerous connections that may have important to this latest deal (Note: the information contained and presented in Knowledge Maps is public information from the Securities and Exchange Commission of the United States of America).
As illustrated here, many of the entities connecting key past and present Senior Executives and Directors of Vivendi and Activision are entertainment based corporations. Disney, Sony, Warner Music Group and CBS all serve as connectors between the companies, where many senior figures at Vivendi and Activision were previously or are currently affiliated. A notable set of relationships links former Vivendi division President Hubert Larenaundi through rival EA to a number of Activision Executives that are either currently with the company or left in recent years, like Kathy P Vrabeck (EVP, Division President of Activision until 2006). Both are now Division Presidents at EA. Though neither Larenaudi nor Vrabeck are currently with Vivendi or Activision, it's likely that given their recent departures and Senior Positions with the companies, the two may retain friendly contact with various members of the leadership teams they may have worked with.
The Knowledge Map is composed of quite a few relationships like that shared between Larenaudi and Vrabeck, where former ties may serve to promote new deals. Other noteworthy entities that may have served as a connecting force between Vivendi and Activision include PepsiCo, the University of Southern California and law firm Rosenfeld, Meyer & Susman.
Click here (Internet Explorer only) for an interactive version of this IntellectSpace Knowledge Map.