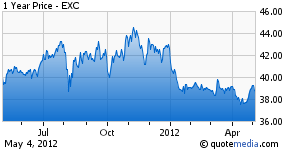 Along with my thesis on why natural gas should rise for the remainder of 2012, as well as my thesis on why the environment is favorable for it during 2013, I have said that I think the best way to play this is to buy natural gas directly using futures or options on futures. For a lot of investors, that's not really an option. So they either turn to ETFs like United States Natural Gas Fund (NYSEARCA:UNG) - which has deep flaws - or they try their luck with producers, namely Chesapeake (NYSE:CHK).
I have been against those approaches because, as I said, UNG has flaws, and the producers never really discounted the impact of natural gas plunging all the way down to $2/mcf. There might, however, be a valid alternative.
Enter Exelon (NYSE:EXC). Exelon also has suffered considerably with low natural gas prices. Low natural gas prices, with natural gas usually being the fuel that sits at the margin setting the power price, has meant much lower power prices for all electricity producers - including those burning coal or using nuclear generation like Exelon. Since 2008, EXC has thus plunged from around $90 a share to $38.80 today.
There might still be some excess to be wrung out of EXC's estimates, which today stand at $3.04 for 2012, and $3.06 for 2013, giving it a forward 2012 P/E of 12.8 and a forward 2013 P/E of 12.7. However, its dividend seems safe and that's good for a dividend yield of 5.2%. Since with natural gas recovery one will expect stabilization, and then an upward bias for EXC's pricing and margins, these are reasonable multiples for a close-to-trough valuation.
Conclusion
Natural gas influenced power prices negatively, which presented a problem for power producers including those not using natural gas. Exelon discounted that problem. From now the likelihood is for higher natural gas prices, helped in the short term by dispatch switching from coal to natural gas, and over the long term by less natural gas rigs and quick depletion of natural gas shale wells. With higher natural gas prices will come higher power prices favoring producers such as Exelon. Since natural gas producers did not discount natural gas' plunge, EXC probably presents a better, safer, way to play its expected recovery.
Disclosure: I have no positions in any stocks mentioned, but may initiate a long position in EXC over the next 72 hours.
Additional disclosure: I am long call options on natural gas futures as well as natural gas futures.